21 Aug, 2017
Linda Yaccarino
0 Comments
Yaccarino appears on the cover of Ad Week, titled, 'Wonder Woman'.
0
0
Mark Devlin
Mark Devlin
2023-05-13 21:11:13
2023-05-13 21:17:09
Ad Week Cover
8 Feb, 2017
Adwoa Aboah
Ashley Graham
Gigi Hadid
Imaan Hammam
Kendall Jenner
Liu Wen
Vittoria Ceretti
Vogue Magazine
0 Comments
Graham, Hadid, Jenner, Wen, Hammam, Aboah and Ceretti appear on the cover of Vogue. Speaking on promoting inclusion and issues of size, Graham:
Sixty-seven percent of the women in America wear a size 14 or larger. Sixty-seven percent. Maybe you could ignore those consumers before, but now, thanks to social media, they're making their voices heard. Women are demanding that brands give them what they want. And what they want is to be visible.
Hadid:
Most of the people I know in this industry are compassionate and open-minded, and they appreciate creativity and originality. It's like can't we just honor that? I mean look around — these are the people actually making fashion. All types, all working together to make magic.
Jenner:
This is my second Vogue cover, and to be sharing that not only with one of my best friends, but with all of these amazing women, is very meaningful for me. With all that's going on in the world, this cover makes such an important statement. It's like, Hey, we've got our differences, but those differences are beautiful. Everyone is beautiful.
0
0
Nnanna Mba
Nnanna Mba
2017-02-08 16:13:07
2017-02-08 18:21:38
Vogue cover
7 Dec, 2016
Donald Trump
Time Magazine
Time Magazine Covers
Other Awards
0 Comments
Trump is Time Magazine's Person of the Year. In the article, Trump talks about his position as president elect:
What amazes a lot of people is that I'm sitting in an apartment the likes of which nobody's ever seen. And yet I represent the workers of the world. I'm representing them, and they love me and I love them. And here we sit, in very different circumstances.
He talks about seeing a news story on NBC about the Carrier plant featuring a union representative and a plant worker talking in a bar.
[The man looked at the camera and said] 'We want you to do what you said you were going to do.' I said, I never said they weren't going to move, to myself…He energized me, that man. And I called up the head of United Technologies.
He also talks about young illegal immigrants:
We're going to work something out that's going to make people happy and proud. They got brought here at a very young age, they've worked here, they've gone to school here. Some were good students. Some have wonderful jobs. And they're in never-never land because they don't know what's going to happen.
https://newslines.org/wp-content/uploads/2016/12/Trump-Time-Person-of-Year.jpg
1200
900
Mark Devlin
Mark Devlin
2016-12-07 08:07:52
2016-12-07 08:08:55
Donald Trump: Time's 'Person of the Year'
3 Aug, 2016
Conor McGregor
Joao Carvalho
Men's Health magazine
Interview
0 Comments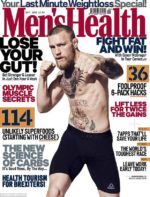 McGregor appears on the cover of Men's Health magazine. In the interview he talks about how Carvalho's death affected him.
How do I feel? How would you feel? It's f**ked up. I wasn't just watching that fight. I helped train a guy to kill someone, and then someone wound up dying. This is a f**king dangerous game. People call it a sport, but it's fighting. I'm just making sure it ain't me. And that's f**ked up. Damn. I still can't believe that kid is dead.
0
0
Mark Devlin
Mark Devlin
2016-08-03 09:46:58
2016-08-03 09:49:56
'I helped train a guy to kill someone'
5 Jul, 2016
Conor McGregor
0 Comments
McGregor appears nude in ESPN Magazine for its Body Issue. In the article McGregor talks about his life and work.
I dreamt every day of making it as a fighter, every damn day. Sitting on in the car park, on my lunch break, early mornings. I always visualized climbing the ladder of the fight game and reaching the pinnacle…You grow up where I'm from, you must learn how to defend yourself as a young man. I was no different. I got into it to learn how to fight, and that's why I walked into my first combat gym. I'm just a kid that defied the odds. I'm just a kid that ignored the doubt. I'm just a kid from a little place in Dublin, Ireland, that went all the way, and I'm going to continue to go all the way…The McGregor clan, we are warriors all through. We are famous all through the world for our fighting capabilities of all generations. So I have no doubt that's stood to me and that led me down this path and gave me what I have.

If I only had to focus on boxing, hell, I'd be neck and neck with Floyd right now….Many people who practice in only one discipline of fighting are lying to themselves. You can't fight fully. It's limited. It's not the full circle. You're afraid of everything else. You're just doing this one single thing. But we practice in everything.
0
0
Mark Devlin
Mark Devlin
2016-07-05 14:25:55
2016-07-05 14:25:55
ESPN Magazine nude photoshoot
10 Dec, 2015
Emma Sulkowicz
Paul Nungesser
0 Comments
Newsweek publishes a cover feature, The Other Side of The Sexual Assault Crisis, that includes an interview with Nungesser and his parents. His father on the graduation day:
I wondered…What would they do if they knew we were the parents of the guy Emma accused? What would they do? Would they spit in front of us?
Mother:
I would have liked to go to every single parent in that audience and say, 'I am the mother of Paul, and I am very proud of my son, and I hope you discuss with your sons and daughters what they did to him.'
Nungesser:
My faith in justice has been so fundamentally shaken, that I'm hoping by going forth and putting this into a court of law there's going to be someone who says this behavior that occurred here was [an] injustice. What happened to me…could happen to any other college male. Institutions are capable of intense cruelty without even realizing what they're doing.
0
0
Mark Devlin
Mark Devlin
2015-12-11 15:33:59
2015-12-11 15:50:00
Newsweek article
17 Nov, 2015
Angelina Jolie
Brad Pitt
Vanity Fair Italia
0 Comments
Jolie and Pitt appear on the cover of Vanity Fair Italia, where Pitt opens up about working with his wife
If I'm going to work, I want to work with my wife. [It's] surprising how much I enjoy the direction of my wife. She's decisive, incredibly intuitive, knife-sharp, and might I say, sexy at her post. I trust her with my life.
0
0
Tiffani Walker
Tiffani Walker
2015-11-17 13:26:09
2015-11-18 18:14:18
Vanity Fair Italia cover
14 Oct, 2015
Evan Spiegel
0 Comments
Speigel appears on the cover of of this month's L'Uomo Vogue. In an photo spread inside, he is seen in a chic car, sporting a leather jacket; in a $6,000 Burberry fur coat snuggling a puppy; and crossing the street in a checkered suit and sunglasses. In the interview he talks about Snapchat:
In the beginning, we just hoped that people would start to think about photographs differently – as a means of communication and not just preservation. Instead of taking photographs of beautiful or important things, we hoped that Snapchatters would take photos and videos to express themselves.
0
0
Mark Devlin
Mark Devlin
2015-10-15 16:06:09
2015-10-15 16:06:09
L'Uomo Vogue cover
13 Oct, 2015
Emilia Clarke
Esquire Magazine
Other Awards
0 Comments
Esquire gives its cover to Clarke for its annual Sexiest Woman Alive issue. In the interview she says she had to look up the Game of Thrones series online before auditioning for the role.
I had two scenes which told me nothing and not very much time in which to read all those [George R.R. Martin] books. So I did what every good actor does and Wikipedia'd the living crap out of it.
0
0
Mark Devlin
Mark Devlin
2015-10-14 17:52:53
2015-10-14 18:10:39
Esquire's 'Sexiest Woman Alive'
30 Sep, 2015
Donald Trump
Melania Trump
0 Comments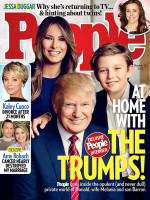 Trump appears on the cover of People magazine's October 12 issue. Inside, in a feature called At Home with Donald Trump, he talks about his family.
I just don't have the time that I would love to spend with my children and my wife. I see less of my grandchildren than I might like. But they get how important this is…It's a little scary for Barron. He thinks he is going to be taken away from friends. But I tell him if this happens, Daddy will help people, and can help children like him, and that makes him happy…My life is so busy and so crazy, and I'm away all the time. If I can just stay home and do nothing, it's considered a great luxury.

Melania:

My husband is traveling all the time. Barron needs somebody as a parent, so I am with him all the time…He is who he is. Even if you give him advice, he will maybe take it in, but then he will do it the way he wants to do it. You cannot change a person. Let them be. Let them be the way they are…It's a long road. I take it day by day. My husband has a lot of people cheering for him. We will see.
0
0
Mark Devlin
Mark Devlin
2015-10-09 14:46:35
2015-10-09 14:46:35
People cover
17 Sep, 2015
0
0
Mark Devlin
Mark Devlin
2015-09-17 22:00:42
2015-09-17 22:00:42
Flaunt cover
16 Sep, 2015
Maxim
Mimi Elashiry
0 Comments
Elashiry is featured on the cover of Maxim.
I feel very excited. I've only ever appeared in MAXIM in bits and pieces so it's great to be featured in a bigger way! I'm also pretty stoked to have my swimwear range recognized amongst different audiences.
She talks about her Cheeky Swim range:
Well, I've been working with Glue Store for a while now. Between social media, campaigns, collaborations, and events, I've been lucky enough to have taken such a big part and be involved closely with such a well recognised brand. When you love your job you'll never work a day in your life — it's like having good times and fun with friends…I designed the entire range with the help of the Glue Store buying and marketing team — there were some outrageous designs. I'd already thought about designing swimwear a year ago, so I found my old sketch book and started to combine new and old ideas, gather inspiration from Pinterest, and then threw together a mood board of materials, patterns, shapes, colours and moods for the range.
0
0
Mark Devlin
Mark Devlin
2015-09-21 23:50:56
2015-09-21 23:50:56
Maxim cover
9 Sep, 2015
Donald Trump
Paul Solotaroff
Rolling Stone
0 Comments
Rolling Stone profiles Trump in an article written by Solotaroff, titled Trump Seriously: On the Trail With the GOP's Tough Guy. On not having to raise campaign funds.
I'm owned by the people! I mean, I'm telling you, I'm no angel, but I'm gonna do right by them!
When Solotaroff is sitting with Trump watching a newscast, a video clip zooms in on Carly Fiorina.
Look at that face! Would anyone vote for that? Can you imagine that, the face of our next president. I mean, she's a woman, and I'm not s'posed to say bad things, but really, folks, come on. Are we serious?
0
0
Mark Devlin
Mark Devlin
2015-09-11 03:44:44
2015-09-11 03:45:46
Rolling Stone cover
8 Sep, 2015
Mark Zuckerberg
Vanity Fair
0 Comments
Zuckerberg takes No. 1 position on Vanity Fair's New Establishment list, beating Uber CEO Travis Kalanick (2), Amazon CEO Jeff Bezos (3) and Apple's Tim Cook and Jony Ive (tied at 4).
No company in history has ever achieved the scale of Facebook, which now reaches nearly 1.5 billion total users. Nor has there ever been a mogul quite like Zuckerberg. He rules, with near omnipotence, over Silicon Valley's grandest empire, and remains eager for more.
0
0
Mark Devlin
Mark Devlin
2015-09-08 18:08:10
2015-09-08 18:11:22
Tops VF new establishment list
20 Aug, 2015
Donald Trump
Time Magazine Covers
0 Comments
Trump appears on the cover of Time magazine. The magazine runs a profile and an interview.
Well, I have the right temperament. I have the right leadership. I've built an incredible company. I went to a great school. I came out I built an incredible company. I wrote the number one selling business book of all time Trump: The Art of the Deal. I had tremendous success in show business–star on the Hollywood Walk of Fame. "The Apprentice" was one of the most successful shows. And as you know NBC renewed it, I just said I'm not doing it. They're not exactly thrilled with me at all. But I've had a great career, and I know how to get along with people. I know how to deal with people.
0
0
Mark Devlin
Mark Devlin
2015-08-20 13:31:59
2015-08-20 13:32:00
Time cover
19 Aug, 2015
Donald Trump
The Hollywood Reporter Magazine
0 Comments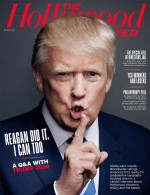 Trump is interviewed by The Hollywood Reporter. On Rupert Murdoch:
We have been friendly. I wouldn't say friends, but we've been friendly. But he had some very evil tweets, and now they've been nice lately. I don't understand it, just like I don't understand how Roger could have allowed that first [debate] question to be asked. So I have really no answer for it. I think he views me not as a politician but as a great businessman. I've got a net worth of more than $10 billion…Now what I've heard is he is very impressed with what I'm saying. He is certainly very impressed with my poll numbers. When he looked at the ratings, what happened to the ratings at Fox [News], I think that makes him think about it even from a financial standpoint.
On Bill Cosby:
I've never been a fan. I had one bad experience with him. I was on Letterman, and he was following me on the show. He said, "Oh, I want to buy you a suit." It was nice, he bought me a suit. And then he was on [the Today show], and my name was mentioned, and he went absolutely crazy. And I said, "What the hell was that all about?" I was never a fan. His humor was always, like, slow and stupid to me. I never saw it. And then he's obviously got this stuff. What amazes me is he was so quiet and then you see these depositions. What was he doing? Was he drunk? You see he admitted all this stuff on top of everything else. I think he's weird. And I never found his humor good at all. Just sit in a chair, talk very slowly? And I say to myself, "What's this all about?"
0
0
Mark Devlin
Mark Devlin
2015-08-19 13:56:51
2015-08-19 13:56:52
Hollywood Reporter interview
12 Aug, 2015
Kristen Stewart
0 Comments
Stewart appears on the cover of the September issue of Nylon magazine. In the interview she talks about her sexual orientation.
Google me, I'm not hiding. I think in three or four years, there are going to be a whole lot more people who don't think it's necessary to figure out if you're gay or straight. It's like, just do your thing. If you feel like you really want to define yourself, and you have the ability to articulate those parameters and that in itself defines you, then do it. But I am an actress, man. I live in the f*cking ambiguity of this life and I love it. I don't feel like it would be true for me to be like, 'I'm coming out!'
0
0
Mark Devlin
Mark Devlin
2015-08-12 22:11:23
2015-08-12 22:11:23
Nylon cover
5 Aug, 2015
Idris Elba
Kate Lanphear
Maxim
0 Comments
Elba is the first man to appear on the cover of Maxim. He wears a black leopard-print funnel coat. Editor-in-chief Lanphear:
We've never in U.S. Maxim history had a man on the cover solo. This is the very first time, and there was no one else in the world more bad-ass than Idris…I couldn't be more happy with [the cover]. He's so sophisticated and complex. There's so much that he is amazing at.
0
0
Mark Devlin
Mark Devlin
2015-08-06 16:30:33
2015-08-06 16:30:34
Maxim cover
4 Aug, 2015
Mario Testino
Taylor Swift
0 Comments
Swift appears on the cover of Vanity Fair, photographed by Testino. In the interview she talks about using her celebrity for good outside music:
If you look at Oprah, she's made so many people happy over the years. She's made so much money, but she's given so much of it away. . . . Same thing with Angelina Jolie. She's been so productive, but she's used that position to better other people's lives, and I think that's where I'd want to be.
On dating:
That was the way that I decided to go on with my life. Not looking for anything, not necessarily being open to anything, and only being open to the idea that, if I found someone who would never try to change me, that would be the only person I could fall in love with. Because, you know, I was in love with my life.
On being a style icon:
I think I know how to put together a good outfit. . . . But any day you're going to admit to being a style icon is a day you need to look in the mirror and really check yourself.
0
0
Mark Devlin
Mark Devlin
2015-08-04 16:57:12
2015-08-04 16:59:22
Vanity Fair cover
3 Aug, 2015
Demi Lovato
0 Comments
Lovato poses for the cover of Cosmopolitan's September 2015 issue. In the interview
There are a lot of girls in pop. They have badass lyrics, but I feel like I'm the only person other than Rihanna and Nicki Minaj who isn't afraid to say, 'Try something on me and I'll f–king beat your ass.' There are people who can dress up and play the part, but their music doesn't say it.
On her boyfriend, Wilmer Valderrama:
The only times we ever broke up were when I was relapsing, whether it was drugs or in a bad place and rebelling against everybody, not just him… People say that relapses happen before you use. Your mind starts setting up the relapse before you take that drink or that first hit. The times we'd broken up, I had already gone to that place of, Yeah, this is what's happening. I didn't realize it at the time, but I just wanted to sabotage everything around me so that I could sabotage myself.
0
0
gretelobrique
gretelobrique
2015-08-20 03:46:59
2015-08-20 12:31:44
Cosmopolitan cover