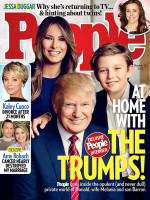 Trump appears on the cover of People magazine's October 12 issue. Inside, in a feature called At Home with Donald Trump, he talks about his family.
I just don't have the time that I would love to spend with my children and my wife. I see less of my grandchildren than I might like. But they get how important this is…It's a little scary for Barron. He thinks he is going to be taken away from friends. But I tell him if this happens, Daddy will help people, and can help children like him, and that makes him happy…My life is so busy and so crazy, and I'm away all the time. If I can just stay home and do nothing, it's considered a great luxury.

Melania:

My husband is traveling all the time. Barron needs somebody as a parent, so I am with him all the time…He is who he is. Even if you give him advice, he will maybe take it in, but then he will do it the way he wants to do it. You cannot change a person. Let them be. Let them be the way they are…It's a long road. I take it day by day. My husband has a lot of people cheering for him. We will see.