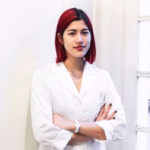 Sulkowicz is interviewed about her performance art piece, The Healing Touch Integral Wellness Center, where she will take on the role of a doctor, seeing 'patients' for 30-minute appointments from 10 a.m. to 6 p.m. for two weeks at the Philadelphia Contemporary gallery.
If the thesis of this project is that art heals in ways that medicine can't, I'm trying to figure out what that means. I want this to be a space where people can safely explore their emotions—that's what I think a 'safe space' is—and figure out what they need from art, not just as an intellectual journey but to really feel why art is important to them…It sounds corny, but if my goal with art is to actually change the world for the better, I think performance art is going to be the most effective tool for that.
On Nungesser:
Yes [I resent him], because people accused me of launching a bullying campaign against him. But no one knew his name until he put it out there…I'm doing other things now, but he still has a pending lawsuit. What's he doing with his life? It's crazy to me.
On whether she wishes she could escape the notoriety of her mattress performance:
Absolutely. It's really depressing to not be anonymous. It's an ongoing conflict because on the one hand, I'm happy that the movement needed someone to step up and be the face of it and humbled to have been chosen, but the sacrifices I've had to make for that have been really stressful. I've lost friends. It was a very tumultuous year and I was very depressed.