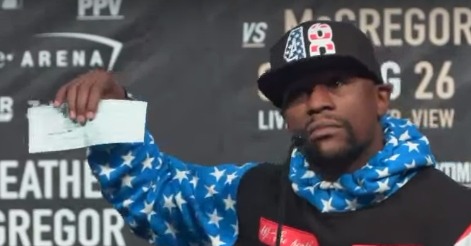 After meeting McGregor for the first time onstage at the Staples Center, Mayweather gives his speech:
Hard work! Hard work! I still got it…21 is the number, and they say, 'Why is 21 a number?' 'Cos that's how long I've been kickin' ass. I don't give a f-ck if it's the ring. I don't care if it's an octagon. Put me there and I'll be kicking ass. You put 'em up and I'm gonna knock 'em down like bowling pins.
Mayweather then opens a backpack and pulls out $100 million check.
Let's we show you motherf-ckers what a $100m fighter looks like. [CMG: That's for the taxman] You're right I'm from the IRS and I'm gonna tax your ass…We knew I was the A-side that's why this bitch has to come to the boxing ring. He look good for a seven figure fighter. I'm a nine-figure fighter.

We talking about from the 90s to now. We talking about World Champion 18 years. And you know what? If you want eight-ounce gloves on, you put four-ounce gloves on. Don't fool the public. And we know Mr Tap-Out like to quit. And you will wave that white flag. I guarantee you go out on your face or on your back.

You can do whatever you want to do. But God don't make mistakes. And God only made one thing perfect, and that's my boxing record.