27 Oct, 2015
Financial Report
0 Comments
Forbes says Jackson has earned more than $1 billion pre-tax since his death, which is more than enough to pay off his personal debts. in 2105 the estate made $115 million, in part from the Vegas Cirque du Soleil show Michael Jackson One, the Mijac Music catalogue, recorded music sales and half of Sony/ATV Music Publishing, which includes the rights to 250 Beatles songs.
0
0
Mark Devlin
Mark Devlin
2015-10-29 03:14:52
2015-10-29 03:14:52
Highest earning dead celebrity
Jackson's 56th birthday celebration in Gary, Indiana has been transformed to a three day festival event, initiated by his mother Katherine Jackson. The event titled The Michael Jackson Tribute Festival of the Arts is there to encourage other artists to reach their potential. Karvin Johnson, one of the event promoters, comments:
The main thing is to encourage kids that you can express yourself through art.
Another event promoter, Sharon Chamber comments:
I was just kind of hoping this becomes an annual thing… a national tribute to Michael.
0
0
A.Akanbi
A.Akanbi
2014-08-29 17:20:35
2014-08-29 18:05:19
56th Birthday Celebration
7 Aug, 2014
Accusation
0 Comments
James Safechuck, claims that Michael Jackson sexually abused him as a child. The 36-year-old alleges the was abused by Jackson after the two appeared together in a late '80s Pepsi commercial when Safechuck was 10 years old. He claims that Jackson had allegedly "brainwashed" him into believing that the incidents of sexual abuse were "acts of love," and that, in 1988, during the Bad tour, Safechuck regularly shared Jackson's bed and that the abuse continued until he reached puberty.
Howard Weitzman, an attorney for the Jackson estate, responded by saying that Safechuck's claims should be dismissed.
Mr. Safechuck's request to file a late claim against the Jackson Estate so he can recover money from Michael's beneficiary will hopefully be rejected. This is a person that made his claim five years after Michael died, more than 20 years after the incidents supposedly happened and has given sworn testimony that Michael never did anything inappropriate to him.
Safechuck's petition is scheduled to be heard Sept. 4.
0
0
Steve Mallia
Steve Mallia
2014-08-08 17:02:41
2015-01-20 10:31:22
Man claims child sexual abuse
1 Aug, 2014
Home purchase/sale
0 Comments
For the first time after being bought by Michael Jackson, Neverland Ranch is up for sale and could sell for up to $85m.
We've really just been custodians of an irreplaceable estate and are proud to say we've restored it to the original elegance Michael first envisioned. We are now considering putting it up for sale.
0
0
Steve Mallia
Steve Mallia
2014-08-04 23:38:31
2015-01-20 10:40:24
Neverland Ranch for sale
13 May, 2014
Album Release
0 Comments
Epic Records and MJJ Music releases the second posthumous album Xscape by Jackson. Singles include Love Never Felt So Good, and A Place With No Name. Timbaland, executive producer:
This was very trying, not because it was just a Michael Jackson… kept hearing his voice, it was like, I'm doing Michael Jackson. It got emotional. I had to tell my engineer to stop — we gotta go to something else. It took about a week process to really grasp what I'm doing. And once I grasped what I'm doing, I had to call my mom for prayer like, I need some help, I need some guidance on this, 'cause this is hard
0
0
Jamie
Jamie
2014-10-08 17:44:39
2015-01-20 09:48:17
Xscape
Jackson wins the Billboard Year in Music Survey for Number 1 Pop Album for Thriller.
0
0
Jamie
Jamie
2014-10-05 19:34:36
2014-10-05 19:34:36
Wins Billboard Year in Music Survey
10 Dec, 2010
Album Release
0 Comments
Epic Records and Sony Entertainment release the first posthumous complication album of unreleased tracks by Jackson titled Michael. Hit singles include Hold My Hand, Hollywood Tonight, Behind The Mask, and (I Like) The Way You Love Me. Brian Oxman, a lawyer for Joe Jackson states:
If Michael had wanted this music released he would have done so before his death. The songs which are being released on the new Michael Jackson album were unfinished and incomplete tracks that Michael said over and over many times he never wanted released. We should honor Michael Jackson's wishes.

0
0
Jamie
Jamie
2014-10-08 21:15:20
2015-01-20 09:45:19
Michael
22 Nov, 2009
Other Awards
0 Comments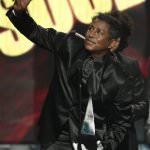 Jackson wins AMAs for Favorite Pop/Rock Male Artist, Favorite Soul/R&B Male Artist, Favorite Pop/Rock Album, and Favorite Soul/R&B Album. Jermaine Jackson accepts the awards and pays tribute by wearing a sparkly white glove. Jermaine:
First of all, I would like to thank Allah, for blessing our entire family. It's not just about the winnings, the awards – it's really the message. The message that Michael had will live forever, and that's there's good in everyone. Start with love, and let's love each other… We love you, Michael.
0
0
Jamie
Jamie
2014-10-08 23:42:10
2015-02-08 00:10:28
Wins American Music Award
28 Oct, 2009
Kenny Ortega
Film Appearance
0 Comments
Michael Jackson's This Is It is documentary-concert film directed by Ortega. It documents Jackson's rehearsals and preparation for the concert series, Michael Jackson's This Is It. The series is cancelled June 25th due to Jackson's death and it is the last film he starred in. Jackson's family tried to stop the movie from being released. La Toya:
Michael always wants to give his best. This is a rehearsal. He wasn't giving his all. He loves to give his all always. That's just the way he is. He wants people to see him at the top of the ladder and not half-stepping because he doesn't want to do a full-out rehearsal.
Michael Jackson's THIS IS IT Official HD Trailer
0
0
Jamie
Jamie
2014-11-05 23:32:36
2015-02-08 01:50:30
Michael Jackson's This Is It
8 Aug, 2009
The Jackson 5
Interview
0 Comments
Jackson is interviewed by ABC about his life and his 50th birthday.
I am still looking forward to doing a lot of great things, so that's hard. I think the best is yet to come, in my true humble opinion.
ABC Interview with Michael Jackson on His 50th Birthday (8-29-2008)
0
0
A.Akanbi
A.Akanbi
2014-08-24 17:01:34
2014-08-24 17:01:34
ABC interview
13 Jul, 2009
Magazine Cover
0 Comments
Jackson appears on the cover of People after dying weeks before his concerts in London were to take place. There were allegations that drug use was involved in Jackson's death. Source:
Janet was on the phone, but siblings Randy, Jackie and Rebbie were there. Michael got pissed off. He said he wasn't on drugs. Jackson also drank and took straight morphine, Valium, Xanax, Demerol and OxyContin. It could happen any minute.
https://newslines.org/wp-content/uploads/2014/08/jackson.jpg
273
205
1prettyorchid
1prettyorchid
2014-08-31 21:06:34
2014-08-31 21:06:34
People cover
7 Jul, 2009
Deborah Rowe
Interview
0 Comments
In an interview with ABC News, Rowe reveals for the first time why she had Jackson's children.
I believe there are people who should be parents, and he's one of them. And he is such a fabulous man, and such a good friend, and he's always been there for me, always, from the day I met him,
WHY MICHAEL JACKSON MARRIED DEBBIE ROWE
0
0
Jamie
Jamie
2014-10-07 23:48:22
2015-01-20 09:49:10
Reveals why she had Jackson's children
0
0
batya
batya
2014-06-26 10:54:32
2015-01-20 10:42:29
We Had Him
5 Jun, 2009
0
0
A.Akanbi
A.Akanbi
2014-08-17 23:38:30
2015-01-23 10:08:11
Beat It rehearsal performance
0
0
A.Akanbi
A.Akanbi
2014-08-17 22:54:06
2015-01-23 10:08:12
I Can't Stop Loving You performance
Jackson is given a golden elephant as an award for his work in fighting AIDS in Africa. The award ceremony is held at the Ethiopian Embassy in Washington D.C., and is presented by AASA (African Ambassadors' Spouses Association).
This is beautiful. This is a wonderful occasion. I've been going to Africa since I was 12 years old, and I take my child on vacation there.
AASA Humanitarian Award Presentation Michael Jackson 2004
0
0
Jamie
Jamie
2014-10-08 23:42:07
2014-10-08 23:42:07
Wins Golden Elephant Award
Jackson wins the BMI Urban Award for BMI Icon Award for The Jacksons.
0
0
Jamie
Jamie
2014-10-05 13:22:14
2014-10-05 13:22:14
Wins BMI Urban Award