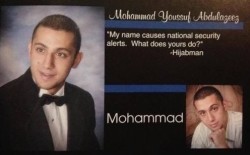 Abdulazeez graduates from Red Bank High School, northwest of Chattanooga, where he is popular and has many friends. He likes System of a Down — and has an interest in media and filmmaking. Friends:
He had a really easy-to-get-along-with personality. Every art assignment, he would put a funny or humorous spin on it. He was kind of the funny guy in that class.
He wrestles for the team for most of his high school career, and during his last two years was a starter and team leader. Wrestling coach:
Mohammod was very humble. He always did what I asked him to do; he never gave me any problems. All the guys seemed to like him. He was not an outsider.
His yearbook photo says:
My name causes national security alerts. What does yours do?