19 Jul, 2015
2015 Chattanooga Marines Shooting
Makes Statement
0 Comments
In a statement family members say that their son had suffered from drug and alcohol addiction since he was in his early teens. They also stated that he used substances to self medicate his depression. In addition to marijuana, alcohol and several anti-depressants, Abdulazeez was taking muscle relaxants for a back problems as well as another prescription medication to help him sleep. Family spokesperson:
[Abdulazeez] suffered from depression since his early teen years and also fought drug and alcohol abuse, spending time in Jordan last year to help him clean himself up. He was self-medicating, deeply depressed and having a hard time working the night shift at his job.
0
0
Natalie Frank
Natalie Frank
2015-07-20 03:31:02
2015-07-20 12:14:23
Family admits drug abuse problems
2015 Chattanooga Marines Shooting
Makes Statement
0 Comments
Abdulazeez's family blame depression for turning their son's actions. The family also say he was taking antidepressant medications at the time of the shooting.
There are no words to describe our shock, horror, and grief. The person who committed this horrible crime was not the son we knew and loved. For many years, our son suffered from depression. It grieves us beyond belief to know that his pain found its expression in this heinous act of violence.
0
0
Natalie Frank
Natalie Frank
2015-07-20 02:55:12
2015-07-21 18:47:47
Family blames depression
2015 Chattanooga Marines Shooting
Bill Killian
Department of Homeland Security (DHS)
FBI
Makes Statement
0 Comments
Homeland Security and the FBI issue a joint statement:
We have no information at this time indicating that this incident was either inspired, directed, or assisted by individuals associated with an identified designated foreign terrorist organization. However, the FBI investigation into his activities while overseas and the nature and extent of his affiliation with FTOs (foreign terrorist organizations) is ongoing. We have no information to date to suggest that these trips [over the past year to the Middle East] were associated with any nefarious or violent extremist activities
Authorities seek to determine if the shooter was inspired by ISIS or a similar organization or was a "lone wolf," attack, where Abdulazeez acted on his own. U.S. Attorney Killian says that although the shootings are currently being investigated as "domestic terrorism", they are not as of yet officially classified as an act of terrorism.
0
0
Natalie Frank
Natalie Frank
2015-07-19 20:20:14
2015-07-20 03:00:11
FBI, DHS: motive unclear
18 Jul, 2015
2015 Chattanooga Marines Shooting
Makes Statement
0 Comments
Abdulazeez's family members offer condolences and sympathy to the families of those killed.
We extend our deepest sympathies and condolences to the families of the honorable servicemembers and police officers who were victims of the shooting our son committed on Thursday in Chattanooga, Tennessee— our community, and one we have loved for over twenty-five years. Our prayers go out to the victims' families, friends, and everyone who is affected by this tragedy. We understand there are many legitimate questions that need to be answered. Having said this, now is the time to reflect on the victims and their families, and we feel it would be inappropriate to say anything more other than that we are truly sorry for their loss.
0
0
Natalie Frank
Natalie Frank
2015-07-19 04:02:50
2015-07-21 14:31:18
Family offers condolences
2015 Chattanooga Marines Shooting
Death
0 Comments
Navy Petty Officer 2nd Class Randall Smith — a reservist serving on active duty in Chattanooga — dies with members of his family by his side. Smith was the father of three young daughters. He entered the Navy after losing a college baseball scholarship to a shoulder injury.
0
0
Mark Devlin
Mark Devlin
2015-07-18 14:37:37
2015-07-18 14:37:38
Fifth victim dies
17 Jul, 2015
2015 Chattanooga Marines Shooting
0 Comments
The four victims are identified by the Marines as Gunnery Sgt. Thomas J. Sullivan of Hampden, Massachusetts, who was deployed twice during the Iraq war and received two Purple Hearts; Staff Sgt. David A. Wyatt of Burke, North Carolina, who had been a Marine for more than 11 years and was deployed three times, including twice in Iraq; Sgt. Carson A. Holmquist of Polk, Wisconsin, who was deployed to afghanistan; and Lance Cpl. Squire "Skip" K. Wells of Cobb County, Georgia. The victims' remains are being transported to Dover Air Force Base in Delaware.
0
0
Mark Devlin
Mark Devlin
2015-07-17 15:40:44
2015-07-17 16:13:56
Victims identfied
16 Jul, 2015
2015 Chattanooga Marines Shooting
Barack Obama
Makes Statement
0 Comments
President Obama condemns the shooting deaths, says a full investigation is under way, and says the Department of Defense is working to bolster security at all of its facilities.
It is a heartbreaking circumstance for these individuals who have served our country with great valor to be killed in this fashion. I speak for the American people in expressing our deepest condolences. We will be thorough and prompt in figuring out exactly what happened. We take all shootings very seriously.Obviously when you have an attack on a U.S. military facility then we have to make sure that we have all the information necessary to make an assessment as to how this attack took place and what precautions we should take in the future.
0
0
Mark Devlin
Mark Devlin
2015-07-17 00:57:43
2015-07-17 00:59:14
Obama: Attacks 'heartbreaking'
0
0
Mark Devlin
Mark Devlin
2015-07-16 16:03:14
2015-07-16 16:14:16
Shooter identified
2015 Chattanooga Marines Shooting
Death
0 Comments
Abdulazeez dies of unknown causes during the attack. Officials confirm his death, but refuse to provide any other details at this point in time.
The local law enforcement had a great response and they were able to neutralise the threat.
0
0
Patrick Griffiths
Patrick Griffiths
2015-07-17 05:21:55
2015-07-17 16:31:44
Dies in attack
2015 Chattanooga Marines Shooting
Terror Incident
0 Comments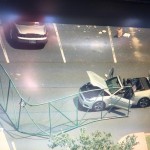 About eight miles away, and 30 minutes later, Abdulazeez opens fire on a recruiting center in, Amnicola Highway, Chattanooga. Four marines are killed, and Abdulazeez is killed.
0
0
Mark Devlin
Mark Devlin
2015-07-16 16:43:16
2015-07-16 16:43:16
Amnicola Highway attack
2015 Chattanooga Marines Shooting
Terror Incident
0 Comments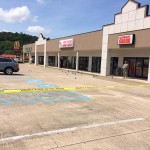 Abdulazeez opens fire from a white Ford Mustang on a military recruiting office on Lee Highway, Chattanooga. Witnesses say one man is shot in the back of the leg, but there are no fatalities. Witness:
I looked out of our window and I seen the guy in his car, a silver Mustang, drop top, a white guy and he had a high-powered rifle and was just firing shots into the Air Force, Navy and Marines office. I don't even know how many shots he fired, but it was a lot. … After he got done opening fire, he pulled out really quick.
0
0
Mark Devlin
Mark Devlin
2015-07-16 16:33:58
2015-07-16 16:38:38
Lee Highway recruitment center attack
13 Jul, 2015
Writes Article
0 Comments
Abdulazeez writes two Islam-themes blog posts, the only posts on his blog. In the first, A Prison Called Dunya, Abdulazeez uses the hypothetical example of a prisoner who is told he would be given a test that would either take him out of his earthly prison—or send him into a more restrictive environment.
I would imagine that any sane person would devote their time to mastering the information on the study guide and stay patient with their studies, only giving time for the other things around to keep themselves focused on passing the exam. They would do this because they know and have been told that they will be rewarded with pleasures that they have never seen. [This life is a test] designed to separate the inhabitants of Paradise from the inhabitants of Hellfire.
The second, Understanding Islam: The Story of the Three Blind Men, uses the example of blind men who feel an elephant but can't quite tell what the creature is. He says Muslims have a similar understanding of the earliest companions of the Prophet Muhammad, who he says were not like priests living in monasteries is not true, but were actually a mayor of a town, governor of a state, or leader of an army at the frontlines.
We ask Allah to make us follow their path. To give us a complete understanding of the message of Islam, and the strength the live by this knowledge, and to know what role we need to play to establish Islam in the world.
0
0
Mark Devlin
Mark Devlin
2015-07-16 22:52:30
2015-07-16 22:52:30
Writes two blog posts
20 Apr, 2015
Arrest
2 Comments
Abdulazeez is arrested on a first-time DUI charge in Hamilton County. According to the police report, Abdulazeez is pulled over after he fails to maintain the lane and is driving under the speed limit. The officer notes he was acting lethargic and slurring his speech. Officers smell marijuana. He had droopy eyelids and a white powdery residue under his nose. Abdulazeez tells officers that he had been around friends who were drinking and using marijuana and tells police he had crushed caffeine pills and snorted them. He shows signs of impairment during a field sobriety test, but refuses a blood test and officers obtain a warrant to draw blood. He is scheduled to appear back in court at the end of the month.
0
0
Mark Devlin
Mark Devlin
2015-07-16 23:00:18
2015-07-16 23:40:21
DUI arrest
Abdulazeez is cited for speeding and not having insurance by Tennessee Highway Patrol.
0
0
Mark Devlin
Mark Devlin
2015-07-16 23:40:50
2015-07-16 23:40:50
Speeding citation
18 Jul, 2009
0
0
Mark Devlin
Mark Devlin
2015-07-16 22:46:56
2015-07-16 22:46:56
Wins MMA fight
2009
Divorce
0 Comments
Rasmia Abdulazeez petitions for divorce, arguing her husband has been abusive and has beaten her and her children. The suit is dismissed without prejudice soon after and the couple sign a post-nuptial agreement.
0
0
Mark Devlin
Mark Devlin
2015-07-17 17:09:13
2015-07-17 17:09:13
Parents divorce
Abdulazeez trains three to five days a week at Chattanooga Fight Factory, a mixed-martial arts gym, for more than a year. Each evening at 6 p.m., Abdulazeez unfurls his prayer rug in the gym's offices to conduct evening prayers. He also hangs out with his trainer and other friends at local restaurants and bars to watch mixed martial art matches. Trainer:
You could see he was trying to become more Americanized. But his family disapproved [of the fighting].
His trainer says that Abdulazeez had several friends at the gym, but one in particular, a former Chattanooga police officer, would constantly exhort militant Islamic views and threatened anyone who bad-mouthed the faith. The man was the one who introduced Abdulazeez to the Fight Factory and became the young fighter's closest mentor.
0
0
Mark Devlin
Mark Devlin
2015-07-16 23:50:36
2015-07-16 23:53:23
Trains at wrestling school
Graduation
0 Comments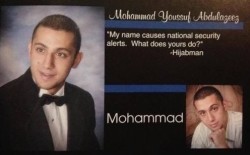 Abdulazeez graduates from Red Bank High School, northwest of Chattanooga, where he is popular and has many friends. He likes System of a Down — and has an interest in media and filmmaking. Friends:
He had a really easy-to-get-along-with personality. Every art assignment, he would put a funny or humorous spin on it. He was kind of the funny guy in that class.
He wrestles for the team for most of his high school career, and during his last two years was a starter and team leader. Wrestling coach:
Mohammod was very humble. He always did what I asked him to do; he never gave me any problems. All the guys seemed to like him. He was not an outsider.
His yearbook photo says:
My name causes national security alerts. What does yours do?
0
0
Mark Devlin
Mark Devlin
2015-07-16 23:24:20
2015-07-17 00:01:48
Graduates high school
1996
Moves Country
0 Comments
After spending some time in Jordan, Abdulazeez's family move to the United States. They settle in the Chattanooga area.
0
0
Mark Devlin
Mark Devlin
2015-07-16 23:09:42
2015-07-16 23:15:12
Family moves to United States
1991
Birth
0 Comments
Muhammad Youssef Abdulazeez is born in Kuwait. His father is from Nablus in the West Bank and his mother is from Kuwait.
0
0
Mark Devlin
Mark Devlin
2015-07-17 12:17:18
2015-07-17 12:19:56
Muhammad Youssef Abdulazeez born in Kuwait