1 Feb, 2017
Michelle Obama
Richard Branson
0 Comments
The former President and First Lady have lunch with Branson and his family on the island of Anegada. Barack wears a black Nike polo shirt and shorts and a baseball cap. Michelle wears her hair in braids underneath a sun hat which she pairs with a white beach dress.
0
0
Mohsin Ranjha
Mohsin Ranjha
2017-02-01 04:28:40
2017-02-01 15:01:52
Obamas lunch with Branson
22 Aug, 2016
Michelle Obama
White House
0 Comments
President Obama wraps up his final summer getaway to Martha's Vineyard Sunday. He spends the morning on a final round of vacation golf before rolling out in his motorcade with first lady Michelle Obama and daughters Sasha and Malia.
0
0
Rao Muhammad Shahid Iqbal
Rao Muhammad Shahid Iqbal
2016-08-25 17:52:20
2016-08-25 17:52:47
Wraps up summer trip
15 Aug, 2016
Donald Trump
Makes Statement
0 Comments
At a $10,000-a-head fundraiser for Hillary Clinton on Martha's Vineyard, President Obama says he is tired of talking about Trump.
You notice I haven't said much about her opponent. Frankly, I'm tired of talking about her opponent. I don't have to make the case against her opponent because every time he talks he makes the case against his own candidacy…This has been an unpredictable election season. Not only because of anxieties and concerns that the American people have, but also because of the changing nature of the media and voting patterns. There's still a lot of uncertainty out there. And if we are not running scared until the day after the election, we are going to be making a grave mistake.
0
0
Rao Muhammad Shahid Iqbal
Rao Muhammad Shahid Iqbal
2016-08-16 10:24:53
2016-10-16 16:29:43
Obama 'tired of talking about Trump'
16 Feb, 2016
Donald Trump
Interview
0 Comments
In Beaufort, SC, Trump responds to President Obama's comments saying he will never be president.
He has done such a lousy job as president. You look at our budgets. You look at our spending. We can't beat ISIS. Obamacare is terrible. We're going to terminate it. We're going to absolutely terminate and replace it. I mean you look at everything. Our borders are like Swiss cheese….You're lucky I didn't run last time when Romney ran because you would have been a one-term president.
0
0
Mark Devlin
Mark Devlin
2016-02-18 20:46:59
2016-02-18 20:46:59
Obama has done 'a lousy job'
Donald Trump
Makes Statement
0 Comments
At a press conference during a summit with Southeast Asian leaders in California, President Obama says that he believes Trump will not be president.
I continue to believe Mr. Trump will not be president. And the reason is that I have a lot of faith in the American people. Being president is a serious job. It's not hosting a talk show, or a reality show…The presidency isn't "a matter of pandering and doing whatever will get you in the news on a given day. And sometimes, it requires you making hard decisions even when people don't like it…Whoever's standing where I'm standing right now has the nuclear codes with them, and can order 21-year-olds into a firefight, and (has) to make sure that the banking system doesn't collapse, and is often responsible for not just the United States of America, but 20 other countries that are having big problems, or are falling apart and are gonna be looking for us to something…The American people are pretty sensible, and I think they'll make a sensible choice in the end.
President Obama: "I continue to believe Mr. Trump will not be President..." (C-SPAN)
0
0
Mark Devlin
Mark Devlin
2016-02-18 20:52:15
2016-02-18 20:52:15
Believes Trump will not be president
8 Feb, 2016
Zika Virus
Makes Statement
0 Comments
The White House says it will ask Congress for $1.8 billion in emergency funding to combat the Zika virus: $828 million for the CDC to increase research into Zika, monitor the disease, and improve testing programs; $250 million to expand health programs in Puerto Rico, where the virus has already taken hold; $200 million is for vaccine research; $335 million for the US Agency for International Development to support Zika control efforts abroad; and $210 million to establish a new Urgent and Emerging Threat Fund that would build readiness in case other mosquito populations — like the Aedes albopictus — start carrying Zika to new states. President Obama:
The good news is this is not like Ebola, people don't die of Zika. A lot of people get it and don't even know that they have it.
0
0
Mark Devlin
Mark Devlin
2016-02-08 15:41:25
2016-02-08 15:41:25
Obama asks congress for emergency funds
17 Jan, 2016
Flint Water Crisis
Rick Snyder
Makes Statement
0 Comments
Obama declares an official State of Emergency in the Flint Water Crisis. The move, requested by Gov. Snyder, frees up $5M in federal aid funding. Snyder's initial request sought $31M, but this was denied on the grounds that the mandates allowing funds on that scale to be released are only available for natural disasters. Obama's declaration will also free up FEMA to co-ordinate relief efforts in Flint.
0
0
Jessica Voloudakis
Jessica Voloudakis
2016-01-17 21:45:28
2016-01-17 21:45:28
Declares State of Emergency
15 Jan, 2016
Introduces Bill
0 Comments
The Obama administration announces plans to halt new coal mining leases on federal land until it completes a review of fees. The administration wants to ensure that those fees secure a fair price for the mining rights and that the fees charged reflect the environmental costs of coal mining and use. Coal mining companies at present pay a $3 fee for each acre of federal land leased and a royalty on the sale price of strip-mined coal. The rate was set in 1976. 40% of coal mined in the US is mined on federal land.
0
0
Jessica Voloudakis
Jessica Voloudakis
2016-01-15 10:26:51
2016-01-15 12:03:02
Halts coal leases
8 Jan, 2016
Anderson Cooper
CNN
Press Conference
0 Comments
Obama speaks with gun owners at a televised town hall meeting hosted by CNN. The president explained his measures to make legal products safer, akin to child-proof medicine caps, and sought to reassure gun owners that no one was coming for their property. The NRA chose not to participate. The American Firearms Retailers Association was involved with the meeting. On gun registration:
That's an area where there's just not enough national consensus at this stage to even consider it. And part of it is is people's concern that that becomes a prelude to taking people's guns away…Part of the challenge of this is that the gun debate gets wrapped up in broader debates about whether the federal government is oppressive and there are conspiracy theories floating around the Internet these days all the time.
0
0
Jessica Voloudakis
Jessica Voloudakis
2016-01-08 11:26:19
2016-01-12 21:55:27
Holds gun policy town hall
29 Nov, 2015
Anne Hidalgo
Francois Hollande
November 2015 Paris Attacks
Tribute
0 Comments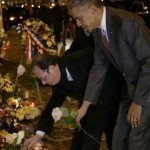 Obama, President Hollande, and Mayor Hidalgo visit the Bataclan venue where ninety people were killed. After placing his rose, Obama stands in silence with his head bowed and his hands clasped in front of him. He then walks away with his arms around Hollande and Hidalgo.
0
0
ricardo
ricardo
2015-11-29 22:53:24
2015-12-02 04:32:59
Obama pays respects
13 Nov, 2015
November 2015 Paris Attacks
Makes Statement
0 Comments
President Obama comments on the Paris attacks, saying he has not spoken to French President Francois Hollande but would shortly.
Once again we've seen an outrageous attempt to terrorize innocent civilians. This is an attack not just on Paris and not just on people of France, but this is an attack on all of humanity and the universal values that we share. The president  He said his team is was still gathering information and he didn't want to speculate about who might be responsible. [We will do whatever is necessary] to bring these terrorists to justice, and to go after any terrorist networks that go after our people. The French people have stood shoulder to shoulder with the United States time and again. And we want to be very clear that we stand together with them in the fight against terrorism and extremism.
Obama: Paris attacks 'an outrageous attempt' fo...
0
0
Mark Devlin
Mark Devlin
2015-11-13 19:50:33
2015-11-13 20:16:00
Obama: attacks 'Heartbreaking'
10 Nov, 2015
Benjamin Netanyahu
Israel
Makes Statement
0 Comments
Minister Netanyahu meets with President Obama about the security of Israel. President Obama says that Israel's security is a primary focus of his administration and he's committed to using the resources of the United States to help keep Israel safe.
As I've said repeatedly, the security of Israel is one of my top foreign policy priorities and that has expressed itself not only in words but in deeds. We have closer military intelligence cooperation than any two administrations in history. The military assistance that we provide we consider not only an important part of our obligation to the security of the state of Israel but also an important part of US security infrastructure in the region as we make sure that one of our closest allies can not only protect itself but can also work with us in deterring terrorism and other security threats.
Prime Minister Netanyahu also expresses his appreciation of the strong bond that exists between the United States and Israel.
We're with each other in more ways than one and I want to thank you for this opportunity to strengthen our friendship which is strong and strengthen our alliance which is strong.
0
0
Natalie Frank
Natalie Frank
2015-11-16 23:04:18
2015-11-16 23:04:18
Obama, Netanyahu meet
6 Nov, 2015
John Kerry
Keystone XL pipeline
Russ Girling
TransCanada
Judgement
0 Comments
President Obama announces that he will not allow TransCanada Corp a cross border permit. This prevents the company from building the pipeline. Although the pipeline would be creating new jobs, others cited environmental damages that could occur during construction and general maintenance. Obama:
America's now a global leader when it comes to taking serious action to fight climate change. And frankly, approving this project would have undercut that global leadership. And that's the biggest risk we face — not acting.
Kerry:
The reality is that this decision could not be made solely on the numbers — jobs that would be created, dirty fuel that would be transported here, or carbon pollution that would ultimately be unleashed. The United States cannot ask other nations to make tough choices to address climate change if we are unwilling to make them ourselves.
TransCanada CEO Girling:
Today, misplaced symbolism was chosen over merit and science — rhetoric won out over reason. TransCanada is reviewing the decision and its rationale.
0
0
Vinh
Vinh
2015-11-07 05:01:01
2015-11-07 22:28:46
Keystone XL pipeline rejected
19 Oct, 2015
0
0
Mark Devlin
Mark Devlin
2015-10-19 22:33:59
2015-10-19 22:33:59
Visits White House
1 Oct, 2015
Umpqua Community College Shootings
Makes Statement
0 Comments
Obama offers his condolences to the families of those who were killed.
[America] will wrap everyone who's grieving with our prayers and our love. [But] our thoughts and prayers are not enough…Somehow this has become routine. The reporting is routine. My response here at this podium ends up being routine. The conversation in the aftermath of it. We've become numb to this. We've talked about this after Columbine and Blacksburg, after Tucson, after Newtown, after Aurora, after Charleston. It cannot be this easy for somebody who wants to inflict harm on other people to get his or her hands on a gun…Each time this happens I am going to say that we can actually do something about it but we're gonna have to change our laws. And this is not something I can do by myself.
0
0
Mark Devlin
Mark Devlin
2015-10-01 20:36:07
2015-10-01 20:36:07
Obama comments
28 Sep, 2015
Vladimir Putin
Makes Statement
0 Comments
Obama meets Putin for the first time in more than two years. On the biggest issue that divides them in Syria, the U.S. still insists Syria's future cannot include Assad, while Putin appears to only want to bolster the standing of his longtime ally, casting him as the best defense against Islamic States militants. Putin:
Strange is it may seem, there were many common points. There were also disagreements which we agreed to work together. I hope this work will be constructive.
Putin says 'differences can be resolved' after meeting with Obama
0
0
Maria Generica
Maria Generica
2015-09-29 04:27:28
2015-09-29 16:23:07
Putin, Obama meet
United Nations
Gives Talk
0 Comments
President Obama addresses the General Assembly of the United Nations. He calls President Assad of Syria is a "tyrant" and urges the international community to work together to defeat ISIS, and that he is prepared to work with Russia and Iran to resolve the conflict.
By [Russia's] logic we should support tyrants like Bashar al Assad…because the alternative is surely worse….When a dictator slaughters tens of thousands of his own people it's not a matter of one nation's internal affairs…There is no room for accommodating an apocalyptic cult like ISIL..We must recognize that there cannot be, after so much bloodshed, so much carnage, a return to the prewar status quo.
On the Iran nuclear deal:
For two years, the United States and our partners including Russia, including China…stuck together…That is the strength of the international system when it works the way it should.
'US cannot solve world's problems alone': Obama addresses UNGA (FULL SPEECH)
0
0
Mark Devlin
Mark Devlin
2015-09-28 15:07:41
2015-09-28 15:07:41
Addresses United Nations
23 Sep, 2015
Pope Francis
Gives Talk
0 Comments
Francis is welcomed formally to the U.S. by President Obama. In an English speech he introduces himself as the son of the kind of "immigrant family" on which America was built. He also talks about family values, and climate change:
I would like all men and women of good will in this great nation to support the efforts of the international community to protect the vulnerable in our world and to stimulate integral and inclusive models of development.
Obama:
Holy Father, we are grateful for your invaluable support of our new beginning with the Cuban people, which holds out the promise of better relations between our countries, greater cooperation across our hemisphere, and a better life for the Cuban people.
The president and Pope meet for one-on-one talks in the Oval Office, with the Pope receiving a sculpture of an ascending dove made from metal taken from the Statue of Liberty and wood which once grew in the White House garden.
Full video: Pope Francis speaks at the White House
0
0
Mark Devlin
Mark Devlin
2015-09-23 20:55:41
2015-09-23 20:55:41
White House welcome
22 Sep, 2015
Joe Biden
Pope Francis
Attend Event - Photocall
0 Comments
Pope Francis arrives for his first visit to the U.S. and is greeted by President Obama, Vice President Biden and their families at Joint Base Andrews, outside Washington. On the plane from Cuba Francis dismisses suggestions that he is a socialist, saying that despite his warnings of the inequities in the global economic system, his beliefs are consistent with the established social doctrine of the Church. After a brief private meeting with Obama in a VIP suite, the pope leaves for the residence of the Vatican ambassador to the United States in a black Fiat hatchback car with the number plate SCV 1.
Pope Francis in the USA - Arrival at Washington
0
0
Mark Devlin
Mark Devlin
2015-09-23 00:57:36
2015-09-23 00:57:36
Arrives in U.S.
16 Sep, 2015
0
0
Mark Devlin
Mark Devlin
2015-09-16 15:02:44
2015-09-16 15:02:44
Obama tweets support