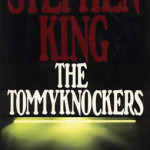 After finding something mysterious buried in her back yard, Bobbi Anderson becomes obsessed with digging it up and discovering what it is. Soon, the town's population becomes increasingly ill due to the appearance of the aliens known as the Tommyknockers.
After becoming discouraged with his progress, King parted with the manuscript, only to come back to it decades later.
That was another case of a book I tried to write a long time ago. I had the idea of the guy stumbling over the flying saucer when I was a senior in college. I had 15 or 20 pages and I just stopped. I don't remember why.