8 Sep, 2015
Michael Slager
Makes Statement
0 Comments
Slager's defense team says it will present evidence at Slager's bond hearing Thur Sep 10 that includes never-before-seen stills from the cell phone video that are said to show Scott on top of Slager. Attorney's suggest Scott may not have been completely unarmed the entire time. Slager's defense team believes his Taser was fired six times and that both the officer and Scott were each hit twice, suggesting there was more of a struggle than prosecutors have revealed. Additionally, Scott's DNA was on the Taser and that there was blood on Slager's clothing and abrasions on his knee, and that he had an injured finger.
You need to go back to the incident scene and you need to see where the original stop was and you need to see where the final events took place…Maybe he was found without any weapon on him at the time that he died…Time will tell and I think that you will be able to judge his actions not by just what he said but what the independent evidence is.
0
0
Mark Devlin
Mark Devlin
2015-09-08 16:51:09
2015-09-08 17:14:37
Defense will present new evidence
8 Jun, 2015
Michael Slager
Charged
0 Comments
Slager is indicted by a grand jury on a murder charge in connection with the April shooting death Scott. Under South Carolina law, there is only a single murder charge, which was described by the prosecutor as an "unlawful killing with malice aforethought".
As long as malice is proven in the heart and mind, the state has proven its case.
Slager's attorney:
The grand jury is a formal step, but just another step in the criminal process. Until we have an opportunity to fully evaluate the state's case and to compare it with our own investigation, we will not be commenting on any aspect of the case.
Scott's family:
We are happy and pleased about that right now.
0
0
Mark Devlin
Mark Devlin
2015-06-08 22:05:10
2015-06-08 22:05:10
Indicted
14 Apr, 2015
Judge Clifton Newman
Michael Slager
Trial
0 Comments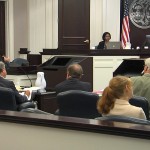 South Carolina's Supreme Court assigns Judge Newman to have exclusive jurisdiction over the case against former officer Slager. A release on the Ninth Circuit Solicitor Scarlett Wilson's Facebook page reads:
Judge Newman shall decide all matters pertaining to this case, including motions to appoint or relieve counsel, and shall retain jurisdiction over this case regardless of where he may be assigned to hold court and may schedule such hearings as may be necessary at any time without regard as to whether there is a term of court schedule.
0
0
Candice Lee
Candice Lee
2015-04-15 13:01:46
2015-04-15 13:31:05
Judge assigned
Pierre Fulton
Makes Statement
0 Comments
Scott's passenger when he was gunned down, Fulton, breaks his silence on the issue.
Walter was a dear friend, and I miss him every day reported…Over the past five years, he helped me to become a better man and showed me the value of hard work. I'll never know why he ran, but I know he didn't deserve to die. Please keep Walter and his family in your prayers and respect my privacy moving forward.
0
0
Mudit Chauhan
Mudit Chauhan
2015-04-15 07:14:47
2015-04-15 12:13:31
Breaks silence
13 Apr, 2015
Michael Slager
Trial
0 Comments
Slager won't face death penalty for shooting Scott. Charleston County's chief prosecutor Scarlett Wilson:
Based on the facts revealed thus far, it does not appear South Carolina's death penalty provision applies in this case because there are no statutory aggravating circumstances present.
0
0
Mudit Chauhan
Mudit Chauhan
2015-04-15 06:43:24
2015-09-08 17:17:19
Won't face death penalty
11 Apr, 2015
Jim Clyburn
Michael Slager
Funeral
0 Comments
Hundreds of mourners attend the funeral of Scott at W.O.R.D. Ministries Christian Center. With the 200 seat sanctuary full, 100 more attendees stand outside in the rain.  Soloist Brian McClain sings a gospel selection, and the pastor George Hamilton delivers the sermon. On the death of Scott, he says:
There is no doubt in my mind that Walter's death was motivated by racism. You have to hate somebody to shoot them from behind. This hate could not have been because of the person who Walter was. This hate was because Walter was an African American.
South Carolina congressman Clyburn addresses the press after the funeral:
I think this is a catalyst to get people to face up to the fact that we've got problems in this country. I think this exposed something that is already there.
0
0
Candice Lee
Candice Lee
2015-04-11 19:45:34
2015-04-11 20:13:11
Walter Scott funeral
9 Apr, 2015
Justin Bamberg
Michael Slager
Makes Statement
0 Comments
The Scott family says Thursday it is preparing to file a civil suit against Slager and his department. State Rep. Bamberg, who is representing the family as a lawyer:
We will seek every penny of compensation that the family deserves. People in society are fed up with people getting away with things like this, fed up with law enforcement abusing the power that they have…There are still a lot of questions about what transpired especially concerning the other officers.
0
0
Mark Devlin
Mark Devlin
2015-04-10 16:04:26
2015-04-10 16:04:26
Will file civil suit
Al Sharpton
Michael Slager
Makes Statement
0 Comments
A source close the Scott family says they do not want the same kind of media attention that surrounded the death of Michael Brown:
We don't want another Ferguson type of circus here.
Scott family attorney says said they appreciate Sharpton's support but "the funeral is only going to be close family members."
The Reverend Al has called and expressed his support and condolences. The family is very appreciative.
Sharpton says he has been in touch with the Scott family and their lawyers but insists he has no plans to go down.
They are in mourning and we would never come unless they asked. We're willing to be helpful to the family but only when needed.
0
0
Mark Devlin
Mark Devlin
2015-04-10 15:59:41
2015-04-10 15:59:41
Family tells Sharpton to stay away
Feidin Santana
Michael Slager
0 Comments
Santana meets the Scott family at their Charleston, South Carolina, home. Judy Scott:
Oh, thank you God! Thank you Lord! Blessed God! Thank you, thank you God. Thank you, thank you!
Walter Scott, Sr.:
Thank you for another son, God, thank you. You've got a family in Charleston right now… anytime.
Walter Scott's son, Walter Jr.:
You did a good thing, Brother. I don't know how this would've turned out without the video, I just want to thank you. I don't know how much I could thank you more.
Santana:
Just amazing that they know the truth, you know. And they know that Mr Scott won't, like I say, this didn't just happen and stay that way. God put me there for a reason, I'm a very believer of God.
0
0
Mark Devlin
Mark Devlin
2015-04-10 13:02:20
2015-04-10 13:03:03
Meets Scott family
Feidin Santana
Michael Slager
2 Comments
South Carolina authorities release dash cam video in connection with the Scott's shooting. The footage does not show the actual shooting. The video from Slager's patrol car shows the traffic stop and early interactions between the officer and Scott. Slager approaches Scott's vehicle and the two men speak. Scott tells the officer he does not have insurance and is in the process of purchasing the vehicle. Slager then returns to his patrol car. Scott attempts to exit his vehicle, however, Slager tells him to stay in the car. Again, Scott gets out of the car, and runs away, out of the field of view of the dash cam. Officer Slager then pursues Scott on foot, but no visual footage of that chase is available. While in pursuit, Officer Slager warns Scott that he will use the taser. Slager:
Taser, taser, taser. Get on the ground!
0
0
Candice Lee
Candice Lee
2015-04-10 10:28:23
2015-04-10 15:41:58
Dashcam video released
Feidin Santana
Michael Slager
Interview
0 Comments
Santana, the man who shot the video, is interviewed by NBC News' Lester Holt:
I thought about his position, their situation … If I were to have a family member that would happen [to], I would like to know the truth.
In another Interview on MSNBC's All In with Chris Hayes, Santana also says:
I felt that my life, with this information, might be in danger. I thought about erasing the video and just getting out of the community, you know Charleston, and living some place else. I knew this cop didn't do the right thing.
0
0
Candice Lee
Candice Lee
2015-04-09 09:36:25
2015-04-09 15:31:37
Video witness speaks
8 Apr, 2015
0
0
Mark Devlin
Mark Devlin
2015-04-10 15:51:19
2015-04-10 15:51:19
Thanks supporters
7 Apr, 2015
Michael Slager
Interview
0 Comments
In an interview with Good Morning America, Walter Scott's mother, Judy Scott describes viewing the tape of her son's shooting:
When I looked at that tape, it was the most horrible thing I've ever seen, I am very very upset concerning it it. I almost couldn't look at it. To see my son running defensively and being shot – it just tore my heart to pieces. I pray that this never happens to another person – this has to got to stop…From a child he has been raised in the church. From day one he sang in the choir, he played the drums he would call his mom every single day.
Walter's brother Anthony describes the moment he arrived at the scene:
The police told me had died. That is all they gave me. I already knew he had been Tasered – I thought that's what had actually happened. He had gotten Tasered to death. But then my nephew told me he had died.
0
0
Mark Devlin
Mark Devlin
2015-04-08 15:20:51
2015-04-08 15:20:51
Mother: the most horrible thing I've ever seen
https://newslines.org/wp-content/uploads/2015/04/08SHOOTING5-master315-e1428497207406.jpg
215
250
Candice Lee
Candice Lee
2015-04-08 07:27:34
2015-04-10 15:18:10
Slager charged
5 Apr, 2015
Feidin Santana
Michael Slager
0 Comments
After seeing the official report, Santana agonizes over what to do with the video. He checks Facebook to see if he knew anyone in common with the family, and found that they shared some friends. He decided to show it to the victim's family — on the condition that they do not reveal its source.
When I saw the police report [and saw it was] totally opposite to what I had in the video I contacted the family. Before that I had a lot of doubts over whether to do it or not. I was scared, I am still scared…I feel that what I did was the right thing. The family got possession of the tool they needed and they're going to get justice for all this.
0
0
Mark Devlin
Mark Devlin
2015-04-10 15:16:50
2015-04-10 15:40:25
Gives video to family
Feidin Santana
Michael Slager
Makes Statement
0 Comments
Scott's family gather Sunday in the lot where the shooting took place, with community activists for a press conference calling for community calm and law enforcement transparency during the investigative process. Pastor Thomas Ravenell places a candle where Walter Scott was shot and killed by Slager (whose name has not been released at this point). Anthony Scott, the victim's brother:
We just would like for justice to be taken, for justice to be served, and we would like for the truth to come out so my brother can rest in peace. Whatever happened yesterday, that's all we want is the truth, and we will go to any length to get it.
The president of the local chapter of the Rev. Al Sharpton's National Action Network, says:
We know that Mr. Scott was unarmed, that worries me and everyone in this community, that another unarmed black man has died — that is very troubling. I want the family and community to know that National Action Network will not stop until we get these answers.
0
0
Mark Devlin
Mark Devlin
2015-04-10 15:47:05
2015-04-10 16:05:32
Family: All we want is the truth
4 Apr, 2015
Feidin Santana
Michael Slager
Makes Statement
0 Comments
A report of the incident appears in the Post & Courier:
Police in a matter of hours declared the occurrence at the corner of Remount and Craig roads a traffic stop gone wrong, alleging the dead man fought with an officer over his Taser before deadly force was employed.

A statement released by North Charleston police spokesman Spencer Pryor said a man ran on foot from the traffic stop and an officer deployed his department-issued Taser in an attempt to stop him. That did not work, police said, and an altercation ensued as the men struggled over the device. Police allege that during the struggle the man gained control of the Taser and attempted to use it against the officer. The officer then resorted to his service weapon and shot him, police alleged.
0
0
Mark Devlin
Mark Devlin
2015-04-10 15:26:03
2015-04-10 15:32:52
Initial police report
Feidin Santana
Michael Slager
Death
0 Comments
Santana is walking to the barbershop where he works, when he sees Officer Slager chasing Scott on foot and starts to record the incident on his cell phone as they enter a deserted area. He hears a Taser gun go off and sees Scott running away from Slager. The video shows Officer Slager draw his weapon, and as Scott turns and begins to run away, Slager fires his weapon eight times towards Scott's back as he flees. Slager then walks over to Scott who lies motionless in the grass, and places handcuffs on his wrists, behind his back. Another officer then arrives on the scene. Scott is later pronounced dead. Santana says that Scott did not reach out to grab Taser, as the police officer originally stated.
Police tell Santana to stay where he was, he said. But he flees, out of fear for what he had seen, what he had done and what might happen to him. He is shocked when a client mentioned later that day that there was a commotion near the shop and that a man had been killed by police. Santana had not realized that the man he saw being shot had died.
0
0
Mark Devlin
Mark Devlin
2015-04-10 15:13:00
2015-04-10 15:39:09
Slager kills Scott