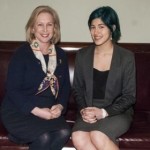 Sulkowicz attends President Obama's State of The Union speech as Gillibrand's guest. Gillibrand:
[Sulkowicz is] a woman of great courage who got no justice
Sulkowicz:
Sometimes it takes a federal hand to make the colleges listen. I feel so excited. It's a dream come true. The piece I am doing is not just based on Columbia. It's based on all survivors' experiences at every college, so I hope that when people think of my art piece they don't think of it as just a Columbia piece. I hope they think of it as something that is meaningful to every person that's ever been assaulted.
Nungesser:
I am shocked to learn that Sen. Gillibrand is actively supporting Ms. Sulkowicz's defamation campaign against me by providing her with a public forum in which to broadcast her grave allegation. By doing so, Sen. Gillibrand is participating in a harassment campaign against someone, who, for good reason, has been found innocent by all investigating bodies.