19 Jan, 2017
Art Exhibition
Interview
0 Comments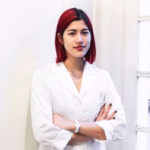 Sulkowicz is interviewed about her performance art piece, The Healing Touch Integral Wellness Center, where she will take on the role of a doctor, seeing 'patients' for 30-minute appointments from 10 a.m. to 6 p.m. for two weeks at the Philadelphia Contemporary gallery.
If the thesis of this project is that art heals in ways that medicine can't, I'm trying to figure out what that means. I want this to be a space where people can safely explore their emotions—that's what I think a 'safe space' is—and figure out what they need from art, not just as an intellectual journey but to really feel why art is important to them…It sounds corny, but if my goal with art is to actually change the world for the better, I think performance art is going to be the most effective tool for that.
On Nungesser:
Yes [I resent him], because people accused me of launching a bullying campaign against him. But no one knew his name until he put it out there…I'm doing other things now, but he still has a pending lawsuit. What's he doing with his life? It's crazy to me.
On whether she wishes she could escape the notoriety of her mattress performance:
Absolutely. It's really depressing to not be anonymous. It's an ongoing conflict because on the one hand, I'm happy that the movement needed someone to step up and be the face of it and humbled to have been chosen, but the sacrifices I've had to make for that have been really stressful. I've lost friends. It was a very tumultuous year and I was very depressed.
0
0
Mark Devlin
Mark Devlin
2017-04-04 09:16:31
2017-04-04 09:24:16
Daily Beast interview
5 Mar, 2016
0
0
Mark Devlin
Mark Devlin
2016-03-10 17:42:44
2016-03-10 17:42:44
Art show video
16 Feb, 2016
Art Exhibition
0 Comments
Sulkowicz will hold her first solo show, from Feb 27, titled Emma Sulkowicz: Self-Portrait, at Los Angeles's Coagula Curatorial art gallery. The exhibition will include two new pieces. Sulkowicz will also make a return to durational performance art with Self-Portrait (Performance with Object), in which she will spend the first three weeks of the show's run sitting in the gallery, answering visitors' questions. Questions Sulkowicz is not willing to respond to will be answered by the Emmatron, a life-sized, ultra-realistic statue of the artist that has been programmed to answer set questions. Both Sulkowicz and her robotic double will sit on top of a sculptural platform, and visitors will interact with the Emmatron through an app. The performance will be accompanied by In-Action Figure, a 3-D printed statue of Sulkowicz produced in an edition of 20, which:
reflects the widespread commodification and flattening of her image in the news and on the internet.
0
0
Mark Devlin
Mark Devlin
2016-02-16 13:58:06
2016-02-16 13:58:06
First solo show announced
4 Aug, 2015
Kunstraum LLC
Nadja Marcin
Art Exhibition
0 Comments
Sulkowicz participates in 7 Women, 7 Sins, a group art show at Brooklyn's Kunstraum LLC, where Sulkowicz's work represents "wrath".  Her work consists of New York Times pages overlaid with drawings that question the content. A self-portrait in which her face is covered by her hands, covers a Times story about her, with text that reads, "you can take my story, but my body won't be overwritten." In another piece a drawing of a man holding his erect penis obscures an ad for Tiffany's diamonds featuring a couple ice skating in Central Park. Sulkowicz's text reads: "Fuck her. Believe this." Curator Marcin:
Emma's contributions confront us with a clear message: 'You lost humans. Don't judge. Listen to your inner self. Stop walking like a blind bird towards the cat. Now, consumption is at its highest peak; we are submissive. Emma makes her 'rape' purposely consumable and, therefore, attacks consumption at its most evil vein—the formation of inhumanity and our ill, irresponsible participation. She 'rapes' us and our judgment with a healthy dose of consciousness.
0
0
Mark Devlin
Mark Devlin
2015-08-05 01:36:10
2015-08-05 01:36:11
7 Women, 7 Sins
21 Jan, 2015
Kirsten Gillibrand
Paul Nungesser
Attend Event - Photocall
0 Comments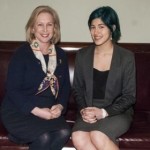 Sulkowicz attends President Obama's State of The Union speech as Gillibrand's guest. Gillibrand:
[Sulkowicz is] a woman of great courage who got no justice
Sulkowicz:
Sometimes it takes a federal hand to make the colleges listen. I feel so excited. It's a dream come true. The piece I am doing is not just based on Columbia. It's based on all survivors' experiences at every college, so I hope that when people think of my art piece they don't think of it as just a Columbia piece. I hope they think of it as something that is meaningful to every person that's ever been assaulted.
Nungesser:
I am shocked to learn that Sen. Gillibrand is actively supporting Ms. Sulkowicz's defamation campaign against me by providing her with a public forum in which to broadcast her grave allegation. By doing so, Sen. Gillibrand is participating in a harassment campaign against someone, who, for good reason, has been found innocent by all investigating bodies.
0
0
Mark Devlin
Mark Devlin
2015-05-23 01:36:20
2015-05-23 01:36:21
Attends SOTU
Apr 2013
Paul Nungesser
Film Appearance
0 Comments
Nungesser is the cameraman for a short film, A Certain Tendency, a story about a Korean girl coming to terms with life at an American university.
On the Set of "A Certain Tendency" with For Dad Films
0
0
Mark Devlin
Mark Devlin
2015-06-08 12:48:43
2015-06-08 12:51:08
A Certain Tendency