18 Aug, 2015
0
0
clough
clough
2015-08-19 00:52:31
2015-08-19 00:52:31
Possible Watford move
26 Oct, 2014
Newcastle United FC
Tottenham Hotspur FC
0 Comments
On the 10th anniversary of the death of manager Bill Nicholson, Spurs lose at home to a Newcastle side that started the day in the bottom three. Spurs dominate the first half but only have a headed goal by Emmanuel Adebayor to show for it. Sammi Ameobe, a half time sub scores 7 seconds after the restart. Ayoze Perez gives the visitors the lead with a well placed header on 58 minutes. Spurs fail to produce a shot on target for the remainder of the game and are booed off the pitch at the end of their third defeat in five home league games.
0
0
Matt S
Matt S
2014-11-06 00:15:46
2014-11-06 00:18:46
Spurs 1-2 Newcastle
18 Oct, 2014
Manchester City FC
Tottenham Hotspur FC
0 Comments
A game of four penalties – two scored, two missed – and a four goal haul by Sergio Aguero does not tell the full story of this classic encounter that ends with the Champions victorious over a Spurs side that contribute much to the game but leave Manchester empty handed.  Augero and Christian Eriksen share early goals before the penalty drama begins. Aguero scores his first penalty but misses his second to make the score 2-1 at the break.  Roberto Soldado misses a chance to level from the spot for Spurs before Aguero nets the final spot-kick of the game to make the score 3-1.  A red card for Spurs' debutant Federico Fazio rubs salt in the wounds and allows Aguero to net his 4th against the 10 men.
0
0
Matt S
Matt S
2014-11-06 00:15:43
2014-11-06 00:15:43
Manchester City 4-1 Spurs
5 Oct, 2014
Southampton FC
Tottenham Hotspur FC
0 Comments
Tottenham manager Mauricio Pochettino enjoys victory over his former side as Christian Eriksen's first half strike from the edge of the box gives the North Londoners a narrow but deserved win. Sadio Mane looks sure to grab a point for Southampton in the 84th minute but fails to convert the simplest of chances from Ryan Bertrand's cross.  Southampton's four-match winning run comes to an end and Spurs get back to winning ways after four league games without one.
0
0
Matt S
Matt S
2014-11-06 00:15:42
2014-11-06 00:15:42
Spurs 1-0 Southampton
27 Sep, 2014
Arsenal FC
Tottenham Hotspur FC
0 Comments
The North London Derby ends all square after Nacer Chadli's opener for the visitors is cancelled out by a late strike from Alex Oxlade-Chamberlain. Spurs give Ryan Mason his Premier League debut following his goalscoring cameo against Nottingham Forest in midweek.  Arsenal suffer injuries to Wilshire, Ramsey and Arteta. The result leaves both teams off the pace behind Premier League leaders Chelsea.
0
0
Matt S
Matt S
2014-11-06 00:15:39
2014-11-06 00:15:39
Arsenal 1-1 Spurs
30 Aug, 2014
Manchester City FC
Stoke City FC
0 Comments
Man City host Stoke in their third premier league game. The match takes place at the Etihad stadium. The defending champions come into this game with two wins from their past first two games unlike Stoke with just one win and a draw. Kick off is at 15 hours GMT.

Mark Hughes Pre-Manchester City Press Conference
0
0
Davis Eminpasha
Davis Eminpasha
2014-08-30 22:34:14
2014-08-30 22:34:14
Match preview
24 Aug, 2014
Queens Park Rangers FC
Tottenham Hotspur FC
0 Comments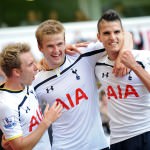 Nacer Chadli scores for his home team 12 minutes into the game and Eric Dier follows up his goal to net the second but before half time Chadli makes it 3 and Emmanuel Adebayor makes points certain with his 65th minute goal. Spurs mantain their winning streak, which puts them on top of the Premier League table. The referee disallows Romone Rose's goal. QPR Manager:
We didn't play well today, we started sloppy I thought
https://newslines.org/wp-content/uploads/2014/08/eric-dier.jpg
768
1024
Davis Eminpasha
Davis Eminpasha
2014-08-27 14:17:03
2014-08-27 14:17:03
Tottenham 4 – 0 QPR
Arsenal FC
Everton FC
0 Comments
Olivier Giroud snatches a point for arsenal in a dramatic draw after first half goals from Seamus Coleman and Stephen Naismith put Roberto Martinez's side in command. He comes on as substitute to equalise for his side in the 90th minute after Aaron Ramsey's opener in the second half.
At two goals down we gave a great response, we showed a complete desire to come back
https://newslines.org/wp-content/uploads/2014/08/ramsey-3015621b.jpg
387
620
Davis Eminpasha
Davis Eminpasha
2014-08-27 17:06:52
2014-08-27 18:19:41
Arsenal 2-2 Everton
23 Aug, 2014
Crystal Palace Fc
West Ham United FC
0 Comments
Mauro Zarate scores his first goal on his debut to give his side the lead and Stewart Downing gives them the second before half time to put his side in control as Eagles caretaker manager sees his side struggle desperately. Marouane Chamakh offers some hope for his side and pulls a goal back at the start of the last half but Westham's Carlton Cole was quick to respond and they stay supreme till the end. Palace Chairman appoints Keith Millen as caretaker within 24 hours to this game as he is still on the hunt for new manager to which Tim Sherwood an Early contender has pulled out of the race. This search has overshadowed their first home game. West Ham manager:
We got everything right. We could have scored more than we did. We had a plan of attack to break Crystal Palace down with a patient approach.
Crystal Palace Manager:
I won't be watching Match of the Day tonight. I'll recover hopefully and watch it on Sunday.
0
0
Davis Eminpasha
Davis Eminpasha
2014-08-27 16:57:28
2014-08-27 16:57:28
West Ham 3 – 1 Crystal Palace
Burnley Fc
Garry Monk
Swansea Fc
0 Comments
Dyer gives his side the lead in the 23rd minute after Micheal Duff hesitates on closing him down. Swansea use the 4-2-3-1 against their opponent's 4-4-2 and this proves significant. He takes possession motors away from Ben Mee and carries on his surge into the area when Duff continues to back away and Tom Heaton gets a hand to the nearest post shot but not enough to stop it and so a goal. Burnley get their chance too through David Jones but his shot across goal goes wide.In the first half we controlled the game. Monk:
There are times when you have to dig in and the boys were magnificent in that respect. I have been involved in so many games where we play well and get nothing. Six points in two games is all you can ask for
Burnley Manager:
I was just explaining to them that we showed too much respect in the first half, That can happen to promoted teams. I have been through it myself.
We are not naive enough to think the growth period doesn't have to be quick because it does. The last point was telling. Indeed, they learnt something of a lesson in the break, re-emerging with far more purpose and disregard for what was coming at them.
https://newslines.org/wp-content/uploads/2014/08/swansea.jpg
640
962
Davis Eminpasha
Davis Eminpasha
2014-08-28 23:36:09
2014-08-28 23:36:09
Swansea City 1-0 Burnley
Alan Pardew
Aston Villa FC
Newcastle United FC
Paul Lambert
0 Comments
The visitors are let down by poor finishing. Magpies debutant Siem De Jong gets a chance to win it for his side but fails to score. Before he is sent off, defender Mike Williamson hits an air shot from Remy Cabella's looping pass. Pardew's wait for the first premier league goal still goes on but is encouraged by impressive cameo. Emmanuel Riviera registers Magpies first on target effort of the season but Brad Guzan easily stops it.Meanwhile Villa go closest through impressive winger Charles N'zogbia who curls a free kick narrowly wide against his former club. Lambert:
I think a few years ago Aston Villa struggled with experienced players. It's tough, the league is tough but the start we have been made has been really good
Pardew:
It's a great start for us after everybody was doom and gloom about the football club towards the end of last season, we've certainly took that challenge on.
https://newslines.org/wp-content/uploads/2014/08/castle.jpg
351
624
Davis Eminpasha
Davis Eminpasha
2014-08-28 23:21:09
2014-08-28 23:21:09
Aston Villa 0-0 Newcastle
2 Aug, 2014
Facundo Ferreyra
Newcastle United
0 Comments
Newcastle United sign Ferreyra to a one season lone deal. The player is coming over from Ukrainian side Shakhtar Donetsk. The 23 year old's contract includes an option for the Magpies to buy the forward, should they want him to remain at St James' Park longer. Newcastle coach Alan Pardew is pleased with the acquisition:
This is a player who has played at the top level and is highly regarded in Argentina.
0
0
jp0001
jp0001
2014-08-04 23:22:23
2014-08-04 23:22:23
Newcaste signs Ferreyra