1 Feb, 2017
The Management Group (TMG)
Files Suit
0 Comments
In a countersuit, TMG says Depp's financial troubles are caused by a lavish $2m-a-month lifestyle. While Depp says the business managers have mismanaging his earnings, failed to file taxes on time, and owe him more than $25m, TMG claims the star spent more than $75m on 14 homes and needed 12 storage facilities to house his collection of Hollywood memorabilia, as well as spending $18m on a luxury yacht and $30,000 a month on wine. TMG:
Depp is fully responsible for any financial turmoil. He has refused to live within his means, despite… repeated warnings about his financial condition.
0
0
Mohsin Ranjha
Mohsin Ranjha
2017-02-01 05:24:04
2017-02-01 14:23:53
TMG blames Depp's $2m-a-month lifestyle for money problems
30 Jul, 2015
Scott Cooper
Whitey Bulger
Film Appearance
0 Comments
In an interview with Entertainment Weekly, Cooper talks about Depp's performance as Bulger in Black Mass. To re-create Bulger's intimidating style and persona, Cooper and Depp pored over surveillance tapes and old FBI photographs. Cooper says of Bulger:
He could be charming. He could be ruthless. He was like a cobra – you never knew where he could strike…He murdered him in front of numerous witnesses in broad daylight. In a word, Whitey was brazen.
Of Depp:
A lot of people on set knew Whitey intimately. They got chills at the resemblance. Some of them couldn't even look at him… It's easy to be the mustache twirling villain but this performance couldn't be further from that. He is truly gifted.
0
0
Gina
Gina
2015-07-31 09:31:00
2015-07-31 12:42:07
Black Mass interview
0
0
Gina
Gina
2015-07-30 20:06:38
2015-07-30 21:39:55
Black Mass: Trailer 3
8 Jul, 2015
0
0
Benjamin
Benjamin
2015-07-11 07:59:51
2015-07-11 13:02:05
Visits children's hospital as Jack Sparrow
23 Apr, 2015
Benedict Cumberbatch
Black Mass
Dakota Johnson
Trailer
0 Comments
First trailer of Black Mass is released. The movie is based on the Boston gangster knows for terrorizing people around him, Whitey Bulgar and stars  Depp, Johnson, and Cumberbatch. It is scheduled to open in theaters on 18 September, 2015.
Black Mass Official Trailer #1 (2015) - Johnny Depp, Benedict Cumberbatch Crime Drama HD
0
0
Mudit Chauhan
Mudit Chauhan
2015-04-28 07:22:01
2015-04-28 13:47:54
Black Mass: Trailer 1
10 Mar, 2015
Pirates of the Caribbean
Hospital
0 Comments
Depp injures his hand while in Australia for Pirates of the Caribbean: Dead Men Tell No Tales. He was not on set, nor was he filming at the time. Depp is returning to the Unites States to have surgery. The release date of the film remains unchanged.
0
0
Joshua Steelman
Joshua Steelman
2015-03-11 15:00:14
2015-03-11 15:06:14
Injures hand
3 Feb, 2015
0
0
Melinda Tennyson
Melinda Tennyson
2015-02-05 16:45:38
2015-02-09 22:45:06
Depp, Heard marry
Johnny stars in Sweeney Todd as Sweeney Todd a film about Benjamin Barker, a.k.a Sweeney Todd, who sets up a barber shop down in London which is the basis for a sinister partnership with his fellow tenant, Mrs. Lovett. Johnny co stars with Helena Bonham Carter, Alan Rickman among others.
Sweeney Todd: The Demon Barber of Fleet Street - Trailer
0
0
Christie Bea
Christie Bea
2014-10-25 00:47:50
2015-07-30 20:20:21
Stars in Sweeney Todd
22 Oct, 2014
Magazine Cover
0 Comments
Depp appears on the October 31 issue of Entertainment Weekly as a part of a series of covers to promote Disney's musical Into the Woods. Depp plays the wolf in the film which is a twisted take on the Brothers Grimm tales. Into the Woods opens in theaters on Christmas Day. Director Rob Marshall:
I didn't want this to look like a cartoon world. It's not sunny, sunny, sunny—we wanted a sense of danger.
0
0
Melinda Tennyson
Melinda Tennyson
2014-10-22 17:06:41
2014-10-23 02:11:14
Entertainment Weekly cover
16 Jul, 2014
Aerosmith
0 Comments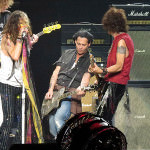 The actor joins rock band Aerosmith onstage in their show at the Xfinity Center in Mansfield, Massachusetts. He is introduced by frontman Steven Tyler and proceeds to play guitar and an extended solo on the song, Train Kept A-Rollin'.
https://newslines.org/wp-content/uploads/2014/07/aerosmith-600.jpg
450
600
Fats Sabundayo
Fats Sabundayo
2014-07-22 13:49:38
2014-07-22 13:49:38
Performs with Aerosmith
1 May, 2014
Magazine Cover
0 Comments
Depp appears on the cover of the May 2014 issue of Interview magazine. He talks about his role in Transcendence, reality TV, and his musical approach to acting.
I still approach a scene as one would approach a solo. There's nothing set or pat. I don't know what the f-ck's going to happen until I get in there. Just like when you're in the booth and you're playing a guitar solo, you don't exactly know how you're going to phrase this or that. Which I think is beautiful. That idea of chance.
0
0
Alyssa DeBoer
Alyssa DeBoer
2014-11-20 01:42:29
2014-11-20 01:42:29
Interview cover
Depp plays the foremost researcher in the field of artificial intelligence working to create a sentient machine that combines collective intelligence of everything ever known with full range of human emotions. His experiments make him famous and prime target to anti-technology extremists who will do everything to stop him. Directed by Wally Pfister, co-starring Paul Bettany, Rebecca Hall, Morgan Freeman and Kate Mara. About how he feels about technology:
Things go wrong for me, all the time, with technology. I'm not familiar enough with it, and I'm too old school a brain to be able to figure it out. I'm dumb. Anything that I have to attack with my thumbs, for any period of time, makes me feel stupid. So, I try to avoid it, as much as possible, to protect my thumbs.
Trailer subtitrat Transcendence(2014)
0
0
Davis Eminpasha
Davis Eminpasha
2014-09-20 14:12:49
2014-09-20 18:40:44
Transcedence
17 Jan, 2014
Amber Heard
0 Comments
Depp and Heard are officially engaged. Heard is seen wearing a diamond ring on her left finger and confirms that she and Depp are engaged. Source:
Of course they couldn't be happier to be engaged and excited to share the rest of their lives together.
https://newslines.org/wp-content/uploads/2014/08/heard.jpg
415
560
1prettyorchid
1prettyorchid
2014-08-20 13:39:09
2014-08-20 13:39:09
Depp, Heard engaged
8 Jan, 2014
People's Choice Awards
0 Comments
Depp wins People's Choice Award  for Favorite Movie Actor. 
0
0
merceadez
merceadez
2014-09-23 19:34:35
2014-09-23 19:34:35
Wins People's Choice Award
4 Jul, 2013
Magazine Cover
0 Comments
Depp appears on the cover of the July 2013 issue of Rolling Stone magazine. He talks about relaxing, retirement, and duct tape on his jeans.
I realized one morning as I was going to a thing my boy had at school – one of those things where, you know, they get up and sing a song? I had to be there at a certain time, and, of course, I was running late and I was reaching back to check and see if I had my wallet and passport and stuff. I always have a passport for some reason. And so I reached back and I thought, 'Jesus Christ!' There was this really long tear – and there were no undergarments involved. That's the general approach. And so, yeah, I just immediately looked for duct tape. I know, it's pathetic. And then I continue to wear them.
0
0
Alyssa DeBoer
Alyssa DeBoer
2014-09-22 23:55:26
2014-09-22 23:55:26
Rolling Stone cover
In this western action-adventure directed by Gore Verbinski and loosely based on the TV series of the same name, Depp plays Tonto, the Lone Ranger's Native American sidekick. Ranger John Reid sets out to find the men who killed his brother. Lucky for him, Tonto is there to not only help out, but to help build the legend of the Lone Ranger and keep the evil spirits at bay. Too bad tribal elders say that Tonto has "left the reservation" and should never be trusted with someone's life. Co-starring Armie Hammer and William Fitchner.
I can remember very well as a little kid, seeing the series on TV. You know, the black and white series with Clayton Moore and the great Jay Silverheels.  As a very young child, I was always perturbed by the idea of Tonto being a sidekick… I just thought it was potentially an opportunity to right the wrong. I think it's great that Tonto makes The Lone Ranger. I think it's a very poetic way that he creates The Lone Ranger, and I think it's right, finally.
The Lone Ranger Official Trailer #2 (2012) - Johnny Depp Movie HD
0
0
Danielle Darling
Danielle Darling
2014-09-09 19:26:00
2014-09-09 19:51:18
The Lone Ranger
9 Jun, 2012
Vanessa Heard
0 Comments
Depp and Paradis split after 14 years together. The couple seemingly drifted apart after moving to Los Angeles. They have two children together.
Please respect their privacy and, more importantly, the privacy of their children.
0
0
1prettyorchid
1prettyorchid
2014-08-20 15:13:53
2014-08-20 15:13:53
Depp, Paradis split
Depp plays Barnabas Collins in this horror comedy directed by Tim Burton. Collins is a vampire who has been buried for over 100 years. He awakens in the 1970s and moves into his former home, helping his descendants fight to keep the family and the estate safe from evil money-grubbers. Co-starring Michelle Pfeiffer, Helena Bonham Carter and Bella Heathcote.
In every film that I've been lucky enough to do with Tim, there's always some form of torture. The nails were Tim's idea. They were the length of the fingers. But, it was okay because I had a troupe of people who would help me go to the bathroom. They had to have treatment afterwards, but they're okay now. That is true.
DARK SHADOWS - OFFICIAL TRAILER 1 [HD]
0
0
Danielle Darling
Danielle Darling
2014-09-09 19:26:03
2014-09-09 20:01:39
Dark Shadows
Johnny stars in the dark shadows as Barnabas Collins a film about set sail from Liverpool, England to start a new life in America. But even an ocean was not enough to escape the mysterious curse that has plagued their family. Two decades pass and Barnabas has the world at his feet-or at least the town of Collin sport, Maine. until he makes the grave mistake of breaking the heart of Angelique Bouchard. A witch, who dooms him to a fate worse than death, turning him into a vampire, and then burying him alive, Two centuries later, Barnabas is inadvertently freed from his tomb and emerges into the very changed world of 1972. He returns to Collinwood Manor to find that his once-grand estate has fallen into ruin. Johnny co-stars with Eva green among others.
 It's a strange thing, because as a child, you have this fascination. I certainly had this fascination with monsters and vampires as did Tim and whatever this darkness, this mystery, this intrigue. And then, as you get older, you recognize the erotic nature of the vampire and the idea of the undead:
Johnny Depp.
0
0
Christie Bea
Christie Bea
2014-10-25 00:47:40
2014-10-25 00:47:40
Stars in dark shadows
30 Jan, 2012
Magazine Cover
0 Comments
Depp appears on the cover of People after splitting from his longtime girlfriend of 14 years. The couple's relationship was strained after they started spending more time apart. When Depp's career took off, their relationship started to fizzle. Source:
Johnny and Vanessa are as big a Hollywood glamour couple here as Brad and Angelina. Everyone expected they'd come together until the morning of the screening. We couldn't believe they wouldn't come together.
https://newslines.org/wp-content/uploads/2014/08/depp.jpg
273
205
1prettyorchid
1prettyorchid
2014-08-28 16:52:19
2014-08-28 16:52:19
People cover