8 Feb, 2017
Announcement
0 Comments
Perry gears up to launch her very first shoe line, Katy Perry Collections, which will open on katyperrycollections.com on February 16. Perry says she named each of the pieces in the collection after her friends and family. These include The Hillary shoe which is named after Hillary Clinton and The Lena, named after Lena Dunham.
I've been courting this idea for several years. For half my career, people have been asking me when I'm getting into fashion. It's always been simmering under the surface, but I wanted to do it the right way and be the real creative contributor. This is something that I've created from the bottom up…I'm a big fan of very unique shoes. There are so many different vibes [in the line] because that's who I am, and I love so many different things. They all represent my personality and the many moods and characters I've displayed throughout my life and career. Fashion is a way to express yourself, so I wanted to make personality pieces that will help you put an exclamation mark at the end of your wardrobe. We can say we're funny or romantic or serious or sarcastic just by how we display ourselves.
0
0
Nnanna Mba
Nnanna Mba
2017-02-08 16:40:02
2017-02-08 18:44:56
Announces first shoe line
7 Feb, 2017
0
0
Nnanna Mba
Nnanna Mba
2017-02-07 18:38:14
2017-02-07 19:49:16
Will perform at 59th Grammy Awards
11 Sep, 2016
0
0
Mark Devlin
Mark Devlin
2016-09-11 15:31:14
2016-09-11 15:31:14
McGregor, Skeeter armwrestle
27 Oct, 2015
Russell Brand
Makes Statement
0 Comments
In the documentary Brand: The Second Coming, Brand says his relationship with Perry started to break down following a 2010 visit to Africa for Comic Relief.
The stuff in Africa hit me really hard. I'm associated with the very thing I detest: vapid, vacuous, plastic, constructed, mindless celebrity…That's the very sea we're swimming in, 'Oh, who's he? He's married to Katy Perry'.
Brand's close friend Noel Gallagher recounts the moment he knew the pair were destined for divorce.
[Russell] calls me up once and says, 'What happens when she wants to watch a film and I want to watch another film? It's doing my head in!'. And I was like, 'Just let her watch the f*****g film.' I knew at that point this ain't gonna go much further.
0
0
Mark Devlin
Mark Devlin
2015-10-27 21:27:06
2015-10-27 21:27:06
Criticizes Perry
24 Oct, 2015
Bill Clinton
Hillary Clinton
Political Endorsement
0 Comments
Bill Clinton and Perry give their support to Hillary, at a rally in Iowa.
I stand and I march with Hillary. I believe in her future, her vision. I believe in her policies. I believe in equal rights for men, women.
Hillary:
Y'know, sometimes it's important. You just have to roar about what you have to fight for.
0
0
Lynn B. Schramek
Lynn B. Schramek
2015-10-25 10:17:26
2015-10-26 03:05:20
Supports Clinton in Iowa
At a concert in Rio de Janeiro, Perry is kissed and groped by a female fan who comes onstage. The fan keeps wrapping her arms around Perry while they take selfies together.
She's kissing my neck!…I think she's rolling.
0
0
Mark Devlin
Mark Devlin
2015-09-30 01:43:07
2015-09-30 01:43:07
Kissed by fan
7 Sep, 2015
0
0
Mark Devlin
Mark Devlin
2015-09-08 01:38:29
2015-09-08 01:38:29
Falls off Segway at Burning Man
26 Jul, 2015
0
0
arvinme
arvinme
2015-07-27 21:55:06
2015-07-27 22:30:11
Poses with Presidents
30 Jun, 2015
Dana Hollister
Jose Gomez
Files Suit
0 Comments
Perry is in the middle of a legal dispute over the ownership of a former Catholic convent in the city's Los Feliz neighborhood near downtown L.A. The hilltop property, with a swimming pool and a sweeping view of the San Gabriel Mountains, was once home to Sisters of the Immaculate Heart of Mary. Archbishop Gomez says the property was entrusted to the diocese in 2005 and wants to sell the property to Perry for $14.5 million, but the nuns, who believe the property is theirs, have already entered into an agreement to sell it to real-estate developer Hollister for $15.5 million. Hollister plans to turn the property into a hotel, restaurant and bar, while Perry wants to use the building as her home. Archdiocese:
Unfortunately, the Archdiocese had to take civil action to protect against the unauthorized action by Ms. Hollister, which was undertaken after the preferred transaction had been accepted in consultation with the Sisters.
One of the sisters was not happy about Perry's work:
Well, I found Katy Perry and I found her videos and … if it's all right to say, I wasn't happy with any of it.
They said, however, that when Perry visited the sisters, she performed a gospel song and dressed conservatively.
0
0
Mark Devlin
Mark Devlin
2015-08-05 03:46:54
2015-08-05 03:46:55
Convent property dispute
22 Apr, 2015
Interview
0 Comments
Perry gives an interview to Time Out Hong Kong. She discusses her strengths, being a pop star, and whether she is a spiritual person.
I've got my rose quartz [opens hand to reveal a heart-shaped pink crystal]. You keep this one on your heart because it's for healing and attracting love – all kinds of love. Just good energy.
0
0
Alyssa DeBoer
Alyssa DeBoer
2015-04-25 20:17:30
2015-04-26 01:08:14
Time Out Hong Kong interview
20 Mar, 2015
On Air With Ryan Seacrest
Ryan Seacrest
Interview
0 Comments
Seacrest interviews Perry during On Air With Ryan Seacrest about The Prismatic World Tour world television premier.
The Prismatic World Tour is crazy and it's not a joke. We did 127 shows. I'm very tired, obviously, but still standing, still kicking, and I feel about 56 years-old right now. Well everybody should tune in because I got to film this amazing show. And I'm very proud of it, and it's an amazing show full of a lot of the songs people are familiar with, because I always know that it's always very important when going to tour is to sing the songs that people have made memories to. I created like seven different worlds. There's so many different costumes and things to look at and wonderful remixes.
0
0
merceadez
merceadez
2015-04-23 04:23:33
2015-04-23 12:20:33
On Air interview
1 Mar, 2015
Magazine Cover
0 Comments
Perry appears on the cover of Elle. Perry discusses the challenges of performing the Super Bowl halftime show.
In my show, I am boss daddy. I am boss mommy. They call me Boss. Everything goes through my eyes; I call all the shots, 100 percent of it. With the NFL, I have to be accountable to several levels of red tape. There are many committees I have to go through for my costumes, the budgets of my show, every interview—everything, I have to report to somebody. So I am no longer the boss; I have to relinquish that control. We love this opportunity, but once you decide you're gonna do the Super Bowl, you're gonna have no f-cking life for six months. It is the biggest thing. Anyone that's ever done it has been scared shitless. You stay off the Internet for the five days afterward.
0
0
Melinda Tennyson
Melinda Tennyson
2015-02-07 09:43:10
2015-02-09 23:11:19
Elle cover
Since Perry suffers from chronic knee pain from all of the constant performing she does on stage, she has regular acupuncture sessions to help treat it.
My knees are giving out on me now. I do acupuncture every two or three days…I tour with a stage that goes from the house to the back of the house with a triangle thrust that is a moving treadmill, like I think I'm some kind of Olympic athlete.
0
0
Clarissa Wilson
Clarissa Wilson
2015-02-15 21:31:26
2015-02-16 13:22:17
Regular acupuncture sessions
1 Feb, 2015
0
0
Melinda Tennyson
Melinda Tennyson
2015-02-07 10:36:15
2015-03-10 17:52:15
Super Bowl performance
1 Oct, 2014
Magazine Cover
0 Comments
Perry appears on the cover of the October 2014 issue of GQ Mexico magazine. She talks about how she is 100% natural, how she prayed for bigger boobs when she was 11, and how she isn't planning on getting married.
0
0
Alyssa DeBoer
Alyssa DeBoer
2014-09-30 01:16:47
2014-09-30 02:06:29
GQ Mexico cover
Magazine Cover
0 Comments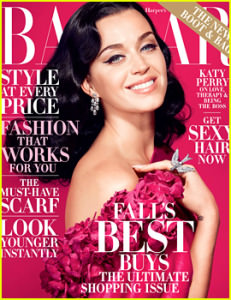 Perry appears on the cover of the October 2014 issue of Harper's Bazaar magazine. She talks about what she's learned from past relationships, what she wants in future relationships, and where she meets guys.
Well, I'm not really on the street. It's usually just through friends of friends. We have a lot of dinner parties. I'm definitely not on Tinder, even though I joke about it.
0
0
Alyssa DeBoer
Alyssa DeBoer
2014-09-23 23:21:39
2014-09-23 23:21:39
Harper's Bazaar cover
20 Aug, 2014
0
0
Tiffany Spires
Tiffany Spires
2014-08-23 00:26:21
2015-01-16 11:04:51
Ice Bucket Challenge: Katy Perry