15 Nov, 2022
Elon Musk
Twitter
0 Comments
Musk 'rehires' Rahul Ligma and Daniel Johnson, the two fake employess who pranked news networks by claiming to be laid off Twitter employees. Ligma later claimed he had been hired and fired by FTX.
Welcoming back Ligma & Johnson! Important to admit when I'm wrong & firing them was truly one of my biggest mistakes
Important to admit when I'm wrong & firing them was truly one of my biggest mistakes

— Elon Musk (@elonmusk) November 15, 2022
https://newslines.org/wp-content/uploads/2022/11/Musk-Rehires-Ligma-Johnson.jpg
1080
1920
Mark Devlin
Mark Devlin
2022-11-16 03:23:51
2022-11-16 03:27:26
Musk 'rehires' Ligma and Johnson
25 Feb, 2021
Ferguson Marine
MV Glen Sannox
Tim Hair
0 Comments
Ferguson Marine announces it is hiring 120 extra staff, mostly pipe fitters and steel workers. The extra workers will mean the shipyard can be in production seven days a week during spring and summer and will bring total number of staff to more than 500. The new workers will be working on MV Glen Sannox and hull 802 for at least six months. Turnaround Director Hair:
Last year was challenging, with disruption created by the pandemic, but we're confident we can increase momentum in 2021. We are confident, despite many challenges, 2021 will be a pivotal year in securing the long-term future of the shipyard. We must do everything possible to deliver the dual fuel ferry programme, improve productivity, secure contracts for future vessels, and protect local jobs.
0
0
Mark Devlin
Mark Devlin
2022-01-30 23:32:08
2022-01-30 23:32:08
Shipyard to recruit 120 extra workers
17 Sep, 2015
India
Uttar Pradesh
0 Comments
Uttar Pradesh's government is overwhelmed after receiving over two million applications for 368 low-level government jobs. Even though the prerequisites for the posts include having primary school qualifications and being able to ride a bicycle, 255 PhD holders and 152,000 graduates have applied. The successful candidates will receive a monthly salary of 16,000 rupees ($240).Official:
These candidates have to be interviewed but my estimate is that the entire process will take at least four years to complete even if there are ten boards interviewing 200 candidates a day, for 25 days a month.
0
0
margaret
margaret
2015-09-17 23:05:59
2015-09-17 23:05:59
Two million apply for 300 clerical jobs
22 May, 2015
Bernie Sanders
Jeff Weaver
0 Comments
Sanders hires Weaver to manage his presidential effort. Weaver says they're looking to open satellite offices in Ohio and New Hampshire soon:
This campaign is going to be a grassroots campaign. It's going to take advantage of the tens and tens of thousands of volunteers we already have, and the tens and tens of thousands more we're going to get, and he is going to go from one end of Iowa to the other, one end of New Hampshire to the other, and we're going to be in a whole bunch of other states as well.
0
0
Sara Feldman
Sara Feldman
2015-05-23 20:23:49
2015-05-23 23:39:45
Sanders hires Weaver
20 May, 2015
Anne Caprara
Priorities USA Action
0 Comments
Caprara, the vice president of campaigns at Emily's List, moves to Priorities USA as its executive director. That job was vacated this week by Buffy Wicks, a veteran of President Obama's 2008 and 2012 campaigns. Guy Cecil, who managed Mrs. Clinton's 2008 campaign after a shake-up in that race, is coming into Priorities as the co-chairman of the board and the chief executive officer. His functional role will be chief strategist running the operation. He says:
Buffy has been a strong leader and smart strategist for Priorities and I have no doubt she will continue to be a valuable ally and supporter of Hillary Clinton.
Anne Caprara has led some of the toughest campaigns and was critical to the success of so many Senate races across the country. I have complete confidence in her leadership. My focus is on building a big tent for all of our work.
Stephanie Schriock, the head of Emily's List and a former Priorities board member says:
While we will absolutely miss having Anne here at Emily's List every day, I couldn't be prouder to see her step up and lead Priorities. She's had huge success in early recruitment and built a strong foundation for Democratic women up and down the ballot in 2016 – and I know she's going to be the same kind of force of nature in her next role.
0
0
Sara Feldman
Sara Feldman
2015-05-21 08:01:45
2015-05-21 11:49:34
Caprara to lead Priorities USA
Amanda Renteria
Hillary Clinton
Lorella Praeli
0 Comments
Clinton hires Praeli, one of the most prominent activists among the Dreamers, to lead her Latino outreach efforts. Renteria, the Clinton campaign's political director says:
Bringing Lorella into our campaign is the next step in making sure families aren't living in fear of deportation, all students have the chance to go to college, and that any comprehensive immigration reform ensures full and equal citizenship.
0
0
Sara Feldman
Sara Feldman
2015-05-20 12:54:14
2015-05-20 15:58:33
Clinton hires Praeli
15 May, 2015
Joe O'Hern
Martin O'Malley
0 Comments
O'Malley hires O'Hern, a veteran field operative in Iowa, to be his caucus director, a position which oversees voter contact, according to multiple Democratic sources. Spokespeople for O'Malley's political action committee do not respond to multiple requests for comment.
0
0
Sara Feldman
Sara Feldman
2015-05-23 20:02:43
2015-05-23 23:39:16
Hires O'Hern
17 Apr, 2015
Andy Chen
Peter Tonstad
Tidal
0 Comments
Chen leaves the company to be replaced by Tonstad. Rumors that 25 staff have been fired are counterd by the company, which says they are "redundancies" and "streamlining" Company:
TIDAL's new interum [sic] CEO is Peter Tonstad – a former CEO of parent company Aspiro Group. He has a better understanding of the industry and a clear vision for how the company is looking to change the status quo. He's streamlining resources to ensure talent is maximized to enhance the customer experience. We've eliminated a handful of positions and refocused our company-wide talent to address departments that need support and cut redundancies. TIDAL's offices globally will remain and grow: we are already hirinig [sic] for several new positions now. We're excited about our future and what's in-store for fans who want the best listening experience.
Tonstad:
I believe in TIDAL and what the team is doing to affect the change the music industry needs. We're streamlining the company and refocusing our resources to ensure the platform continues to grow, and listeners can make a connection to their favorite artists. No one else is doing this.
0
0
Mark Devlin
Mark Devlin
2015-04-17 18:56:53
2015-04-17 18:56:53
Chen out, Tonsdast CEO
10 Mar, 2015
Peter Thiel
Sam Altman
Y Combinator
0 Comments
Thiel joins YC on Altman's invitiation. Altman says Thiel won't be able to invest in any companies while they're in YC, or for 3 months after they present at Demo Day. Altman:
I'm delighted to announce Peter Thiel is joining YC as one of the (now 10!) part-time partners…He already works with a number of YC companies, and we're very happy he'll be working with more…We generally won't bring on people that are involved with other investing firms given the obvious conflict, but Peter is so good we felt like we had to make an exception.  We're pretty paranoid about potential conflicts, and we'll continually evaluate this and change it if it's not working…On a personal note, Peter is one of the two people (along with PG) who has taught me the most about how to invest in startups.  I am confident that Peter joining will be great for YC.
0
0
Mark Devlin
Mark Devlin
2015-03-24 03:08:54
2015-03-24 03:08:54
Joins YC
22 Dec, 2014
Jesse Biter
Rick Scott
0 Comments
Gov. Scott announces Biter is to take one of the governor's seats on the board of directors at Enterprise Florida (subject to confirmation by the Florida Senate). Biter has already been serving the organization as an appointee of the Speaker of the Florida House since 2011. He succeeds Henry Rodriguez, and is appointed for a term from today through Sept. 30, 2018. Scott:
Jesse has been a leader in the Florida business community, and I'm confident he will work tirelessly to make Florida the best state for job creation.
0
0
Mark Devlin
Mark Devlin
2014-12-22 20:05:33
2015-02-10 11:39:04
Appointed to Enterprise Florida board
6 Jun, 2014
Facebook
0 Comments
Facebook hires David Marcus as the vice president of its mobile messaging division. Marcus previously worked with PayPal, first as the vice president of the company's mobile department and most recently as the company's president.
We are incredibly excited to work together with David and to learn from all his experience, and David will be sharing more about his work in the coming months. Welcome aboard!
0
0
Lilah Jackson
Lilah Jackson
2014-07-14 22:28:01
2014-07-14 22:28:01
Hires ex-PayPal president
22 Jan, 2014
0
0
Mark Devlin
Mark Devlin
2015-07-31 00:16:49
2015-07-31 19:08:01
Hires Carter as manager
2012
0
0
reuben
reuben
2014-10-16 15:24:15
2015-03-22 02:49:42
Hires moderator
1 Jul, 2010
Roman Reigns
WWE
Hired
0 Comments
Reigns signs with WWE after failing to launch a successful football career.
When I was a kid, that's all we ever talked about, that's all everyone around me did, Once things slowed down with football and I finished up in Canada, I figured out that the passion to wrestle and be a WWE superstar was still there, so it kind of summed things up for me, really focused me on getting into the business and learning how to wrestle.
0
0
Scott Christophers
Scott Christophers
2014-08-05 13:26:17
2015-01-26 16:42:10
Signs with WWE
25 Nov, 2003
Divya Narendra
Facebook
Mark Zuckerberg
Victor Gao
Winklevoss Twins
1 Comments
The brothers and Narendra meet Zuckerberg in the dining hall of Harvard's Kirkland House, where they explain the HarvardConnection website, the plan to expand to other schools after launch, the confidential nature of the project, and the importance of getting there first. During the meeting, Zuckerberg allegedly enters into an oral contract with Narendra and the Winklevosses to become a partner in HarvardConnection.
Although his attorneys have denied that any formal discussion about compensation or ownership of Harvard Connection took place, Gao would later tell the court:
I told him that [Narendra and the Winklevosses] would either pay him on a rolling basis or take him on as a partner with the possibility of taking an equal stake. He became visibly excited. He told me that he wanted the latter option … because he thought the Harvard Connection website had the potential to reach out to a very large user base.
He is given the private server location and password for the unfinished HarvardConnection website and code, with the understanding that he will finish the programming necessary for launch. Zuckerberg allegedly chooses to be compensated in the form of sweat equity.

https://newslines.org/wp-content/uploads/2014/01/Mark-Zuckerberg.png
319
304
Mark Devlin
Mark Devlin
2003-11-25 18:48:33
2018-04-03 05:24:49
Zuckerberg, Winklevoss' meet
17 Jul, 1999
Carly Fiorina
HP
Hired
0 Comments
Fiorina is first outsider named CEO and President of HP. Board Member:
She is quite simply the ideal candidate to leverage HP's core strengths in the rapidly changing information-systems industry and to lead this great company well into the new millennium.
0
0
Natalie Frank
Natalie Frank
2015-05-24 02:01:11
2015-05-24 16:45:36
Named HP CEO
1961
Julian Bond
0 Comments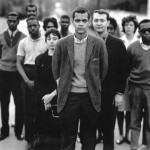 Bond becomes communications director of the Student Nonviolent Coordinating Committee, a position he holds for five years. Its mission is to unite students in non-violent protest against segregation and other racist occurrences. He skillfully guides the national news media toward stories of violence and discrimination as the committee challenges legal segregation in the South's public facilities during a time when mainstream media ignores what is happening to Blacks. He travels around Georgia, Alabama, Mississippi and Arkansas to help organize civil rights and voter registration drives.
0
0
Lynn B. Schramek
Lynn B. Schramek
2015-08-18 11:36:23
2015-08-18 21:46:16
Becomes SNCC communications director