1 May, 2017
Eminem
National Party (New Zealand)
0 Comments
A New Zealand court hears opening arguments in a copyright trial taken by Eminem's music publishers against the National Party, the county's largest political party. A judge and nine lawyers listen to Lose Yourself, the track that the publishers claim was used on a 2014 political ad without permission. The party has previously said it purchased the track through an Australian-based supplier and doesn't believe it has infringed anyone's copyright. Eminem's lawyers tell the court that the National Party had wanted a song that was edgy and modern but showed the party was dependable, and quoted from National Party emails, which described the song as an Eminem "sound-alike," and said:
I guess the question we're asking, if everyone thinks it's Eminem, and it's listed as Eminem Esque, how can we be confident that Eminem doesn't say we're ripping him off?
Eminem's lawyers say that the artist does not allow his music to be used for political purposes of any kind. The trial is expected to last six days.
https://newslines.org/wp-content/uploads/2017/05/FI-Eminem.jpeg
246
470
Mark Devlin
Mark Devlin
2017-05-01 21:25:42
2017-05-01 21:25:42
Eminem lawsuit against New Zealand political party begins
28 Sep, 2015
Matthew Keys
Tribune Company
0 Comments
During opening arguments, Keys lawyer tells the jury his client is not guilty because he neither intended to cause damage, nor actually caused the amount of damage that the government alleges. The defense argues that Keys was in the Anonymous IRC channel as a journalist, looking to write up a "headline-grabbing story" about Anonymous. His lawyers say a major issue is whether Key's actions were "low-level vandalism, or high-level, high-damage hacking," and note the defaced article was changed back in an hour.
Matthew Keys did not know as much as the government says he knew. He did not know the true capabilities of the others in the chatroom with him.
Prosecutors claim that the Tribune spent over $5,000 to fix the defacement. They claims to have a recording of Keys confessing, "I did it," as well as a written confession.
This is a case about online anonymous revenge.
0
0
Mark Devlin
Mark Devlin
2015-10-07 21:03:08
2015-10-07 21:32:53
Trial starts
29 Jul, 2015
Cecil the Lion
Theo Bronkhorst
Walter James Palmer
3 Comments
Bronkhorst and his co-defendant, farm owner Honest Trymore Ndlovu, who were arrested for illegally hunting Cecil, appear in court. The Safari Operators Association of Zimbabwe, has revoked Bronkhurst's license. Association President:
Ethics are certainly against baiting. Animals are supposed to be given a chance of a fair chase. In fact, it was not a hunt at all. The animal was baited and that is not how we do it. It is not allowed.
The proceedings are delayed because prosecutors are "making their assessments". If convicted, the men face up to 15 years in prison in Zimbabwe. Later Bronkhurst is released on a $1000 bond.
0
0
Mark Devlin
Mark Devlin
2015-07-29 21:10:31
2015-07-31 16:03:57
Guides appear in court
25 Jun, 2015
Andrea Constand
Bill Cosby
The Associated Press
0 Comments
In Pennsylvania, Cosby defends against the Associated Press's call to unseal nine-year-old Constand court documents, saying he is not a public figure, there's no public interest in the case, and that confidentiality should be maintained on materials described as posing a "real, specific threat of serious embarrassment." After the settlement, AP challenged the sealing of certain motions brought in the case, but they were denied. Now AP is asking for the motions to be disclosed base on a local rule of civil procedure that presumes an unsealing of records after two years unless a judge disagrees. Cosby's lawyer:
Moreover, unlike a deposition in a typical case, there is a voracious media appetite for Defendant's deposition, and public release of it would quickly become widespread public knowledge of it. There is no doubt that public disclosure of the motions and Defendant's sworn deposition testimony, which delves into the most intimate subjects imaginable, would generate a firestorm of publicity.

[Cosby] is not a public official, nor is the relevant information important to public health or safety… Defendant's status as a well-known comedian and entertainer does not render him a 'public' person within the meaning of the law.
AP's brief:
The defendant is the only party who objects to unsealing the record. However, now that the circumstances that he relied upon to gain preliminary sealing in this matter are nothing more than historic references, bypassed by recent public events, the files at issue should be unsealed.
Adding that Constand has waived her right to anonymity, the various Jane DFoes' mentioned in her suit have come forward, and that
[Cosby is] unquestionably a public figure [and his conduct] a legitimate matter for public scrutiny.
0
0
Mark Devlin
Mark Devlin
2015-06-25 16:23:59
2015-06-25 16:23:59
Claims he is not public figure to keep records sealed
1 Jun, 2015
Robin Williams
0 Comments
A judge gives Williams wife and adult children until the end of July to settle their differences. There are over 300 items still in contention along with money to maintain one of his houses. Williams children claim his widow is:
adding insult to a terrible injury by trying to change the trust agreement and rob [us] of items [our] father clearly intended [us] to have.
Williams widow's attorney says she is:
an emotionally grieving widow who is trying to honor her husband.
0
0
Natalie Frank
Natalie Frank
2015-06-05 04:22:21
2015-06-05 12:57:20
Judge gives more time to settle dispute
5 May, 2015
Matthew Kohr
Starbucks
0 Comments
Kohr, a Raleigh police lieutenant, and his wife, are suing Starbucks for $50,000, including damages, attorney fees and medical costs. Kohr claims that a lid popped off the cup of coffee, and the cup folded in on itself. Kohr claims he poured cold water on the burn, but the pain intensified. He claims the injuries aggravated his Crohn's disease and resulted in surgery to remove a portion of his intestine. The barista who prepared the drink and the company that made the cup have been dropped from the case. Before the case started, Starbucks attorneys argued that because Kohr had not actually paid for the coffee, he wasn't eligible for a warranty. Jury selection has taken place and testimony in the case is expected to begin later this week.
0
0
Mark Devlin
Mark Devlin
2015-05-05 11:47:08
2015-05-05 11:47:08
Hot coffee spill suit starts
21 Apr, 2015
ACDC
Phil Rudd
0 Comments
Rudd pleads guilty to charges of threat to kill, as well as possession of cannabis and methamphetamine. A second threat to kill charge is dropped. The court summary states,
As a result of threats made by the defendant, the victim was genuinely very fearful for his safety.
Rudd's lawyer states the primary charge
. . . essentially revolved around an angry phone call – that was it.
0
0
Malea Ann
Malea Ann
2015-04-22 03:53:22
2015-04-22 11:44:05
Pleads guilty
Boston Marathon Bombings
Dzhokhar Tsarnaev
0 Comments
The penalty phase in the Tsarnaev trial begins with jurors deliberating life without parole or death by lethal injection. Victims of the 2013 bombing are divided over the sentencing options. Harvard Law School professor, Nancy Gertner predicts:
He's going to be on death row for decades. There will be multiple appeals. Looking at it realistically, he's going to die in prison one way or the other.
0
0
Malea Ann
Malea Ann
2015-04-21 05:26:55
2015-04-21 12:18:24
Penalty phase begins
14 Apr, 2015
Judge Clifton Newman
Michael Slager
Walter Scott
0 Comments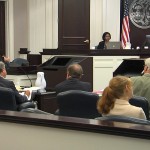 South Carolina's Supreme Court assigns Judge Newman to have exclusive jurisdiction over the case against former officer Slager. A release on the Ninth Circuit Solicitor Scarlett Wilson's Facebook page reads:
Judge Newman shall decide all matters pertaining to this case, including motions to appoint or relieve counsel, and shall retain jurisdiction over this case regardless of where he may be assigned to hold court and may schedule such hearings as may be necessary at any time without regard as to whether there is a term of court schedule.
0
0
Candice Lee
Candice Lee
2015-04-15 13:01:46
2015-04-15 13:31:05
Judge assigned
13 Apr, 2015
Michael Slager
Walter Scott
0 Comments
Slager won't face death penalty for shooting Scott. Charleston County's chief prosecutor Scarlett Wilson:
Based on the facts revealed thus far, it does not appear South Carolina's death penalty provision applies in this case because there are no statutory aggravating circumstances present.
0
0
Mudit Chauhan
Mudit Chauhan
2015-04-15 06:43:24
2015-09-08 17:17:19
Won't face death penalty
Suge Knight
0 Comments
Cle "Boan" Sloan, who describes himself as a "non-active gang member," balks at giving testimony that would incriminate Knight, repeatedly saying he did not recall events. Prosecutors say Knight traded punches with Sloan through the window of his vehicle before putting the truck into reverse, knocking Sloan and Terry Carter, to the ground. They say he then pulled forward to run over both men. Carter, 55, later died. Sloan, 51, suffered a badly mangled left foot and head injuries.
I'm no snitch and I will not be made to be a snitch. I will not be used to send Suge Knight to prison.
Asked by Deputy DA if he could identify Knight as she pointed to him in the courtroom:
That doesn't look like Mr. Knight.
With no testimony, attorneys read from a transcript of a statement he gave police detectives that night.
0
0
Mark Devlin
Mark Devlin
2015-04-14 12:41:13
2015-04-14 12:41:13
Witness balks
8 Apr, 2015
Suge Knight
0 Comments
Knight complains to judge about being confined to a wheelchair before firing his lawyer, David Kenner. Knight doesn't give a reason for wanting to replace Kenner. Judge Ronald Coen asks Knight if he wants to fire his lawyer. Knight replies:
Kenner is fired.
0
0
Althea Clarke
Althea Clarke
2015-04-11 14:58:31
2015-04-11 15:25:13
Fires lawyer
30 Mar, 2015
Aaron Hernandez
Shayanna Jenkins
0 Comments
Jenkins testifies that, at Hernandez's request, she removed a box from their basement the day after the killings. Prosecutors believe the box may have contained evidence or even the murder weapon. Jenkins said she didn't look inside the box, nor did she ask Hernandez about its contents. Jenkins drove around the area, looking for a place to dump the box. She said she doesn't remember which trash bin she threw the box into, explaining that she was nervous at the time. Her testimony contradicted what she had told a grand jury.
0
0
Joshua Steelman
Joshua Steelman
2015-03-30 12:50:36
2015-03-30 16:03:49
Removed evidence from home
20 Mar, 2015
Suge Knight
Bail hearing
Illness
0 Comments
Judge Ronald S. Coen sets the rapper's bail at $25 million. Prosecutors had argued that the bail should be set at $25 million because of Knight's past criminal record, citing police reports showing past links to robberies, assaults and battery. After hearing this, Knight collapses and is taken to the hospital.
0
0
Ashley
Ashley
2015-03-25 20:22:55
2015-03-25 20:56:37
$25 million bail set
12 Mar, 2015
Aaron Hernandez
Glock
0 Comments
Hernandez's trial judge disallows some testimony from a Glock employee who claimed that surveillance video showed Hernandez was carrying a gun after the murder. The judge says the jurors may still consider the portion of the Glock employee's testimony where he identifies the black object in Hernandez's hand as a gun based on the back strap, but the jurors may not consider testimony about other characteristics, including a trigger guard and front strap. The defense says the object could have been a TV remote.
0
0
Joshua Steelman
Joshua Steelman
2015-03-12 13:37:20
2015-03-12 14:35:06
Judge disallows some testimony
10 Mar, 2015
Boston Marathon Bombings
Dzhokhar Tsarnaev
0 Comments
Jurors are shown photographs of a blood-stained, hand-scrawled note written in pencil and  speckled with bullet holes inside the boat Tsarnaev was captured in. Tsarnaev appears to decry U.S. actions in Muslim countries and says he is jealous of his brother because he is dead and now in paradise. Prosecutors consider the note a confession and say it refers to the motive for the attack.
I do not mourn because his soul is very much alive. God has a plan for each person. Mine was to hide in this boat and shed some light on our actions…The U.S. Government is killing our innocent civilians but most of you already know that. As a M (bullet hole) I can't stand to see such evil go unpunished, we Muslims are one body, you hurt one you hurt us all…Now I don't like killing innocent people it is forbidden in Islam but due to said (bullet hole) it is allowed.
During cross-examination of a bomb technician who investigated the scene, Tsarnaev's lawyers established that all the bullet holes were from shots coming into the boat when police fired. The officer said no bombs, guns or weapons of any kind were found inside the boat.
0
0
Mark Devlin
Mark Devlin
2015-03-10 17:36:07
2015-03-10 17:36:11
Boat note
4 Mar, 2015
David H. Petraeus
Paula Broadwell
0 Comments
Petraeus pleads guilty to one count of unauthorized removal and retention of classified material, a misdemeanor, for showing his mistress Broadwell eight "black book" binders of classified material that included identities of covert operatives overseas and notes on his discussions with President Obama. He is eligible for up to one year in prison, but prosecutors will recommend a sentence of probation for two years and a $40,000 fine.
0
0
Judy Nowakowski
Judy Nowakowski
2015-03-05 21:34:59
2015-03-05 22:28:57
Pleads guilty
3 Mar, 2015
Boston Marathon Bombings
Dzhokhar Tsarnaev
0 Comments
A panel of twelve jurors and six alternates are chosen for Tsarnaev's federal death penalty trial. Eight men and ten women make up the panel of jurors and alternates. Many potential jurors are dismissed after they stated they had already formed an opinion on Tsarnaev's guilt or that they are morally opposed to the death penalty. Many others are excused because of their personal connections to the bombings: they have friends or family who were near the finish line when the bombs went off or they knew first responders who treated the victims.
0
0
Joshua Steelman
Joshua Steelman
2015-03-03 14:17:46
2015-03-03 18:32:21
Jury seated
10 Feb, 2015
Aaron Hernandez
Shayanna Jenkins
0 Comments
Jenkins is granted immunity in the murder trial of fiance Hernandez. CNN legal analyst Paul Callan:
It allows the prosecutor to force her to testify in front of the jury without taking the Fifth. If she lies, she can still be prosecuted for perjury because a grant of immunity never (immunizes) someone against committing perjury on the witness stand.
0
0
Melinda Tennyson
Melinda Tennyson
2015-02-11 11:16:54
2015-02-12 14:44:42
Granted immunity
5 Jan, 2015
Darren Wilson
Michael Brown
Robert P. McCulloch
0 Comments
A member of the grand jury that doesn't indict Ferguson police officer Wilson sues county prosecutor, McCulloch about the public's impression of the grand jury's inaccurate work. Grand juror:
I am seeking to speak out because the public's impression of the grand jury's work is not entirely accurate.
0
0
Kristan M.
Kristan M.
2015-01-06 12:42:04
2015-01-12 22:35:22
Juror sues prosecuter