18 Apr, 2023
Elon Musk
SpaceX
Starship (rocket)
Announcement
0 Comments
Following Musk's tweet about a "Mini Starship with flame," SpaceX announces the pre-sale of a collectable, Starship-themed blowtorch. The $175 burner has a safety lock as well as a windproof, adjustable flame and is being marketed for things like melting cheese and lighting candles. As one advert puts it:
It's collectible. It's functional. And it burns, burns, burns. The Starship Torch.
Mini Starship with flame!https://t.co/VGKHyaikTd

— Elon Musk (@elonmusk) April 17, 2023
https://newslines.org/wp-content/uploads/2023/04/Musk-announces-Starship-blowtorch.jpg
1080
1920
Michael Cavalli
Michael Cavalli
2023-04-20 14:18:44
2023-04-20 14:18:44
Musk announces Starship blowtorch
2 Dec, 2022
Elon Musk
Pepsi
Tesla Inc.
Tesla Semi
0 Comments
At an event at Tesla's Nevada plant, Musk delivers the first Tesla Semi to Pepsi. Musk says the battery-powered, long-haul truck will reduce highway emissions, outperform existing diesel models on power and safety and spin-off a fast-charging technology Tesla will use in its upcoming Cybertruck pickup. Musk did not announce pricing for the Semi, provide details on variants of the truck it had initially projected or supply a forecast for deliveries to PepsiCo or other customers.
Musk said the Semi has been doing test runs between Tesla's Sparks, Nevada factory and its plant in Fremont, California. Tesla said it had completed a 500-mile drive on a single charge, with the Semi and cargo weighing in at 81,000 pounds in total.
Tesla said it would use the Semi to ship parts to its plant in Fremont, California. Musk has said Tesla would aim to produce 50,000 of the trucks in 2024. PepsiCo ordered 100 trucks in 2017.
If you're a trucker and you want the most badass rig on the road, this is it…This thing has crazy power relative to a diesel truck. Basically it's like an elephant moving like a cheetah.
Tesla Semi Delivery Event
https://newslines.org/wp-content/uploads/2022/12/Musk-delivers-first-Tesla-Semi-truck-to-Pepsi.jpg
1080
1920
Mark Devlin
Mark Devlin
2022-12-02 17:50:16
2022-12-02 17:50:16
Musk delivers first Tesla Semi truck to Pepsi
12 Oct, 2022
https://newslines.org/wp-content/uploads/2022/10/Burnt-hair.jpg
562
1000
Mark Devlin
Mark Devlin
2022-10-12 04:01:05
2022-10-13 15:50:43
Burnt Hair fragrance goes on sale
8 Nov, 2018
Conor McGregor
Reebok
0 Comments
Reebok, the exclusive outfitter of the UFC, teams up with McGregor to release a new training shoe, the Sole Fury. The shoe, retailing for $90, is available exclusively on Reebok.com, Reebok stores and Champs Sports locations. McGregor spoke to MensHealth.com a day ahead of the shoe's launch:
I think in order to do anything extraordinary in this world, you must be fearless. That's not to say never be afraid, because we are all afraid at some stage, but just not be afraid of external things like failure.
https://newslines.org/wp-content/uploads/2018/11/FI-McG-Reebok-sole-fury.jpg
246
470
Mary Devlin
Mary Devlin
2018-11-09 12:39:49
2018-11-09 12:39:49
Releases Sole Fury sneaker
17 Sep, 2018
Conor McGregor
0 Comments
McGregor announces the unveiling of his Proper Twelve whiskey brand via Instagram. He says he will donate up to $1 million per year of the proceeds of Proper Twelve at $5 per case to first responder organizations and charities.
Proud day! Today 'Project Notorious' finally comes to life with the introduction of my new Irish Whiskey; Proper 12…Born and bred in the Dublin suburb of Crumlin, Dublin 12. Proper Twelve is who I am. I wanted to make an Irish whiskey emblematic of Irish culture as a whole, and something that would showcase the great skill we possess of distilling the best Whiskey in the entire world…
https://www.instagram.com/p/Bn1d_qIAvHC/
https://newslines.org/wp-content/uploads/2018/09/FI-McG-Proper-12.jpg
246
470
Mary Devlin
Mary Devlin
2018-09-18 15:19:50
2018-09-18 15:19:50
McGregor unveils his 'Proper Twelve' Irish whiskey brand
5 Feb, 2018
Conor McGregor
0 Comments
Noodies. a company based in the UK, releases a bronze bust of McGregor, prices at $4600 (£3300). The company is also selling a "resin reinforced plaster" version of the McGregor bust for about $325 (£230).
We have produced an investment grade, bronze art object that glorifies a sportsman. We have protected it with a Radio Frequency Identification Device (RFID) inset into the base and sealed with the wax trademark of the designer. The unique RFID code on the device is linked to the number within the edition to make successful forgery impossible. This in itself makes our production leading edge in high end collectable (sic) art production.
https://newslines.org/wp-content/uploads/2018/02/Fi-McGregor-bust.jpg
246
470
Mark Devlin
Mark Devlin
2018-02-05 13:12:26
2018-02-05 13:12:26
Bronze McGregor bust goes on sale
21 Nov, 2017
Ferguson Marine
Jim McColl
Kevin Hobbs
MV Glen Sannox
Nicola Sturgeon
0 Comments
The Glen Sannox is launched into the Clyde by Sturgeon, who says:
These state-of-the-art ferries are more sustainable, therefore contributing to Scotland's world-leading climate change goals. They are also capable of carrying more vehicles and benefiting the communities that rely on them.
Ferguson Marine's owner, Jim McColl:
The successful launch of the MV Glen Sannox marks an important milestone in Ferguson Marine's journey to becoming a world-class shipyard. As this is the first ferry in the UK capable of being run on liquefied natural gas and marine gas oil, not only has this been an extremely exciting and ambitious project for both FMEL and CMAL, but it has been an extremely complex one as well. The experience and knowledge gained during this project will be of enormous benefit to the competitiveness of Scottish shipbuilding in the future as technology continues to develop to meet tightening clean energy legislation,
CMAL's Kevin Hobbs:
The use of LNG in maritime transport is a sign of our ongoing commitment to exploring new fuel technologies for ferries, as well as a wider commitment to innovation in Scotland and consideration for the environmental impact of transport.
MV Glen Sannox Launch at Ferguson Marine 21st November 2017
0
0
Mark Devlin
Mark Devlin
2022-01-31 13:23:20
2022-02-01 12:33:18
Sturgeon launches MV Glen Sannox
28 Aug, 2017
Conor McGregor
0 Comments
McGregor is using his high-profile bout with Mayweather to plug his own brand of whiskey – and he says he's going to dominate the drinks market with it. Dressed in a cream suit adorned with colourful paisley patterns, he repeatedly swigged from a glass of the whiskey – making sure it appeared in the majority of press photos. He says he plans to "take over the Irish whiskey market" with the Notorious-branded drink. Speaking at the post-fight press conference:
Boy that whiskey tastes so good. Oh s***, keep an eye out for it.
https://newslines.org/wp-content/uploads/2017/08/FI-Notorious-Whiskey.jpeg
246
470
Mark Devlin
Mark Devlin
2017-08-28 18:43:32
2017-09-12 18:35:51
McGregor launches 'Notorious' Irish whiskey that could earn him $100m
22 Jul, 2017
Conor McGregor
David August
0 Comments
David August tailoring releases a limited edition of McGregor's 'Eff You' suit, which the fighter wore to his first press conference with Mayweather in Los Angeles. The $6500 suit is produced in exclusive wool in navy twill, with 'explicit fighting words presented in a vertical repeat'. Other details include purple camouflage silk lining. Each suit will be signed by August. Production time us estimated at 12-15 weeks.
Infamy and notoriety isn't always bad, especially in the case of one bold, brave, confident friend of ours who revels in pushing boundaries. For those interested in taking similar risks, we have recreated our original custom 3-piece suit produced exclusively for Conor McGregor and we are making it available as a limited-edition custom order.
https://newslines.org/wp-content/uploads/2017/07/FI-Eff-You-Suit.jpeg
246
470
Mark Devlin
Mark Devlin
2017-07-22 11:30:18
2017-07-22 11:30:26
McGregor's tailor releases limited edition 'Eff You' suit
12 Nov, 2016
Conor McGregor
0 Comments
McGregor releases The MacMoji emoji collection (www.macmojiapp.com), including emojis of the fighter knocking out Aldo in 13 seconds, hurling cans of Monster at Diaz, red pany night, and posing with the tricolour and piles of cash. The collection also includes  The Notorious' favourite slogans: "Get in, get rich, get out", "the mac life" and "If you ain't Mackin, you ain't stackin." The software costs £1.99 on Apple's App Store,
0
0
Mark Devlin
Mark Devlin
2016-11-12 22:51:04
2016-11-12 22:52:09
Emoji collection released
20 Aug, 2016
London Underground
Sadiq Khan
0 Comments
The Underground starts all-night Friday and Saturday services. The Central &  lines will run trains through to 0530 in the morning, with others due to follow. Mayor Khan:
It will support thousands of workers who have to travel to or from work at night, it will provide huge economic benefits to our vital night-time economy and it will help Londoner's get home quickly and safely after a night out.
0
0
Rao Muhammad Shahid Iqbal
Rao Muhammad Shahid Iqbal
2016-08-21 13:12:14
2016-08-22 20:34:34
'Night tube' trains start running
Facebook
0 Comments
Facebook releases an iPhone app, called Lifestage, that allows teens to watch clips about the lives of their classmates. Anyone can download the app, although seeing profiles of other users is reserved for those 21 years of age or younger. The social network allows users to make video clips to describe likes, peeves, dance styles, and other aspects of their character. The app is designed by Facebook product manager Michael Sayman, who is 19 years old.
Back in 2004, Facebook was all about 'who I am'. I could post my relationship status. I could share what my favourite music was. And it was all about expressing myself. Today as Facebook has grown into so much more, we see the opportunity to explore that concept of 'who I am' once again, but for Generation Z in 2016.
0
0
Rao Muhammad Shahid Iqbal
Rao Muhammad Shahid Iqbal
2016-08-22 20:21:27
2016-08-22 20:21:27
Launches Lifestage
10 Jun, 2016
Milestone
Valentino Rossi
0 Comments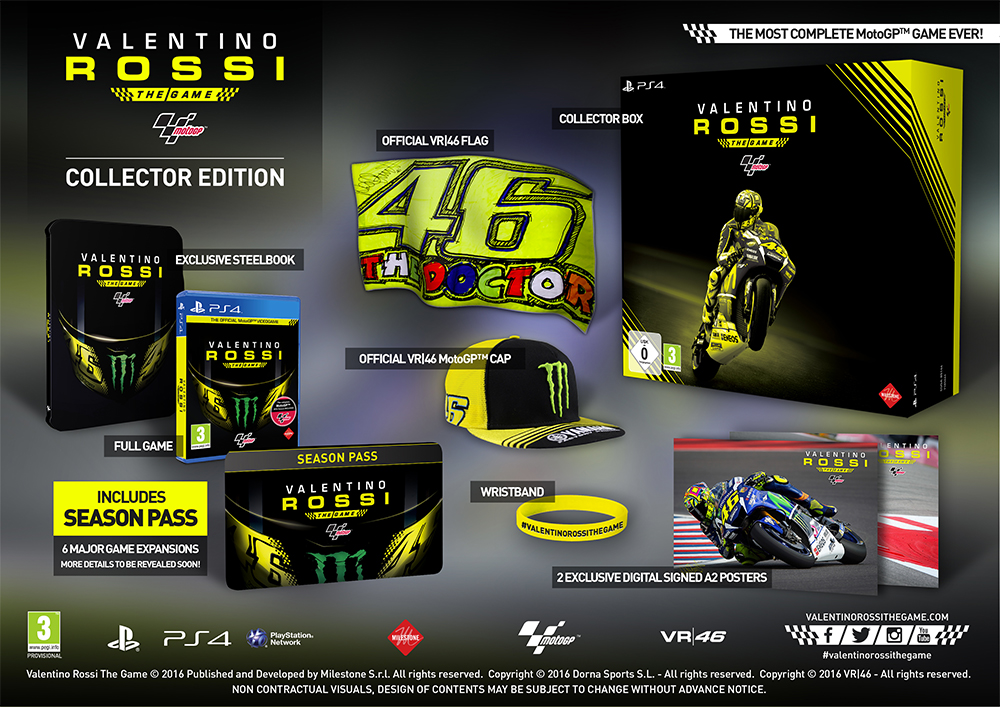 Milestone releases a collector's edition of Valentino Rossi: The Game. In addition to the game purchasers receive a VR46 Bracelet, VR46 Flag, MotoGP Cap and a small box with sand from the Valentino Ranch. The edition is sold out on Amazon Italy, Spain and France but is currently available for preorder on Amazon UK for £99.99.
0
0
Mark Devlin
Mark Devlin
2016-06-10 10:10:03
2016-06-10 10:10:03
VR: The Game Collectors Edition
24 Dec, 2015
0
0
Mark Devlin
Mark Devlin
2015-12-24 15:42:52
2015-12-24 15:42:52
Catalog available on streaming
28 Oct, 2015
Valentino Rossi
Yamaha
0 Comments
Yamaha releases MOTOBOT, an autonomous motorcycle-riding humanoid robot. The robot has a rigid torso and legs, and arms jointed at the shoulders and wrists but not elbows. The robot rides a 1,000cc R1M superbike, modified with outrigger-mounted wheels. Yamaha wants develop the robot to ride an unmodified motorcycle on a racetrack at more than 200 km/h. In the video, MOTOBOT challenges Rossi.
The way you ride is both beautiful and exciting. I am improving my skills every day but I am not sure I could even beat the five-year-old you. Perhaps if I learn everything about you, I will be able to catch up. I am not human, but there has to be something only I am capable of. I am MOTOBOT. I was created to surpass you.
YMVSV's MotoBot challenges Valentino Rossi, "The Doctor" – Full Clip
0
0
Mark Devlin
Mark Devlin
2015-10-28 20:15:40
2015-10-28 23:46:20
Robot biker challenges Rossi
19 Oct, 2015
Facebook
0 Comments
Facebook starts notifying users if it believes their accounts have been targeted or compromised by an attacker suspected of working on behalf of a nation-state. Whenever a user's account is accessed by a new device or browser, the company will send a security code to the account owner's phone to verify that only the account user is trying to access the account.
The security of people's accounts is paramount at Facebook, which is why we constantly monitor for potentially malicious activity and offer many options to proactively secure your account. Starting today, we will notify you if we believe your account has been targeted or compromised by an attacker suspected of working on behalf of a nation-state.
0
0
Mark Devlin
Mark Devlin
2015-10-20 00:28:45
2015-10-20 00:32:20
Warns users of nation-state intrusions
Blab
Product Hunt
Ryan Hoover
0 Comments
Product Hunt, in collaboration with Blab, adds live video chats to its AMA section Viewers can interact with those on video either by writing in comments, or by joining via video themselves. The streams can be embedded online and archived
Product Hunt has always been about authentic conversations between makers and the community. LIVE video chats extend this concept even further, giving participants an opportunity to 'sit in the room' with guests to ask questions and hear their unfiltered answers.
0
0
Mark Devlin
Mark Devlin
2015-10-20 00:22:41
2015-10-20 00:22:41
Adds live video chat
14 Oct, 2015
Elon Musk
Tesla Inc.
0 Comments
Tesla launches a beta version of Autopilot, which will be available on Thursday. All vehicles from September 2014 will be given the feature. Vehicles will rely on four major sensor systems. Ultrasonic sensors that tell the computer what's around a 16-ft perimeter of the car; a forward-facing camera that helps determine where the lanes are and what cars are ahead of it, and which can also read speed signs; forward radar that's used to detect fast-moving objects and which can see through rain, fog, and dust, as well as pulling from GPS and high-precision digital maps. Musk says it's very important that people "exercise caution" and that they keep their hands on the wheel.
I don't think that we have anything to worry about with cars driving themselves. They're not going to take over the world…Each driver is a trainer in how the autopilot should work.
0
0
Mark Devlin
Mark Devlin
2015-10-15 15:54:01
2015-10-15 15:54:02
Autopilot driverless car update
Oct 2015
Anita Borg Institute
0 Comments
The Anita Borg Institute introduces its ABI.Local program on the first day of its annual Grace Hopper Celebration, the world's largest event for women in computing and technology. The goal of the program is to help women technologists all over the world connect with each other. With over 1,300 women already participating in New York and Delhi, the program is adding eight metro areas, including Boston, Washington D.C., and Silicon Valley, in part to donations from Google and an anonymous donor. CEO:
Establishing and growing a strong community of women who share our interests and career goals is imperative to keeping women in the field and broadening the appeal of a technical career to young women.
0
0
Cassi Wykes
Cassi Wykes
2015-10-14 15:42:29
2015-10-14 16:49:13
ABI.Local launch
6 Oct, 2015
Twitter
0 Comments
Twitter launches Moments (previously known as Project Lightning), a curated "best of Twitter" feeds. The content is accessed through a lightning icon, which leads to a menu of posts. The company says it will allow outside companies to create Moments, including partners such as Bleacher Report, BuzzFeed, Entertainment Weekly, Fox News, Getty Images, Mashable, Major League Baseball, NASA, the New York Times,Vogue and the Washington Post. .
0
0
Mark Devlin
Mark Devlin
2015-10-16 18:56:45
2015-10-16 18:56:46
Moments