19 Jun, 2019
Mark & Mary Devlin
NewsBlocks
0 Comments
Mark participates in a panel on news innovation at the World News Media Congress in Glasgow. The other participants included Frédéric Sitterlé, Director of Development at Groupe Challenges, which is creating news products for use in Renault cars, Kourtney Bitterly, R&D Lead at the New York Times, who talked about the company's research into Smart Speakers, and Robyn Spector, Director of Corporate Strategy and Development at the Associated Press (AP), who talked about giving AI tools to journalists.
Mark talks about using blockchain to price news data:
At the moment, there's so much discussion about subscription models, and how much can we get people to pay for news. But nobody really knows the real cost of a piece of news.
And the challenges facing startups:
It seems companies really want to pick the winner. News organisations would rather wait and see if something succeeds. But how can something succeed if they haven't been funded from beginning?
https://newslines.org/wp-content/uploads/2020/05/WNMC-Glasgow.jpeg
423
800
Mark Devlin
Mark Devlin
2020-05-17 10:12:55
2020-05-17 10:24:37
World News Media Congress panel
6 Mar, 2019
Mark & Mary Devlin
News Rewired
NewsBlocks
0 Comments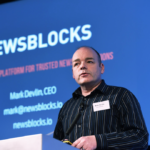 Mark presents NewsBlocks at News Rewired, a conference at Thomson Reuters HQ in London, that promotes trends in journalism technology. Mark discusses the use of blockchain technology to create a verified, permanent and priced "store of news value" for all the world's news.
https://newslines.org/wp-content/uploads/2020/05/Mark-Devlin-News-Rewired.png
690
1033
Mark Devlin
Mark Devlin
2020-05-17 10:56:23
2020-05-17 10:58:30
News Rewired talk
2 Dec, 2016
Donald Trump
0 Comments
Trump gives his first public speech since winning the election at a rally in Cincinnati, Ohio, as part of his Thank You Tour.
Full Event: President-Elect Donald Trump Rally in Cincinnati, OH 12/1/16
https://newslines.org/wp-content/uploads/2016/12/RI-Cincinnati-Rally.jpeg
326
566
Mark Devlin
Mark Devlin
2016-12-01 20:26:48
2016-12-01 20:42:34
Cincinnati rally
1 Dec, 2016
Carrier AC
Donald Trump
Mike Pence
0 Comments
Trump gives a speech at the Carrier plant. He is introduced by Pence:
He said that if he was elected, America would start winning again, and today America won, and we have Donald Trump to thank. And I have a feeling, working beside this extraordinary man, this is the beginning of a lot more good news all across America.
Trump:
Mike has been such a good decision for me… NAFTA is a total and complete disaster…it's a one-lane highway into Mexico. Nothing coming our way, everything going their way…I just want to let all of the other companies know that we're going to be great for business. There's no reason for them to leave any more. Your taxes are going to be at the low end, and your unnecessary regulations will be gone…They're not going to be announcing that they're closing up and moving to Mexico.
Full Event: Donald Trump, Mike Pence Carrier Plant Announcement 12/1/16
https://newslines.org/wp-content/uploads/2016/12/FI-Trump-Carrier-Speech.jpeg
313
511
Mark Devlin
Mark Devlin
2016-12-01 15:36:30
2016-12-01 15:36:30
Trump, Pence speak at Carrier plant
14 Mar, 2016
Sarah Palin
0 Comments
Palin speaks to a Trump rally in Tampa, Florida.
…and what we don't have time for is all that petty punk-ass little thuggery stuff that's been going on with those quote-unquote protesters who are doing nothing but wasting your time and trying to take away your first amendment rights, your rights to assemble peacefully. And the media being on the thugs' side — what the heck are you guys thinking, media? It doesn't make sense! Well, you all get it. I think the media and too many other candidates are underestimating the wisdom of the people. You're smart, energized. optimistic, positive and that's why you're here today and I thank you for spending your time here today, because it is time, we have all recognized the majority of americans have recognized Republicans, Independents, good old blue dog Reagan Democrats out there — we have all recognized, we need a revolution. It is time to get rid of the status quo. The status quo has to go, right? We have needed a revolution, and we found our revolutionary. Donald Trump is that revolutionary!
0
0
Adam Arseneault
Adam Arseneault
2016-03-17 00:01:43
2016-03-17 10:19:36
Trump event speech
12 Mar, 2016
Donald Trump
0 Comments
At a rally in Vandalia, OH, a protester grabs Trump's leg, resulting in several Secret Service members rushing the stage.
Thank you for the warning. I was ready for 'em, but it's much better if the cops do it, don't we agree?
Trump swarmed by security on stage
0
0
Mark Devlin
Mark Devlin
2016-03-12 13:04:59
2016-03-12 13:48:31
Protester grabs leg
Donald Trump
0 Comments
At a rally in Vandalia, OH, Trump says that the protests in Chicago were a "planned attack".
All of a sudden a planned attack, just came out of nowhere. It was printed by people who were professional protestors. A disgrace if you want to know the truth…The people that came there, that were invited there, thousands and thousands of people. They caused no problem. They were taunted, they were harassed. These other people…by the way, some represented Bernie, our communist friend. Now really, Bernie should tell his people…There weren't too many Hillary people there. You know why? In all fairness to Bernie, the reason there weren't any Hillary people is they have no fervour  Say what you want about Bernie, but at least they have a little bit of fervour. So he should really get up and say to his people to "stop, stop". Not me, they said "Mr Trump should get up this morning and tell his people to be nice". My people are nice. My people are great.
Trump: Rally violence was 'planned attack'
0
0
Mark Devlin
Mark Devlin
2016-03-12 13:37:04
2016-03-12 13:46:12
Chicago was 'planned attack,' blames Sanders
3 Mar, 2016
Donald Trump
Mitt Romney
0 Comments
Speaking at the Hinckley Institute at the University of Utah, Romney calls Trump "phony" and a "fraud" whose "third-grade theatrics" threaten the future of the Republican party.
I'm not here to announce my candidacy for office, and I'm not here to endorse a candidate today. I believe with all my heart and soul that we face another time for choosing, one that will have profound consequences for the Republican Party. [If we nominate Trump] the prospect for a safe and prosperous future are greatly diminished. [If he is elected] the country would sink into prolonged recession…Whatever happened to Trump Airlines? How about Trump University? And then there's Trump Magazine, and Trump Vodka, and Trump Steaks! Successfully bringing jobs home requires serious policies and reforms… you can't punish business into doing what you want.
Mitt Romney: Trump 'A con man, a fake' [FULL SPEECH]
0
0
Mark Devlin
Mark Devlin
2016-03-03 16:09:14
2016-03-03 16:19:41
Says GOP should not nominate Trump
24 Jan, 2016
Miss Universe
Pia Wurtzbach
0 Comments
At the homecoming press conference, Wurtzbach says that the best advice she received on her journey to the crown was from 2011 Miss Universe 3rd runner-up Shamcey Supsup.
She said you should know when to peak. You should save your energy for moments that really matter. The competition can be very exhausting. There are times that you should pull back to save your energy for important moments like the preliminaries and the pageant night.
Miss Universe PH 2011 Shamcey Supsup's advice to Pia Wurtzbach
0
0
anna213
anna213
2016-01-25 01:42:02
2016-01-25 19:15:35
Shares best advice
23 Jan, 2016
Jim Duffy
TED Talks
0 Comments
Duffy speaks at TEDxUWE, an independently organized TED event, at the University of West England, in Bristol. He talks about "the leadership lens", using Sir Alex Ferguson as an example.
If you're going to lead you need three things: a vision and a goal, an outcome, and you need it to be attractive to people. My vision and goal is to inspire and enable positive social change through the action of entrepreneuring, to make the UK the most entrepreneurial country in the world. My outcome is better enabled entrepreneurs, who are backable, credible, and investable. I attract people to it by having impact and actually doing what I say. More entrepreneurs, more wealth, more jobs, and more people get on board.
The leadership lens | Jim Duffy | TEDxUWE
0
0
Mark Devlin
Mark Devlin
2016-08-14 20:07:54
2016-08-14 20:07:54
TEDxUWE talk – The Leadership Lens
17 Jan, 2016
Marco Rubio
0 Comments
Rubio cites fears of ISIS as reasons to protect gun rights for Americans and promises to maintain a broad interpretation of the 2nd Amendment if elected president. While speaking to a crowd of approximately 600 in Iowa, he warned that the Obama administration is coming to confiscate Americans guns and leave them defenseless:
My attorney general is not going to be someone that comes to my office to conspire about how to take away your guns. My attorney general is going to be someone that defends your second amendment right to protect your family, your homes, your business and your property. Because, if God forbid ISIS pays a visit to you, to our community, the last thing standing between them and our families may be the ability to protect ourselves with our guns. And there's no way we're going to take that away from the American people, not when I'm president.
0
0
Jessica Voloudakis
Jessica Voloudakis
2016-01-17 21:41:52
2016-01-17 21:41:52
Cites ISIS fears
2 Jan, 2016
Donald Trump
0 Comments
At a rally in Biloxi. MI, Trump talks about the Iran Nuclear Deal, and wonders aloud why the deal did not include the release of prisoners.
It's almost like there has to be something else going on. I don't think there is, I just don't think they're competent…Who would make that deal?..[Iran would have refused, then you] you double and triple up your sanctions…[The prisoners] will be out before I take office…I can't believe they didn't walk from that negotiation…People want, not that phony Obama change. People want strength, they want competence.
FULL EVENT: Donald Trump Holds MASSIVE Rally in Biloxi, MS (1-2-16)
0
0
Mark Devlin
Mark Devlin
2016-01-04 02:09:29
2016-01-04 02:18:12
Biloxi rally: Iran deal
Diamond and Silk
0 Comments
Diamond and Silk introduce Trump in front of a crowd of 14,000 in Biloxi, MI.
In this room is unity. In this room we are united. This is the United States, not the divided states. It's time for us all to take America back because this is our country. It's imperative you get out and vote. If you don't want to get left, you've got to get right. We want somebody to build a wall, don't we? We want somebody to bring back our jobs so we can thrive again, don't we? We want somebody that's going to keep us safe, don't we? There is only one race: the human race, as all of our lives matter in this room. We finally have a candidate that realizes that and that's why it's imperative you vote for Donald J. Trump!
Diamond & Silk Speak at Donald Trump Rally in Biloxi, MS! (1-2-16)
0
0
Mark Devlin
Mark Devlin
2016-01-04 02:24:33
2016-01-04 02:24:33
Introduce Trump at Biloxi
21 Dec, 2015
Donald Trump
0 Comments
At a rally in Grand Rapids, MI, Trump comments on Clinton's bathroom break at the Democratic debate.
What happened to her? I'm watching the debate, and she disappeared. Where did she go?! I know where she went. It's disgusting, I don't want to talk about it. No, it's too disgusting. Don't say it, it's disgusting…Even a race to Obama, she was gonna beat Obama. I don't know who would be worse, I don't know, how could it be worse? But she was going to beat — she was favored to win — and she got schlonged, she lost, I mean she lost.
Clinton's campaign responds:
We are not responding to Trump but everyone who understands the humiliation this degrading language inflicts on all women should. #imwithher

— Jennifer Palmieri (@jmpalmieri) December 22, 2015
0
0
Mark Devlin
Mark Devlin
2015-12-23 02:32:06
2015-12-23 02:32:06
'Hillary got schlonged'
11 Dec, 2015
Donald Trump
1 Comments
At a rally in Des Moines, IA, Trump responds to a New York Times report that said Ted Cruz questioned Trump's judgment in a closed-door meeting, questioning Cruz's oppositions of Ethanol subsidies.
I do like Ted Cruz, but not a lot of evangelicals come out of Cuba. Not a lot come out…With the ethanol, really, he's got to come a long way, 'cause right now he's for the oil…But I understand it, oil pays him a lot of money. He's got to be for oil, right? But I'm with you. I'm self-funding. I have no oil company. I have no special interest.
0
0
Mark Devlin
Mark Devlin
2015-12-12 12:58:15
2015-12-12 12:58:15
Des Moines Rally
30 Nov, 2015
Donald Trump
Herman Cain
0 Comments
At a rally in Macon, GA, Trump is introduced by Cain.
You have a lot of people in the media and the establishment that are trying to bring down Trump with lies and BS, and it's not going to work.
Trump says CNN should pay $5 million for him to appear at their upcoming debate.
CNN doesn't treat me properly. [I might not] do the debate unless they pay me…How about we do this with CNN? I won't do the debate unless they pay me $5 million and the money goes to wounded warriors or vets.
FULL Speech: Donald Trump Holds MASSIVE Rally in Macon, GA w/ Herman Cain (11-30-15)
0
0
Mark Devlin
Mark Devlin
2015-12-04 01:27:56
2015-12-04 01:27:56
Macon rally: Wants $5 million for CNN debate
28 Nov, 2015
Donald Trump
0 Comments
Trump gives a speech to a rally in Sarasota, FL. He says The New York Times should give him an apology over the Kovaleski affair.
I took a lot of heat about a reporter. What really happened? I think it's very important for me to say. I made a statement that – I was talking about groveling – a reporter was groveling. He took back a statement he wrote 14 years ago…I don't knock people that have problems, believe me. I would never mock a person that has difficulties….Who else is going to take on The New York Times? I don't care. … They'll probably be out of business pretty soon….The problem is, [Kovaleski]'s using what he's got to such a horrible degree, I think it's disgraceful…I think the New York Times frankly should give me an apology. I'd love to have the apology before they go out of business.
Donald Trump campaigns in Sarasota
0
0
Mark Devlin
Mark Devlin
2015-11-28 19:57:23
2015-12-04 02:04:54
Sarasota rally
24 Nov, 2015
Donald Trump
Melania Trump
0 Comments
Trump gives a speech at Myrtle Beach , SC, with Melania, and his family, the first time Melania has been seen on the campaign trail. He criticizes Obama.
Look at our inner cities…I call him [Obama] the great divider. I am going to be a unifier.
Trump also calls on Americans to take action and report suspicious activity in their neighborhoods.
The real greatest resource is all of you, because you have all those eyes and you see what's happening. People move into a house a block down the road, you know who's going in. You can see and you report them to the local police. You're pretty smart, right? We know if there's something going, report 'em. Most likely you'll be wrong, but that's OK. But let the local police go in and check out and you get rid of this stuff. That's the best way. Everybody's their own cop in a way, you gotta do it. You gotta do it.
Trump also calls up a man who is wearing a Trump wig to the stage (42 minutes):
This is what I call a real supporter, Wow! Are you married? [To wife] Are you happy with your husband? She said yes! She fantasizes that he's really the real Donald Trump.
0
0
Mark Devlin
Mark Devlin
2015-11-24 23:35:53
2015-11-25 00:02:17
Myrtle Beach rally
23 Nov, 2015
Donald Trump
0 Comments
At a rally in Columbus, OH, Trump reads an extract from The Washington Post about U.S. Muslims celebrating the destruction of the World Trade Center buildings.
But the media was going crazy, and one of my people came in, "Mr Trump, I have a story in The Washington Post". Among the most dishonest people I have ever dealt with are the media. The level of dishonesty is unbelievable. This is a story from the Washington Post on September 18. [reads extract]. So they've come in and we've received hundreds of phone calls to my office, and they [the media] have tried to deny it…They'll find some reason to deny it. They'll call it a typo. A long and winding typo.
FULL SPEECH: Donald Trump EXPLOSIVE Rally in Columbus, OH (11-23-15)
0
0
Mark Devlin
Mark Devlin
2015-11-23 23:02:38
2015-11-23 23:02:38
Defends Muslim celebration comments
12 Nov, 2015
Ben Carson
Donald Trump
0 Comments
Trump tells a rally in Fort Dodge, IA, that those who support Carson are "stupid" to believe the "crap" that is his life story. At one point, Trump walks away from the podium and flipped his belt buckle up and down to ridicule what Carson has described as a key event in his life: that Carson, as a boy, once tried but failed to stab someone only to have the knife broken by a belt buckle.
So I have a belt: Somebody hits me with a belt, it's going in because the belt moves this way. It moves this way, it moves that way. He hit the belt buckle. Anybody have a knife? Want to try it on me? Believe me, it ain't gonna work. You're going to be successful, but he took the knife and went like this and he plunged it into the belt and, amazing, the belt stayed totally flat and the knife broke…How stupid are the people of Iowa? How stupid are the people of the country to believe this crap?
Carson responds:
Now that he's completed his gratuitous attack, why don't we press on and deal with the real issues. That's what the people of America are concerned about, not so much politics as usual, politics of personal destruction — that's what the American people are sick and tired of…It's not the kind of dialogue that I would ever engage in and I'm hopeful that his advisers will help him to understand the word pathological and know that that does not connote incurable. It simply describes something that is highly abnormal and something that fortunately I've been able to be delivered from for half a century now.
0
0
Mark Devlin
Mark Devlin
2015-11-16 14:18:36
2015-11-16 14:18:36
Mocks Carson's knife story