6 Jun, 2017
Christy Mack
War Machine
0 Comments
A Nevada judge sentences former MMA fighter War Machine (formerly Jonathan Paul Koppenhaver) to life in prison with the possibility of parole after 36 years after he is convicted of kidnapping and sexually assaulting Mack, his porn star ex-girlfriend. The earliest that he can be released from prison will be at 71 years old. The August 2014 assault began when War Machine burst into a bedroom and found Mack in bed with another man. After letting him go he beat her, leaving her with a broken nose, missing teeth, fractured eye socket, leg injuries and a lacerated liver. Mack claimed that she escaped when she thought Koppenhaver was in the kitchen fetching a knife to finish her off. She ran naked and bleeding to neighbors' homes. In a statement, the ex-MMA fighter blames anxiety, depression and self pity for his problems:
should have killed myself by now. There's no reason right now that I shouldn't be in the dirt right now laying next to Aaron Hernandez. That's 100 percent true…Not a day goes by that I don't seriously regret all those things that I did. I was a very, very lost, very empty person. And to top it off, something's not right with my head. Plain and simple. I've known that a long time and I've hated it. I've hated the way that I think. I've hated my impulses. Half the time, I don't know why I do some the things I do. And some of the times I do things and I don't even feel like I did them until it's already done. Smashing my face [into a mirror] was like a sick form of therapy. It was the only thing I could do to prevent myself from killing myself.
Mack says she still fears for her life if Koppenhaver were to leave prison.
I do know when he gets out, he will kill me.
https://newslines.org/wp-content/uploads/2017/06/FI-War-Machine.jpeg
246
470
Mark Devlin
Mark Devlin
2017-06-05 19:18:14
2017-06-05 19:19:53
War Machine sentenced to life in prison for kidnapping, sexual assault
11 Jul, 2016
Barbara Struncova
William Ulmer
0 Comments
Ulmer is sentenced to three years in prison by a North Carolina court for traveling with a stolen passport and aggravated identity theft. Ulmer traveled back to the U.S. using the stolen passport of his brother, Wayne Jacob Ulmer, Jr., just days before Costa Rica's Judicial Investigation Police (OIJ) began to treat the disappearance and suspected murder of Struncova's as suspicious.
0
0
kearly
kearly
2016-07-11 12:23:21
2016-07-16 08:06:17
Sentenced to three years for identity theft in US
13 Apr, 2016
Kimberly Mueller
Matthew Keys
0 Comments
Judge Mueller sentences Keys to 24 months in prison, with 24 months supervised release following. The judge limits the amount of loss (for purposes of sentencing) to whatever had been presented at trial, determining that the appropriate range for sentencing was between 37 and 46 month Her final judgement, considering mitigating factors such as Keys's otherwise clean record, his history of complying with law enforcement, and the unlikeliness that he would reoffend, is lower than her own recommendation. Mueller:
I think the parties agree, it's not the crime of the century. [The effect of the defacement was] relatively modest and did not do much to actually damage the reputation of that publication [but that she could not ignore that his] intent was to wreak further damage which could have had further consequences…The mask that Mr. Keys put on appeared to allow a heartless character to utter lines that are unbecoming of the professional journalist that he holds himself to be, and is, in most respects, in fact.
Keys:
[W]e're not only going to work to reverse the conviction but try to change this absurd computer law, as best we can.
Prosecution:
Those who use the internet to carry out personal vendettas against former employers should know that there are consequences for such conduct.
Keys is to surrender to a facility—likely a prison in Lompoc, California—on June 15. His defense says it is planning an appeal.
0
0
Mark Devlin
Mark Devlin
2016-04-14 12:47:28
2016-04-14 13:02:34
Receives two year sentence
24 Nov, 2015
Abid Naseer
Raymond Dearie
0 Comments
Naseer is sentenced to 40 years in jail by a federal judge Dearie, in New York, for providing material support to al-Qaeda and conspiracy to use a destructive device. Naseer appeals to the judge that he was not – nor had he ever been – a "career criminal". Dearie:
I know you're not, You're a terrorist.
0
0
Faisal
Faisal
2015-11-24 12:13:49
2015-12-02 04:37:41
Sentenced to 40 years
23 Nov, 2015
Iran
Jason Rezian
0 Comments
Rezaian is sentenced to prison on charges of espionage, the country's judiciary spokesman said Sunday, without specifying the length of his jail term.
The verdict has been issued but has not been officially handed down to the accused or his lawyer. Given the fact that the verdict has not been officially handed down, I cannot reveal the details, but what I can say is that the accused has been sentenced to prison.
The Washington Post's foreign editor:
We're aware of the reports in the Iranian media but have no further information at this time. Every day that Jason is in prison is an injustice. He has done nothing wrong. Even after keeping Jason in prison 488 days so far, Iran has produced no evidence of wrongdoing. His trial and sentence are a sham, and he should be released immediately.
0
0
Faisal
Faisal
2015-11-25 01:56:29
2015-11-25 01:56:29
Imprisoned
23 Sep, 2015
David Sweat
Joyce Mitchell
Kevin K. Ryan
Richard Matt
0 Comments
Mitchell is sentenced to between 2 1/3 years and seven years for her part in Matt and Sweat's escape. Before sentencing she claims that Matt threatened to kill her husband if she didn't help him and Sweat escape.
If I could take it all back I would. I can't begin to explain how sorry I am for all this…Why I did what I did I don't know, other than that I was scared for my husband.
She also offers to wear an ankle bracelet for life, which Judge Ryan rejects:
Ms. Mitchell I just don't find that explanation credible, your husband's life just would not have been in more danger…You did terrible things. At any time, you could have stopped the escape from happening.
He also notes that New York State officials estimate the cost of the search for Sweat and Matt at $23 million.
But staggering as the economic costs to New York State may be, the economic and non-economic cost suffered by so many people is incalculable. A large portion of the population was terrorized…[Law enforcement] traversed deeply inhospitable territory, never knowing if the next step they took would be their last.
0
0
Mark Devlin
Mark Devlin
2015-09-28 23:59:04
2015-09-29 00:26:02
Up to seven years sentence
17 Sep, 2015
Breaking Bad
0 Comments
A man is jailed for eight years for trying to buy deadly ricin poison from a website after being inspired by the TV series, Breaking Bad. 31-year-old, Mohammed Ali struck a deal with a supplier in to buy 500 mg of powder, a quantity enough to kill 1,400 people. He was unaware that his source was in fact an FBI agent. The trial heard the father-of-two was sent harmless powder hidden inside a toy car. After opening the package, which had been treated with a marker substance, he was arrested at his home the following morning.
0
0
margaret
margaret
2015-09-18 17:12:14
2015-09-18 17:31:21
Ricin plot man jailed
29 Aug, 2015
Al Jazeera
Baher Mohammed
Mohamed Fahmy
Peter Greste
0 Comments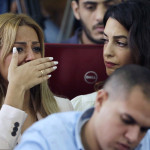 A judge in Egypt sentences three Al-Jazeera journalists to jail for supporting the banned Muslim Brotherhood and operating in Egypt without a licence; Greste and Fahmy for three years, while Mohammed receives an extra six months for possessing a single bullet. Greste will avoid imprisonment as he was deported to Australia and was being tried in absentia, but Fahmy and Mohamed are immediately taken back into police custody after the verdict was given. Greste:
Whatever the consequences, the fact is that this is a judgment that is not based on evidence. Anyone who watched the trial, and we had many people broadcasting or reporting on the trial … none saw any evidence to substantiate the allegations. So we need also to call on international pressure, on governments and diplomats around the world, to make it clear to Egypt that it cannot make these kinds of judgments. The fact is this is wrong, this is unjust, this is unethical, this is immoral on so many levels [and] it cannot be allowed to stand. It cannot be allowed to get away with this.
0
0
Lynn B. Schramek
Lynn B. Schramek
2015-08-29 12:40:47
2015-08-30 00:34:00
Sentenced
7 Aug, 2015
2012 Aurora Movie Theater Shooting
James Holmes
0 Comments
A jury of nine women and three men reject the death penalty and sentence Holmes to life in prison without parole. In closing arguments, the District Attorney plays a recording of a 911 call with gunshots and screams in the background as the victims' pictures disappear one by one from a courtroom TV screen.
For James Eagan Holmes, justice is death. Death.
Holmes Defense attorney says that the massacre was heartbreaking but that Holmes' schizophrenia was the sole cause.
The death of a seriously mentally ill man is not justice, no matter how tragic the case is. Please, no more death.
In the hours before the sentencing jurors had asked to review a graphic crime scene video. When the verdict is read one man storms out, others cry. Holmes' mother also cries, with Holmes' father's arm around her. Holmes smiles at his lawyers and thanks them after the verdict was read.
0
0
Mark Devlin
Mark Devlin
2015-08-07 22:42:37
2015-08-07 22:42:37
Sentenced to life in prison
30 Jul, 2015
Hong Kong Breast Walk
Ng Lai-ying
0 Comments
Ng is sentenced to jail for three and a half months for assaulting a senior police officer with her breast. Ng Lai-ying tells the court that she yelled "indecent assault" out of fear immediately after the chief inspector's hand landed on her left breast when he failed to grab the strap of her bag. But the magistrate says she "used her female identity to trump up the allegation that the officer had molested" her, calling that a malicious act that harmed the officer's reputation. She is bailed pending an appeal.
0
0
Lynn B. Schramek
Lynn B. Schramek
2015-08-02 12:41:10
2015-08-02 20:06:05
Sentenced for breast assault
28 Jul, 2015
John Jones
Libya
Saif al-Islam Gadhafi
0 Comments
Gaddafi is sentenced to death by a court in Tripoli, with eight other figures from former dictatorship in a mass trial of former regime figures widely criticised by human rights groups and observers. Saif's ICC-appointed lawyer, Jones, condemns the trial process:
It's a complete show trial, a farce. This trial is effectively being run by Libya Dawn militias.
Saif is being held in Zintan since he was caught trying to flee Libya in the aftermath.
0
0
Zander Collision
Zander Collision
2015-07-28 22:09:24
2015-07-28 23:18:33
Sentenced
23 Jul, 2015
Karlita Phillips
0 Comments
Phillips is sentenced to life in prison for the crime of accessory before the fact of murder and soliciting a minor to commit a felony. The jury takes two hours to decide. Prosecutors:
No family should have to endure what the Phillips family has had to endure. They have not been able to wake up from this nightmare and they still miss Jamil tremendously. Hopefully, this verdict will give them some closure and allow them to begin the healing process. I also hope it sends a clear message horrific, premeditated acts of murder will not be tolerated on the streets of Abbeville County or anywhere else in the Eighth Circuit.
0
0
Justin
Justin
2015-07-25 03:57:16
2015-07-25 23:55:40
Life sentence
25 Jun, 2015
Dustin Diamond
0 Comments
Diamond expresses regret as he receives four months in prison for bar stabbing.
I sincerely apologize to everyone involved. This was the single most terrifying experience of my life. This is all I've been able to think about for the last six months.
0
0
2015-06-25 14:55:27
2015-06-25 23:51:28
Receives four month sentence
15 May, 2015
Boston Marathon Bombings
Dzhokhar Tsarnaev
0 Comments
Tsarnaev is sentenced to death. There was no visible reaction from Tsarnaev as the sentence is delivered. The jury's verdict marks the first time in the post-9/11 era that federal prosecutors have won the death penalty in a terrorism case. Tsarnaev will likely be sent to the federal death row in Terre Haute, Indiana.
0
0
Lynn B. Schramek
Lynn B. Schramek
2015-05-15 16:52:02
2015-05-15 17:00:49
Death sentence
11 May, 2015
CIA - Central Intelligence Agency
Jeffrey Sterling
Leonie M. Brinkema
0 Comments
Sterling is sentenced to three-and-a-half years in federal prison for giving journalist classified information about an operation to retard Iran's nuclear ambitions. Judge Brinkema says she was swayed  to reduce the sentence — which could have been between 19 years and seven months at the low end and 24 years and five months on the high end — due to Sterling's accomplishments, but that he had caused particular damage by effectively revealing the identity of a man working with the CIA and that he deserved a harsher penalty than other recently accused leakers because he had not pleaded guilty and admitted wrongdoing.
If you do knowingly reveal these secrets, there's going to be a price to be paid.
Sterling's lawyers praise the sentence:
In some cases, the jury gets it wrong. That said, the judge today got it right.
Brinkema allows Sterling to remain out on bond untilprison officials determine when and where he will serve his sentence.
0
0
Matt Hazel
Matt Hazel
2015-05-12 16:18:39
2015-07-21 01:11:28
Sentenced to three and a half years
30 Apr, 2015
0
0
Sara Feldman
Sara Feldman
2015-04-30 12:11:52
2015-04-30 12:36:02
10 sentenced to life
28 Apr, 2015
Andrew Chan
Bali 9
Indonesia
Myuran Sukumuran
0 Comments
Indonesia executes eight people for drug offenses including two Australians, Chan and Sukumuran who mere members of Bali 9. Filipino woman Mary Jane Veloso receives a last-minute temporary reprieve. Chan's brother Michael:
I have just lost a Courageous brother to a flawed Indonesian legal system. I miss you already RIP my Little Brother

— Michael chan (@Changa5378) April 28, 2015
Australian pair's lawyer:
I failed. I lost.

— Todung Mulya Lubis (@TodungLubis) April 28, 2015
0
0
Mudit Chauhan
Mudit Chauhan
2015-04-29 00:14:54
2015-04-29 13:02:07
Executed
23 Apr, 2015
0
0
Donna
Donna
2015-04-23 18:29:57
2015-04-23 22:47:48
Given probation and fine
21 Apr, 2015
ISIS
0 Comments
A 16-year-old South Carolina boy is sentenced to five years in juvenile prison on a gun charge related to plans to join ISIS. A solicitor with the 16th Circuit describes the teen as
. . . wholeheartedly sincere in his beliefs, and we are very concerned for the safety of the community and the country . . . He had a plan to randomly shoot American soldiers. [The boy] embraced the ideology [of ISIS]. [He was] seduced by the radical ideology known in the Middle East as ISIS. He wanted to join.
The teen apologizes in court.
I just regret it. If I get out, I will be a completely different person. I want to change everything I did and go back and have a nice life.
0
0
Malea Ann
Malea Ann
2015-04-22 06:17:04
2015-04-22 11:53:01
'Seduced' by ISIS
Mohamed Mursi
Muslim Brotherhood
0 Comments
Mursi is sentenced and jailed for 20 years along with 12 Muslim Brotherhood members on charges of violence, kidnapping, and torture. They are acquitted on charges of murder. They plan to appeal. After the reading of the verdict, they chant,
God is Greatest.
Mursi still faces charges in four additional cases.
0
0
Malea Ann
Malea Ann
2015-04-22 05:02:53
2015-04-22 11:45:48
Jailed