11 Dec, 2022
Dave Chappelle
Elon Musk
0 Comments
At the San Francisco stop on his joint tour with Chris Rock, Chappelle brings Musk on to the stage as a special guest…
Ladies and gentlemen, make some noise for the richest man in the world!
…to loud boos and cheers from the 18,000 people in the audience. Chappelle:
It sounds like some of the people you fired are in the audience…You shut the f*ck up with your boos.
Turns out Twitter can, in fact, be real life. https://t.co/FFpups1yEy pic.twitter.com/41jcZgdDR4

— Steven Goffman (@SteveGoffman) December 12, 2022
During the few minutes that he was on stage, Musk deferred to Chappelle for instruction on how to handle the negative reactions, asking: "What should I say?" to which Chappelle said: "Don't say nothing, it'll only spoil the moment. You hear that sound, Elon? That's the sound of pending civil unrest." In an attempt to cut through the awkwardness, Musk borrowed a line from Chappelle's Show, yelling, "I'm rich, bitch!"
Musk, in a deleted tweet, later claimed that the cheering to booing ratio was 90% cheers to 10% boos.
But, still, that's a lot of boos, which is a first for me in real life. It's almost as if I've offended SF's unhinged leftists … but nahhh.
https://newslines.org/wp-content/uploads/2022/12/Musk-booed-at-Chappelle-show.jpg
1080
1920
Mark Devlin
Mark Devlin
2022-12-14 03:07:55
2022-12-14 03:07:55
Musk booed at Chappelle show
20 Jun, 2017
13 Reasons Why
Selena Gomez
Taylor Swift
0 Comments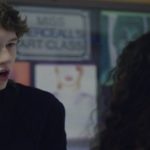 Selena Gomez continues her habit of incorporating Taylor Swift cameos into her work. An eagle-eyed fan notices that the cover of Taylor Swift's multiplatinum album 1989 appears in the background of a shot in 13 Reasons Why's tenth episode (Sheri's tape). It appears someone drew the album cover as a project for an art class, and the teacher put it on display in the hallway.
https://newslines.org/wp-content/uploads/2017/06/FI-SwiftGomez.jpeg
246
470
Mary Devlin
Mary Devlin
2017-06-20 15:12:02
2017-06-20 15:18:44
Hidden Taylor Swift 'cameo' revealed
25 Aug, 2015
Donald Trump
0 Comments
A Missouri vegan woman claims to see Trump's face in a tub of Earth Balance organic spread.
This was pretty much before I had coffee, so I was easily amused. I needed to put on my glasses to make sure it was him.
She considers posting the butter to Ebay and donating the funds to Hillary Clinton, but eats it instead.
It was the only butter I had, so I had to make the sacrifice.
0
0
Mark Devlin
Mark Devlin
2015-08-25 18:13:29
2015-08-25 18:13:29
Face in butter
30 Mar, 2015
Doctor Who (TV)
Maisie Williams
Steven Moffat
0 Comments
Williams is slated to guest star in an upcoming episode of Doctor Who.
I'm so excited to be working on Doctor Who, as it's such a big and important part of British culture. I can't wait to meet the cast and crew and start filming, especially as we'll be shooting not too far from my home town.
Moffat:
We're thrilled to have Maisie Williams joining us on Doctor Who. It's not possible to say too much about who or what she's playing, but she is going to challenge the Doctor in very unexpected ways. This time he might just be out of his depth, and we know Maisie is going to give him exactly the right sort of hell.
0
0
Joshua Steelman
Joshua Steelman
2015-03-30 15:59:42
2015-03-30 20:19:22
Williams to guest star
10 Dec, 2014
Bill Cosby
South Park
Taylor Swift
0 Comments
South Park lampoons the recent Cosby sexual assault scandal on its holiday episode. The episode features Cosby and Taylor Swift singing a duet of Baby, It's Cold Outside during which Cosby hands Swift a drink saying "That's just some J-E-L-L-O". The scene ends with Cosby coming on to Swift.
Bill Cosby Tries to Rape Taylor Swift on 'South Park'
0
0
Melinda Tennyson
Melinda Tennyson
2014-12-12 22:32:07
2015-02-19 16:03:55
South Park holiday episode
22 Nov, 2014
0
0
Anna
Anna
2015-02-18 08:46:42
2015-02-18 09:14:30
Returns to stage
21 Oct, 2014
Forbes Magazine
Troy Carter
4 Comments
Carter appears as one of three judges of the $400,000 Pressure Cooker Contest during Forbes Under 30 Summit in Philadelphia. The winners are a team called Enrou, with "an online conscious marketplace for the conscious consumer to find products created in developing countries all around the world".
Forbes, Steve Case, and Troy Carter Give Away $400K | Forbes
0
0
Mary Devlin
Mary Devlin
2015-07-29 00:31:45
2015-07-29 00:44:49
Forbes Under 30 Summit judge
Oct 2014
0
0
Nichole
Nichole
2015-06-15 20:19:04
2015-06-16 03:26:53
Rossdale, Stefani cohost
24 Jul, 2014
Comic-Con
Sting (Wrestler)
WWE
0 Comments
Sting shows up at WWE's comic-con panel in full makeup and costume. The wrestler's status with the company has been unknown until now. Sting's appearance confirms he is under some working deal with the company. The wrestler will also be featured in the WWE 2K15 video game and WWE's next line of action figures.
Sting Talks About His WWE Future - Comic Con 2014
0
0
Scott Christophers
Scott Christophers
2014-07-31 14:43:46
2015-01-18 14:19:52
Comic-Con appearance
3 Jun, 2014
John McAfee
0 Comments
SUKI Films announces principal photography has started on ESC in Sudbury, Ontario. The film is due for release in theaters and over other platforms in summer 2015. It is directed by Alain DesRochers and stars Molly Parker (House of Cards, The Firm), Nick Krause (The Descendants, Parenthood) and Juliette Gosselin (Les Jeunes Loups, Martyrs). McAfee provides off-screen narration as the computer voice.
https://twitter.com/officialmcafee/status/474977532711043072
0
0
reuben
reuben
2014-06-14 20:47:46
2015-09-09 02:07:47
ESC filming starts
9 May, 2014
Val Kilmer
0 Comments
In this high school drama directed by Gia Coppola and based on the collection of short stories by James Franco, Kilmer plays Stewart,  April's (emma Roberts) video game playing, stoner stepfather. The brief role finds Kilmer offering fatherly advice and support to his less than appreciative charge.  Co-starring James Franco and Jack Kilmer. Jack:
Yeah, he just kind of said like dad stuff. [Laughs] He's really supportive and he would say like, 'You just got to breathe and be super honest and tell the truth and take risks and just have so much fun.' And that was kind of it. I'd ask him for advice sometimes, but he also understood that I wanted to figure a lot of it out on my own, because that's kind of just my style.
Palo Alto Movie CLIP - I Corrected Your Paper (2014) - Val Kilmer, Emma Roberts Movie HD
0
0
Danielle Darling
Danielle Darling
2014-08-29 00:37:25
2014-08-29 00:37:25
Palo Alto
4 Nov, 2010
Hilary Duff
TV Appearance
0 Comments
Duff guest stars on NBC comedy Community, playingMeghan, a mean girl who insults the main characters Britta, Shirley and Annie, but is taken down by character Abed played by Danny Pudi.
I think that it was fun for me to get to play a mean girl because it is so different than anything I've ever done before. But she is like – it was fun to play a character that's super – acts super confident but is totally, you know, shallow and scared inside.
COMMUNITY: season 2 part Episode 7 with Hilary Duff
0
0
Kelly Olejnik
Kelly Olejnik
2014-07-11 00:17:28
2014-07-11 00:17:28
Community
22 Nov, 2009
Justin Bieber
0 Comments
A Bieber event at a Roosevelt Field Mall in Garden City, NY, ends with five people sent to the hospital for minor injuries and one arrest after fans become unruly. James Roppo of Island/Def Jam Records is charged with "endangering the welfare of children and obstructing governmental administration" for not sending a Twitter message asking the 3000 fans to leave. Bieber's team cancels the event and he posts a Twitter message to fans, saying that the police would not allow him access to the mall, and they had threatened to arrest him if the singer did not leave. Island Records apologizes in a written statement.
Justin Bieber Roosevelt Field Mall in Garden City
0
0
Greig Roselli
Greig Roselli
2014-06-07 14:44:06
2014-08-31 16:37:48
Mall skirmish
21 Nov, 2009
Joseph Gordon-Levitt
Hosts Show
TV Appearance
0 Comments
Gordon-Levitt hosts Saturday Night Live for the first time. His opening monologue includes a musical number to the Donald O'Connor tune, Make 'Em Laugh, with the help of SNL cast member, Bobby Moynihan. He also plays singer Jason Mraz in the sketch, The Mellow Show and European electro-pop singer Klaus Future in the sketch, What's Up with That? The episode also features former US Vice President Al Gore and musical guest Dave Matthews Band.
The Mellow Show - Saturday Night Live
0
0
Fats Sabundayo
Fats Sabundayo
2014-07-13 19:59:58
2014-07-13 19:59:58
Hosts 'SNL'
16 Sep, 2009
America's Top Model
Lauren Conrad
TV Appearance
0 Comments
Conrad is a guest judge on cycle 13 of America's Next Top Model. Conrad is only signed on the judges panel for one show in the contest series and said she might considered hosting a show of her own in the future.
I wouldn't do a show like The Hills. Nothing with my personal life, but possibly something hosting. I think I have a little bit of time to figure out what I'm going to do next.
0
0
Kelly Olejnik
Kelly Olejnik
2014-06-24 23:11:14
2014-06-24 23:11:14
Guest judge
13 Aug, 2009
Lauren Conrad
TV Appearance
0 Comments
Conrad wins $50,000 while guest starting as a contestant on Who Wants To Be A Millionaire. Conrad will give all of her winnings to her charity of choice, m.powerment by mark, an organization working against domestic violence. Conrad had to answer one question to win the $50,000 and says she knew the answer, but used her lifeline anyway.
LAUREN CONRAD WINS!!!!! WHO WANTS TO BE A MILLIONAIRE
0
0
Kelly Olejnik
Kelly Olejnik
2014-06-24 23:09:24
2014-06-24 23:09:24
Who Wants To Be A Millionaire
7 Dec, 2008
Mark Cuban
0 Comments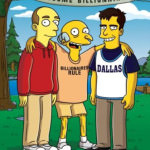 The Burns and the Bees, the eighth episode of The Simpsons' 20th season, airs on Fox TV, with Cuban as a guest star.
Montgomery Burns attends his annual billionaire retreat and wins control of the Austin Celtics from the show's Texas oil tycoon in a poker game. After meeting Cuban, Burns tries to win over fans with his own antics. 
https://newslines.org/wp-content/uploads/2014/05/Burns-nd-the-Bees.jpg
839
640
Aidan Kelly
Aidan Kelly
2014-05-28 18:24:23
2014-12-24 18:45:02
Guest stars on The Simpsons
26 Jan, 2007
Lauren Conrad
Film Appearance
0 Comments
Conrad stars in feature film Epic Movie. Conrad plays a satirical version of herself in the film with co-star Carmen Electra.
I don't want to act. I tried it. … I don't enjoy it, and I can't make a career out of something I don't really like. It's not that fun, and I'm not that good at it.
Lauren Conrad Epic Movie Scene
0
0
Kelly Olejnik
Kelly Olejnik
2014-06-24 22:51:34
2014-06-24 22:51:34
Epic Movie
9 Nov, 1982
Tom Hanks
0 Comments
Hanks plays a disgruntled former classmate of the Fonz, with a taste for martial arts on the A Little Case of Revenge episode of Happy Days.
0
0
Kathryn Trumbull
Kathryn Trumbull
2014-07-20 03:24:08
2015-01-15 13:43:21
Happy Days