25 May, 2017
Conor McGregor
Zac Efron
TV Appearance
0 Comments
During an appearance on Jimmy Kimmel Live!, Efron says he is a huge UFC fan, and of McGregor. He found himself sitting next to Madonna at the McGregor-Alvarez fight.
She was calling out things about the fight [and] having the time of her life out there.
https://newslines.org/wp-content/uploads/2017/05/FI-Madonna-Efron.jpeg
246
470
Mark Devlin
Mark Devlin
2017-05-26 08:13:44
2017-05-26 08:13:44
Efron: Madonna is a UFC fan
7 Feb, 2017
Adoption
0 Comments
Madonna adopts two orphaned twin sisters aged 4½ from Malawi. The father and uncle of the girls are witnesses to the adoption. Malawi judiciary spokesperson:
Their mother died a week after she delivered the babies in August 2012. After their mother died, the children were looked after by their grandmother, who could not fully provide for them, so they were taken into an orphanage. [Madonna] exuded happiness. She smiled while she was making her way out of the courtroom, and then she drove away with her new daughters. She has been involved in so many projects and is currently helping to expand the children's ward at the Queen Elizabeth Central Hospital. So Madonna has been coming to Malawi frequently. So it is not unusual to people in Malawi at all. They know Madonna very well in terms of the high-profile work she has done for the community.
0
0
Nnanna Mba
Nnanna Mba
2017-02-07 18:23:23
2017-02-07 19:47:38
Adopts orphaned twin sisters
Madonna celebrates her 58th birthday in Havana, dancing to Cuban beats during a night on the town and drawing crowds as she tours the city.
https://www.instagram.com/p/BJT6E2whn4X/
0
0
Rao Muhammad Shahid Iqbal
Rao Muhammad Shahid Iqbal
2016-08-17 12:22:53
2016-08-20 14:23:57
58th birthday
9 Nov, 2015
0
0
Tiffani Walker
Tiffani Walker
2015-11-11 13:01:10
2015-11-12 03:14:59
Elba to open Berlin tour date
22 Jul, 2015
Makes Statement
0 Comments
Madonna says says she still has things to talk about and compares herself to Picasso.
I like to compare myself to other kinds of artists like Picasso. He kept painting and painting until the day he died. Why? Because I guess he felt inspired to do so. Life inspired him, so he had to keep expressing himself, and that's how I feel…I don't think there's a time, a date, an expiration date for being creative. I think you go until you don't have any more to say.
0
0
Lynn B. Schramek
Lynn B. Schramek
2015-07-27 12:29:52
2015-07-27 20:40:28
Campares self to Picasso
1 May, 2015
Magazine Cover
0 Comments
Madonna appears on the cover of May 2015 issue of Cosmopolitan. She talks about longevity in her career and ageism.
Don't be fooled, not much has changed — certainly not for women. We still live in a very sexist society that wants to limit people. Since I started, I've had people giving me a hard time because they didn't think you could be sexual or have sexuality or sensuality in your work and be intelligent at the same time. For me, the fight has never ended.
0
0
Mudit Chauhan
Mudit Chauhan
2015-04-23 09:08:26
2015-04-23 12:23:40
Cosmopolitan cover
12 Apr, 2015
Coachella
Drake
Music Performance
2 Comments
Drake performs and closes at Coachella in his first performance as headliner of the three day festival. At 10:40, he opens his set with a monologue, while he smokes and drinks onstage. Madonna also makes an appearance, as she walks over and kisses him on the mouth. For more than an hour, he performs some of his biggest hits on the main stage. Drake ends the show:
I had a good time tonight.
0
0
Candice Lee
Candice Lee
2015-04-13 10:26:51
2015-04-13 12:23:44
Headlines Coachella
9 Apr, 2015
0
0
Mark Devlin
Mark Devlin
2015-04-10 18:30:21
2015-04-10 18:35:32
Holiday performance
30 Mar, 2015
Alicia Keys
Beyonce
Beyonce Knowles
Calvin Harris
Chris Martin
Daft Punk
Deadmau5
J. Cole
Jack Wright
Jason Aldean
Jay-Z
Regine Chassagne
Rihanna
Tidal
Usher
Win Butler
Product Release
0 Comments
Jay-Z launches his streaming music service TIDAL at an industry event, #TIDALforall at Skylight in Moynihan Station in New York City. He announces his partnership with 16 other artists, including Beyonce, Madonna, Usher, Rihanna, Butler and Chassagne of Arcade Fire, Jason Aldean, J. Cole, Jack Wright, Chris Martin, Daft Punk, Deadmau5, Nikki Minaj, Coldplay and Calvin Harris, who formally sign a declaration of partnership. Tidal is the first service to offer ad-free music, video and editorial content owned by the stars who actually create it. The high quality sound service is available across iOS and Android devices, as well as in Web browsers and desktop players, in the U.S. and 30 other countries. Tidal Premium is $9.99, and Tidal Hifi is $19.99. Alicia Keys:
We come to you with one voice in unity. The first ever artist owned global music and entertainment platform!
0
0
Candice Lee
Candice Lee
2015-03-31 03:15:03
2015-04-21 12:28:12
Launch Tidal
Rebel Heart opens at No. 1 in the Top Album Sales Chart (which does not include streaming) in the United States, selling 116,000 copies. The album is at No. 2 on the Billboard 200 chart, which includes streaming, behind the soundtrack from the FOX TV show, Empire (130,000 units over 121,000).
https://newslines.org/wp-content/uploads/2015/03/imgres.jpg
225
225
Scott M. Arnold
Scott M. Arnold
2015-03-23 05:37:02
2015-03-23 11:33:00
Rebel Heart No 1 album sales
25 Feb, 2015
0
0
merceadez
merceadez
2015-04-28 00:41:51
2015-04-28 13:23:12
Living for Love performance
TV Appearance
0 Comments
While performing a Matador-inspired performance of Living For Love at the Brit Awards, the singer is pulled backwards off a staircase, after struggling to remove her cape. The crowd gasps as she falls backwards down three steps onto her back. Later she says:
my beautiful cape was tied too tight! But nothing can stop me and love really lifted me up! Thanks for your good wishes! I'm fine!"
0
0
Mark Devlin
Mark Devlin
2015-02-25 18:37:42
2015-02-25 18:37:42
Falls on stage
17 Feb, 2015
BBC Radio 1
Makes Statement
0 Comments
BBC Radio 1 denies claims from fans that Madonna's music is being omitted from the station's playlists due to her age.
Radio 1 does not ban anyone—please don't believe the papers. The tracks played on Radio 1 are chosen on musical merit and their relevance to our young audience on a case-by-case basis, and whilst around 40% of the country's 15 to 29-year-olds tune into Radio 1 each week, an artist's age is never a factor. In fact, Paul McCartney currently has two tracks —FourFiveSeconds and Only One—on the Radio 1 playlist.
0
0
Melinda Tennyson
Melinda Tennyson
2015-02-18 09:23:22
2015-02-18 12:16:13
Denies ageist claims
8 Feb, 2015
0
0
merceadez
merceadez
2015-04-28 10:49:04
2015-04-28 14:00:52
Living For Love performance
4 Dec, 2014
Lady Gaga
0 Comments
Madonna  replaces Gaga as the face of Versace's Spring 2015 campaign. Donatella Versace:
Madonna is one of the true icons of Versace. I am thrilled to have my friend and the most powerful and directional artist as the face of Versace for Spring 2015.
0
0
Melinda Tennyson
Melinda Tennyson
2014-12-05 17:41:51
2015-02-25 18:52:04
Face of Versace campaign
Madonna poses topless at the age of 56 for Interview magazine in a shot by fashion photographers Marcus Piggott and Mert Alas. Interview's preamble to the story:
And perhaps Madonna the Icon is herself her own greatest work of art – something so vastly influential as to be unfathomable, knitting together all of us for whom she has provided the soundtracks, all of the sensibilities she has informed, rattled, challenged, provoked, and then re-imagined again, all of the notions of beauty, of an artist, of a performer that she has shaped, reshaped, and upset yet again.
0
0
Melinda Tennyson
Melinda Tennyson
2014-12-03 04:04:11
2014-12-03 04:04:11
Poses topless
David Blaine
Magazine Cover
0 Comments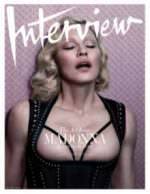 Madonna appears on the cover of the December issue of Interview magazine. Madonna discusses her death obsession with magician David Blaine, who conducts the interview for the magazine.
I became very obsessed with death, and the idea that you never know when death will arrive, so one has to do as much as possible all the time to get the most out of life. And death was a big part of my life growing up. I went to lots of funerals.
0
0
Melinda Tennyson
Melinda Tennyson
2014-12-03 03:56:00
2014-12-03 03:56:00
Interview cover
11 Aug, 2014
Timor Steffens
0 Comments
Madonna breaks up with her boyfriend Steffens in the middle of their European vacation on her son Rocco's 11th birthday. Source:
Madonna politely asked Timor to take his luggage and leave. He packed up and left the trip and said they were done.
0
0
Alyssa DeBoer
Alyssa DeBoer
2014-08-21 02:21:33
2014-08-21 02:21:33
Madonna, Steffens break up
1 Jun, 2014
Katy Perry
Magazine Cover
0 Comments
Perry and Madonna appear on the cover of the Summer 2014 issue of V magazine. They both talk about provocative showmanship, the V magazine shoot, and going on tour. Madonna:
I would always say, 'Dad, I'm an artist, I have to express myself. You don't understand.' I think he's finally come to terms with it. It's only taken 30 years. He's like, Do you have to simulate masturbation on the bed? Do you have to? Yes, Dad, I do.
0
0
Alyssa DeBoer
Alyssa DeBoer
2014-09-30 01:16:46
2014-09-30 02:06:29
V cover
7 Mar, 2014
Avicii
0 Comments
Madonna announces that she is making music with EDM star Avicii. Madonna's affinity for Avicii is well known. There's been no word on what exactly the pair is working on, or whether the sessions are intended for a future Avicii release or Madonna's next album.
0
0
Steve Mallia
Steve Mallia
2014-08-11 00:53:43
2014-08-11 00:53:43
Avicii collaboration