30 Jan, 2017
Quebec mosque shooting
0 Comments
Gunmen shoot and kills six people and injures eight others at Quebec City Mosque, Quebec City Islamic Cultural Center at the evening prayer. Witnesses hear shouts of "Allahu akbar" in a Quebecois accents from the masked shooters.
0
0
Claire Strauch
Claire Strauch
2017-01-30 06:20:31
2017-01-30 06:20:31
Gunment kill six, injure eight
22 Oct, 2016
London Underground
0 Comments
A 19-year-old suspect is detained by armed police in Holloway Road, north London, after the discovery of a suspect device on a Tube train. A witness to the teenager's arrest described him as white, bearded and wearing a hoodie. Witness
The armed police, I think five of them, ran behind him and put him on the floor. They were shouting 'armed police, don't struggle'. Everything happened so quick.
The device was destroyed in a controlled explosions. Security has been heightened on the Underground.
0
0
2016-10-22 09:51:42
2016-10-23 17:15:04
Suspect arrested after device found
24 Aug, 2016
Afghanistan
American University
0 Comments
At least two gunmen storm classrooms after a suspected car bomb is used to get into the walled complex, and killed seven students and a professor. The death toll could have been far higher, with most students managing to barricade themselves in classrooms or flee to safety, even if it meant breaking bones as they jumped from the second floor of a building. There has been no claim of responsibility for the raid.
0
0
Rao Muhammad Shahid Iqbal
Rao Muhammad Shahid Iqbal
2016-09-01 18:35:46
2016-09-01 18:35:46
Gunmen kill seven students, professor
23 Aug, 2016
Thailand
0 Comments
A large car bomb explodes outside a hotel in Thailand's insurgency-plagued southern region, killing one and wounding more than 30 people, some of them critically. Police commander:
So far there is one killed and more than 30 injured. The hotel building was considerably damaged
0
0
Rao Muhammad Shahid Iqbal
Rao Muhammad Shahid Iqbal
2016-08-24 12:58:35
2016-08-25 17:47:43
One dead in car bomb
21 Aug, 2016
ISIS
Syria
Turkey
0 Comments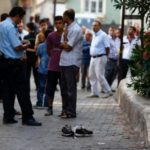 At least 50 people are killed and dozens more wounded latein an attack possibly carried out by a suicide bomber on a wedding party in the Turkish city of Gaziantep near the Syrian border. A senior security official says the device used was the same type as those employed in the July 2015 suicide attack in the border town of Suruc and the October 2015 suicide bombing of a rally of pro-Kurdish activists in Ankara. Reports say the attack was carried out by a suicide bomber aged between 12 and 14. Turkey's foreign minister:
Daesh should be completely cleansed from our borders and we are ready to do what it takes for that.
0
0
Rao Muhammad Shahid Iqbal
Rao Muhammad Shahid Iqbal
2016-08-21 12:49:23
2016-08-22 20:24:33
22 dead in Turkey wedding suicide bomb
17 Aug, 2016
India
0 Comments
Two soldiers and one policeman are killed in India-held Kashmir when an unknown number of gunmen open fire on two army trucks and a police car travelling through Baramulla west of the region's main city of Srinagar. Security forces launched a major search for the militants who fled the scene.
0
0
Rao Muhammad Shahid Iqbal
Rao Muhammad Shahid Iqbal
2016-08-17 10:06:06
2016-08-20 14:04:15
Soldiers, policeman killed in ambush
18 Jan, 2016
Iraq
0 Comments
The US Embassy in Iraq says that its nationals are "missing" after local media outlets say that three Americans had been kidnapped in Baghdad. Local security forces conduct house-to-house searches, but have not yet found the missing Americans. Citing privacy concerns, embassy officials decline to identify the Americans involved. State Department:
The safety and security of Americans abroad is our highest priority.
0
0
Jessica Voloudakis
Jessica Voloudakis
2016-01-18 17:36:11
2016-01-18 17:36:11
Three Americans kidnapped
16 Jan, 2016
Burkina Faso
0 Comments
The siege on the Splendid Hotel in Ouagadougou, Burkina Faso, ends, leaving 23 dead in addition to four attackers. Three attackers were killed at the hotel and a fourth was killed by security forces in a nearby hotel. The attackers were associated with an Al Qaeda affiliated organization.
0
0
Jessica Voloudakis
Jessica Voloudakis
2016-01-16 10:42:48
2016-01-17 21:37:30
Siege ends
15 Jan, 2016
African Union
Al-Shabab
Kenya
Somalia
0 Comments
Al-Shabab attacks an African Union base at El-Ade in southwestern Somalia. A spokesman for Al-Shabab claims that the attack killed more than 63 Kenyan soldiers. A Kenyan military official stated that the rebels attacked Somali soldiers, but that Kenyan soldiers had helped to resist the attack.
0
0
Jessica Voloudakis
Jessica Voloudakis
2016-01-15 12:06:44
2016-01-15 12:06:44
Attacks outpost
13 Jan, 2016
Pakistan
Quetta Immunization Center
0 Comments
14 people die and 20 are wounded as terrorists attack a polio vaccination center in Pakistan. Two separate terrorist groups, both with Taliban links and one swearing allegiance to ISIL, have claimed responsibility for the attack. The attack is not an isolated occurrence. Many of the dead were security officers sent to guard the center. According to a wounded security officer:
Such attacks aiming to stop anti-polio campaigns have happened in the past as well, which have resulted in the deaths of many innocent people. We are trying our best to stop it.
0
0
Jessica Voloudakis
Jessica Voloudakis
2016-01-13 22:12:28
2016-01-13 22:12:28
Polio vaccination center attacked
13 Nov, 2015
0
0
Mark Devlin
Mark Devlin
2015-11-13 20:34:28
2015-11-13 20:40:46
Stade de France evacuated
November 2015 Paris Attacks
0 Comments
Attackers commit a double suicide bombing outside of France's national stadium. The first attacker is discovered wearing an explosives vest when he is being frisked at the entrance to the stadium about 15 minutes into the game. While attempting to back away from security, the attacker detonated the vest, which is loaded with explosives and bolts. Around three minutes later, a second person also blows himself up outside the stadium. A third suicide attacker detonates explosives at a nearby McDonald's. One civilian dies in the attacks.
0
0
Mark Devlin
Mark Devlin
2015-11-14 00:25:17
2015-11-14 16:05:16
Stade de France double suicide bombing
Eagles of Death Metal
November 2015 Paris Attacks
0 Comments
The gunmen enter the Bataclan Music Hall, in the 11th arrondissement, where Eagles of Death Metal are playing to an audience of 1000 people. They start shooting into the crowd from the balcony. About 100 hostages are taken. According to witnesses, some men try to bargain with the gunmen to let their wives leave the theater. Witness:
I have seen two terrorists, from my point of view, with AK-47 Kalashnikovs entering the concert room and firing randomly into the crowd. People yelled, screamed, and everybody lay on the floor. It lasted for 10 minutes, 10 minutes, 10 horrific minutes when everybody was on the floor covering their heads and we heard so many gunshots, and the terrorists were very calm, very determined, and they reloaded three or four times their weapons. They didn't shout anything, they didn't say anything. They were wearing black clothes and they were shooting at people on the floor, executing them. I was luckily at the top of the stage, on the front of the stage.
Bataclan attack video: People flee Paris theater seconds after terrorists open fire
0
0
Mark Devlin
Mark Devlin
2015-11-13 20:08:03
2015-11-14 16:33:37
Gunmen enter Bataclan Music Hall
0
0
Mark Devlin
Mark Devlin
2015-11-13 21:13:18
2015-11-13 21:13:18
La Belle Epuipe bar attack
0
0
Vinh
Vinh
2015-11-13 18:02:44
2015-11-13 21:10:38
Petit Cambodge shooting
21 Sep, 2015
Somalia
0 Comments
A car bomb explodes at the gate of Somalia's presidential palace, in the capital Mogadishu, killing at least seven people and injuring ten. A conference debating Somalia's 2016 elections had just ended in the compound. Presidential guards and a Turkish national are believed to be among the dead. It is not yet known who carried out the attack but the Islamist group Al-Shabab has targeted the palace before. Government spokesman:
The majority of the dead and injured were civilians.
0
0
margaret
margaret
2015-09-22 02:39:43
2015-09-22 02:39:43
Car bombing
20 Sep, 2015
Boko Haram
Nigeria
0 Comments
Three blasts hit Nigeria's north-eastern city of Maiduguri, killing at least eight people. The army blames Boko Haram for the attack.
0
0
margaret
margaret
2015-09-21 04:11:30
2015-09-22 02:16:12
Nigerian blasts kill eight
17 Sep, 2015
Pakistan
0 Comments
Up to ten gunmen attack a guard post and then enter an air base in Peshawar, Pakistan. A rapid response force engages the attackers and contains them around a guard room. A major is injured in the exchange of fire, and six militants are killed. Pakistan Taliban say they carried out the attack.
0
0
margaret
margaret
2015-09-17 23:44:46
2015-09-18 01:26:04
Air base attacked, six militants killed
Baghdad
Iraq
ISIS
0 Comments
ISIS say they were behind two suicide bombs in Baghdad that killed at least 23 people and wounded more than 60. Among the dead were police and civilians. The suicide bombers hit police checkpoints in market places during morning rush-hour. The bombers were said to have been on foot and wearing explosives vests. Four people are killed in a third blast in a nearby district, but it is unclear who was behind it.
0
0
margaret
margaret
2015-09-17 09:31:30
2015-11-04 20:07:43
Market bombings
23 Aug, 2015
ISIS
UNESCO
0 Comments
ISIS destroys Baal Shamin temple, a Roman-era historic site in the Syrian city of Palmyra. According to reports the temple was destroyed a month previously. UNESCO calls the act a war crime:
The systematic destruction of cultural symbols embodying Syrian cultural diversity reveals the true intent of such attacks, which is to deprive the Syrian people of its knowledge, its identity and history…Daesh is killing people and destroying sites, but cannot silence history and will ultimately fail to erase this great culture from the memory of the world. Despite the obstacles and fanaticism, human creativity will prevail, buildings and sites will be rehabilitated, and some will be rebuilt. Such acts are war crimes and their perpetrators must be accountable for their actions. UNESCO stands by all Syrian people in their efforts to safeguard their heritage, a heritage for all humanity
Syria's director of Antiquities:
It stood as it was for more than 1,800 years… It was a beautiful tourist attraction…They destroyed an incredibly important architectural structure. It is the first structure in the Palmyra complex to be destroyed, although they recently destroyed two Islamic shrines nearby. They said they would destroy the statues but not the structures themselves inside Palmyra. They lied.
0
0
Mark Devlin
Mark Devlin
2015-08-25 18:32:34
2015-10-27 01:49:33
Destroys Palmyra temple