17 Aug, 2016
2016 Louisiana flood
John Bel Edwards
0 Comments
The death toll from historic flooding in Louisiana climbs to eight, as the expanding flood zone prompts authorities to declare disasters in 20 parishes of the state. While flooding receded in parts of southern Louisiana, other areas saw rising waters. The National Weather Service issued renewed flood warnings. 40,000 homes have been impacted by the floods and more than 8,000 people were in shelters. More than 20,000 have been rescued or evacuated. Louisiana Governor Edwards:
We're seeing unprecedented flood levels as the waters move south.
0
0
Rao Muhammad Shahid Iqbal
Rao Muhammad Shahid Iqbal
2016-08-17 12:16:14
2016-08-20 14:21:09
Eight dead, flooded in Louisiana
17 Jan, 2016
Jakarta
Jakarta Attack
0 Comments
An Indonesian man wounded in the Jakarta attacks dies, bringing the death toll from the IS-linked attack to eight. A minimum of 20 people have been injured. Authorities have made 12 arrests and shut down 11 websites in the aftermath of the attacks. The attackers have been tentatively identified as belonging to a group linked with the Islamic State, and some of the attackers have been identified as known militants.
0
0
Jessica Voloudakis
Jessica Voloudakis
2016-01-17 21:46:11
2016-01-17 21:46:11
Eight confirmed dead
23 Dec, 2015
Amnesty International
Russia
Syria
Makes Statement
0 Comments
A report by Amnesty says Russian airstrikes have killed at least 200 civilians. The group accuses Russia of using cluster bombs in civilian areas and says such attacks could constitute war crimes.Russia's defence ministry dismisses the report as containing "fake information" and "trite cliches".
0
0
Bella Bradson
Bella Bradson
2015-12-24 15:29:56
2015-12-24 15:29:56
Amnesty claims Russian airstrikes kill 200 civilians
14 Nov, 2015
November 2015 Paris Attacks
Makes Statement
0 Comments
The Paris Prosecutor says  that 129 people were killed and 352 injured in the attacks. 99 people are in critical condition. At least one American was killed in the attacks. He also says three teams of attackers coordinated the attacks, and that the Bataclan group mentioned Syria and Iraq during the attacks. One suspect is identified as a 30-year-old French citizen, and one suicide attacker, identified by a Syrian passport found near his body at the national stadium, was not known to French intelligence services. All the suicide attackers wore identical explosive vests.
0
0
Mark Devlin
Mark Devlin
2015-11-14 16:21:38
2015-11-14 16:21:38
Prosecutor: 129 dead, 352 injured
13 Nov, 2015
0
0
Vinh
Vinh
2015-11-13 20:32:09
2015-11-14 16:15:40
Police: 153 dead
November 2015 Paris Attacks
0 Comments
Officials say two gunmen are killed after the police operation at the Bataclan concert hall ends. Police say 100 people are dead inside. One official described "carnage" inside the building, saying the attackers had tossed explosives at the hostages.
0
0
Mark Devlin
Mark Devlin
2015-11-13 19:13:56
2015-11-13 19:23:41
Two gunmen killed at the Bataclan
2 Oct, 2015
Chris Harper Mercer
Umpqua Community College Shootings
0 Comments
The Douglas County Sheriff's Office releases the name of the victims: Professor Lawrence Levine of Glide, 67, Lucero Alcaraz of Roseburg, 19, Quinn Glen Cooper of Roseburg, 18, Kim Saltmarsh Dietz of Roseburg, 59, Lucas Eibel of Roseburg, 18, Jason Dale Johnson of Winston, 34, Sarena Dawn Moore of Myrtle Creek, 44, Treven Taylor Anspach of Sutherlin, 20, and Rebecka Ann Carnes of Myrtle Creek, 18.
0
0
Mark Devlin
Mark Devlin
2015-10-02 20:33:15
2015-10-02 20:33:15
Victims names released
15 Aug, 2015
China
Tianjin Explosion
0 Comments
The death toll rises to 112 after a massive blast site in the Chinese port of Tianjin on Sunday as teams scramble to clear dangerous chemical contamination. Hundreds of people are reported injured and 85 firefighters and ten others are missing since the fire and explosions.
0
0
gretelobrique
gretelobrique
2015-08-18 05:14:24
2015-08-18 21:46:28
Death toll rises to 112
28 Jul, 2015
India
Terror Incident
0 Comments
11 people are reported dead after a terrorist attack on a New Delhi 
. Chief of Police:
Six victims were killed — three civilians and three security forces. The raid was a terror attack but it is not immediately clear to which group the attackers belonged. We know that the same gunman earlier fired at a nearby bus stand before storming the police station, which is next to a hospital.
0
0
Natalie Frank
Natalie Frank
2015-07-28 15:49:48
2015-07-28 21:04:49
Police station attack: 11 dead
18 Jun, 2015
2015 Charleston Church Shootings
Dylann Roof
0 Comments
The Coronor's office releases the victims' names:
State Sen. Clementa Pinckney, the church's pastor.

Cynthia Hurd, 54, St. Andrews regional branch manager for the Charleston County Public Library system.

Sharonda Coleman-Singleton, a church pastor, speech therapist and coach of the girls' track and field team at Goose Creek High School. Tywanza Sanders, 26, who had a degree in business administration from Allen University, where Pinckney also attended

Ethel Lance, 70, a retired Gilliard Center employee who worked recently as a church janitor.

Susie Jackson, 87, Lance's cousin who was named by a relative and was a longtime church member.

Depayne Middleton Doctor, 49, who retired in 2005 as Charleston County director of the Community Development Block Grant Program.

Mira Thompson, 59, a pastor at the church.

Daniel Simmons Sr., 74, who died in a hospital operating room.
0
0
Mark Devlin
Mark Devlin
2015-06-18 15:37:49
2015-06-18 21:48:38
Victims named
2 Jun, 2015
MERS
South Korea
South Korea MERS Outbreak
0 Comments
South Korea's health ministry confirms the first deaths of two people due to MERS. A 58-year-old woman, who had been treated as a suspected case of MERS, died of acute respiratory failure on June 29 and tests later came back positive for the virus. The other victim died on June 30, a 71-year-old man who was confirmed to have the virus several days ago. Six more people have been  diagnosed with the disease, bringing the total number of people infected to 25 including the two victims. Acting Prime Minister Choi Kyung-hwan tells an emergency meeting of officials:
People believe that the health authorities' response has been inefficient and poor. We should use all our national resources to alleviate their concerns.
0
0
Alan Su
Alan Su
2015-07-06 21:31:34
2015-07-08 07:55:54
First South Korea deaths
19 May, 2015
2015 Guyana Gold Mine Collapse
0 Comments
After over 24 hours of digging and searching, officials find the bodies of six of the ten miners trapped when the mine collapsed. Four others are still missing. Police:
Rescue crews in Guyana have recovered the bodies of six miners who had been missing since an open-pit gold mine collapsed in the South American country. Authorities are still searching for four other miners. Crews are digging despite heavy rains and mud to recover bodies buried up to 20 feet (6 meters) in the pit.
0
0
Natalie Frank
Natalie Frank
2015-05-19 19:28:37
2015-05-19 20:48:30
Six bodies found
14 May, 2015
0
0
Mark Devlin
Mark Devlin
2015-05-14 13:06:25
2015-05-14 13:06:25
Eight dead, all passengers accounted for
26 Apr, 2015
2015 Regatta Disaster
0 Comments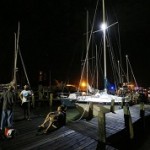 Officials confirm there are at least two dead and five missing from the storm striking the Regatta outside Mobile Alabama. Rescue and search efforts continue. Officials:
Forty people have been rescued from the water after the 4:30 p.m. storm, and the Coast Guard believes five people remained missing Sunday. We think we are looking for five additional people in the water but we are still pulling for information.
0
0
Natalie Frank
Natalie Frank
2015-04-26 16:56:03
2015-04-28 13:19:47
Two dead, five missing
25 Apr, 2015
Earthquakes
Nepal
0 Comments
Tremors continue after the devastating earthquake in Nepal which leaves more than 1400 dead and thousands more injured. Officials fear the death toll will continue to climb before the aftershocks stop. The large area affected makes help difficult and people are frightened. Survivor:
There is no power and families are listening to the FM radio inside their cars. News of multiple building collapses. I've seen many cracked walls and roads and buildings. The (Dharahara, a landmark tower in Kathmandu) was packed with people a while ago. There are police everywhere trying to move rubble to make space on the roads for ambulances. Everyone is very scared.
0
0
Natalie Frank
Natalie Frank
2015-04-25 22:35:21
2015-04-26 01:10:51
Death toll tops 1400
13 Apr, 2015
General Motors
GM Ignition Switch Defect
0 Comments
The office of attorney Kenneth Feinberg, who is overseeing victim compensation on GM's behalf, says the death toll from General Motors' defective ignition switch has risen by four from a week earlier to 84. The office has also processed 157 injury claims, combination of claims for serious injuries and claims for less severe injuries, as of April 10. Eleven claims were categorized as serious injuries resulting in quadriplegia, paraplegia, double amputation, permanent brain damage or pervasive burn. The remaining 146 claims were for less serious injuries requiring hospitalization or outpatient medical treatment within 48 hours of the accident. Feinberg's office received 4,342 claims. Of those claims, 241 have been deemed eligible. Feinberg's office is still reviewing another 1,136 claims.
0
0
Mark Devlin
Mark Devlin
2015-04-13 21:42:31
2015-04-13 21:47:27
Death toll rises to 84
2 Apr, 2015
0
0
Mudit Chauhan
Mudit Chauhan
2015-04-02 16:59:34
2015-04-02 21:44:26
University assault kills 147
24 Mar, 2015
2015 Germanwings Crash
Germanwings
0 Comments
The German North Rhine-Westphalia state Education Ministry says a group of that 16 tenth-grade students and two teachers from Joseph-Koenig-Gymnasium High School in the city of Haltern, northeast of Duesseldorf. Local education minister
It was a Spanish language exchange programme and they were flying home after having what was probably the most wonderful time of their lives.
Haltern Mayor Bodo Klimpel:
This is, of course, the worst thing you could imagine.
0
0
Mark Devlin
Mark Devlin
2015-03-24 14:50:48
2015-03-24 14:50:48
16 students, 2 teachers dead
2015 Germanwings Crash
Airbus
Andreas Lubitz
Germanwings
Lufthansa
Plane Crash
0 Comments
An Airbus A320 operated by Germanwings, the budget carrier of Germany's Lufthansa crashes in a remote area of the French Alps Tuesday, near the ski resort of Barcelonnette, killing all 150 on board in the worst plane disaster in mainland France for four decades. The Airbus A320 plunged for eight minutes into a snowbound inaccessible mountain area in southeastern France. French officials say no distress signal had been issued. The plane, carrying 144 mainly Spanish and German passengers and six crew, was travelling from Barcelona to the western German city of Duesseldorf when it came down. Civil aviation authorities
The crew did not send a Mayday. It was air traffic control that decided to declare the plane was in distress because there was no contact with the crew of the plane
Lufthansa:
We've never had a total loss of aircraft in the company's history until now.
0
0
Mark Devlin
Mark Devlin
2015-03-24 12:42:27
2015-05-06 12:25:34
Plane crashes in France
15 Feb, 2015
Bangladesh Ferry Sinking
Transportation Disaster
0 Comments
A river ferry sinks after being hit by a cargo vessel in Bangladesh. The ferry held up to 140 passengers, killing at least 48. It is undetermined how many passengers might still be missing. Survivor:
The passengers who were on the deck have survived, but many who were inside got trapped.
0
0
Margaret Ryder
Margaret Ryder
2015-02-22 16:47:59
2015-02-23 00:44:43
Ferry sinks